Flint's of Coonawarra, Family Run Since 1840
It often starts with a fine review in James Halliday's Wine Companion; in the 2010 edition we were rated a 4 star winery with our 2007 Cabernet Sauvignon scoring 94 points. Our business is family run and was established in the late 1900s so this industry coo is welcome after years of commitment to producing fine wine.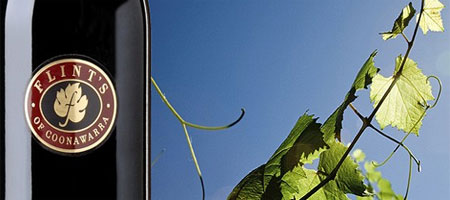 Welcome to Flint's Winery, where Matt is flat out spraying, weather depending, and foliar hedging to ensure the vine's canopy is in optimum condition for the development of the bunches leading into the ripening period. A modest winery, we do not have a cellar door, but we are more than happy to host visitors at our farm, Rostrevor, for wine tasting, together with a few farm dogs. All you have to do is contact us to arrange a time and a few directions to guide them to the farm and there you have it.
Our country hospitality is locally known; we've branched out right from where our roots lie. When all seems to be under control you can often find a Flint or two at Robe, a beautiful beach side town nearby, keeping you company while dropping a net or two for a great catch, the delicious southern rock lobster. It's nice to see where you stand in your own region and not only is our wine in hand around town it is also receiving regional recognition: The 2007 Gammon's Cabernet has won four Gold's in Sydney, Adelaide, Cowra and at the local Limestone Coast Wine Show.
Encouraged by the positive momentum, we continue to expand our promotional reach and are participating in South Australia's first Cellar Door Wine Festival, Fri 25 – Sun 27 February 2010 at the Adelaide Convention Centre in the heart of the city, with 100+ wineries from all across SA. Master classes, unlimited wine tastings, regional produce sampling, fringe performances and great wine specials exclusive to the festival are just a few of the entertainment options to take part in.
In celebration of the New Year, we like to take a step back and have a moment of pause surveying our vineyards –they are looking fantastic, thanks to the timely rain we've had- and considering the advances we've made at Flint's of Coonawarra Winery. Now that bunches are set, we are looking forward to some warmer weather and we have some great specials: Look for our mixed dozen Flint's of Coonawarra wine, an example could be 3 x 09 Sauv Blanc, 3 x 07 merlot, 3 x 07 Cabernet (4 Gold medals) 3 x 07 Shiraz for around $170.00.
Blog contribution writer from Flint's of Coonawarra.