The Unforgettable Carnaval of Brazil
On the lookout for another unforgettable annual festival? Carnaval of Brazil is probably the most celebrated manifestation of freedom and happiness on the planet; it most definitely is in Brazil where Carnaval is a magnimous event of magnificent proportions.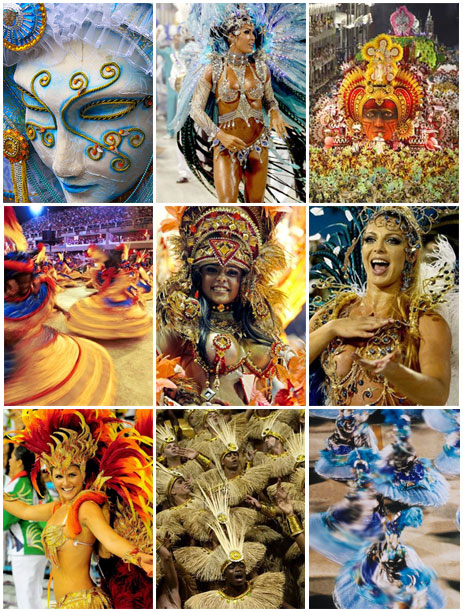 The Brazilian Carnaval Showcases African-Brazilian Culture
Years ago, for almost an entire week, I was carried away with pulsating musical beats, beautiful samba dancers, electrifying capoeira performances, and nonstop Brazilian music in the hectic Rio de Janeiro streets. There was fun, there was fantasy, there were feathers... and much, much more.
Held annually forty-six days before Easter, Carnaval is truly an event like no other, a time when Brazil stops completely for festivities of great intensity! It peaks on the 6th day, Shrove Tuesday and comes to an official close by the following day, Ash Wednesday, symbolizing the first day of Lent. To put things in perspective, this jovial period accounts for 80% of the country's annual beer consumption and over 70% of their annual tourism.
Carnaval is believed to have originated from the pagan festival of Saturnalia, before being adopted by Christianity. Roman Catholics and other Christians traditionally abstained from the consumption of meat and poultry, hence the term Carnaval, from "carnelevare" meaning "to remove meat".
The modern Brazilian Carnaval, an unforgettable experience I was privy to, was born in Rio de Janeiro in 1641 when the city's bourgeoisie imported the Parisian practice of holding balls and masquerade parties. While early celebrations mimicked the traditional European form, the festival later absorbed elements derived from Native American and African cultures.
Carnaval is celebrated countrywide all over Brazil, and within Brazilian communities throughout the world, with varying rhythms, participation, and costumes. Though undoubtedly what captures the eyes of millions of viewers from around the globe are the dazzling and glittering costumes on display in Rio de Janeiro during their famous parades at the Sambodromo.
Each year thousands of international visitors flock to Rio to experience these sensational parades, the mesmerizing beats and of course Rio's incredibly sexy, flamboyant and outlandishly costumed samba dancers. I recommend Carnaval as a once in a lifetime cultural event for the international traveller, best experienced firsthand.
Brazil's Carnaval has become known as The Greatest Show on Earth, and Rio has unquestionably earned its nickname as "Cidade Maravilhosa" translation "the marvelous city".
Brazilian Food
Since the partying never stops during Carnaval, with so much energy spent Sambaing and Cha Chaing, singing and cheering you are bound to get hungry. Luckily Brazil has plenty of food to offer the discerning traveller and I had the pleasure of enjoying some of the country's delicious and amazingly diverse cuisine.
Feijoada, Vatapa, Moqueca, and Churrasco- Brazilian cuisine boasts a wonderful mix of Portuguese, African and Native American influences. Each region asserts its own style, greatly swayed by history, immigration, and indigenous tradition. Below are some of the most popular dishes in Brazil.
Discover rich and diverse new recipes on our website.
Fine Foods and Culinary Style From Brazil
Feijoada is the national dish, and is essentially a terrifically hearty meat stew. The dish is believed to have been created by African slaves using dried beans, kale and cassava, along with cuts of pork and air dried beef.
Vatapá is a deliciously spicy mixture of bread, shrimp, red pepper, ginger, finely ground peanuts, coconut milk, palm oil and onions, enormously popular in the north and north east of Brazil.
Muqueca is another traditional Brazilian dish frequently found in the north east. Brazilians have been making muquecas, literally translating as "stews", for at least 300 years. Their native stews are cooked slowly without adding water and basically contain fish, onions, garlic, tomatoes, cilantro, and additional ingredients.
Churrasco originated in the south of Brazil with the gauchos, or cowboys, who commonly grilled prized top sirloin called Picanha in such a way. Churrasco is the cooking style, which translates roughly as the Portuguese term for "barbecue". Various kinds of meat, including beef, pork, lamb and chicken are slow roasted, rotisserie-style over charcoal on long skewers resulting in a smoky flavour.
Throughout Brazil you will find a style of restaurant service called Rodizio. Rodizio is a traditional method of continuous service provided to customers who pay a fixed price. In Rodizio style, Churrascaria Passadores, meat waiters, continually visit the table armed with various meats on a skewer and serving knives. Passadores visit the table time and time again, serving each customer as they please until individual diners indicate they've had enough; it is customary to provide individual diners with a coloured card, green on one side and red on the other, to communicate with the servers.
Brazilian Restaurants in Australia
If you don't have a trip to Brazil scheduled in the forseeable future, or if you want a cultural precursor, there are a number of Brazilian Restaurants throughout Australia specializing in Churrasco and Rodizio. I encourage you to try Brazilian eateries known for their electrifying atmosphere and as an unique alternative to the Aussie steakhouse, one that meatlovers will surely love.
By Gordan Zola