January 26th, 2013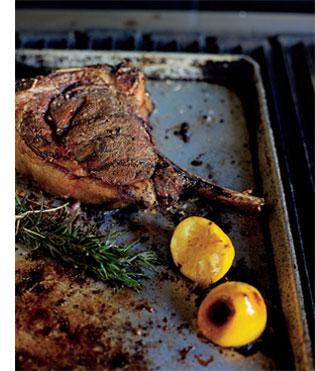 Classic Grill Ideas & New Wave Techniques
Every year meatlovers salivate in anticipation of Australia Day BBQs on January 26th. Preparing and eating meat dishes is a significant Australian tradition and many recipes are being passed down through the generations.
Though a few hosts will certainly embrace the sentimental tussocker idea of a swagman spit roast on Australia Day, for a most part we've evolved to wearing singlets and thongs whilst mingling around the barbecue. There we stand with our friends and families full of nationalist fervour, cooking something meaty the way that Dad taught us (or at least trying).
Oftentimes when we're standing around the barbie, we're anticipating our preferred meat slow cooking on the grill. If lamb's your choice, you'll find garlic and pepper lamb cutlets or a lamb shish kebab recipe in our AGFG lamb recipes section.
Have something else in mind but open to possibilities?
The AGFG Recipes section has hundreds of recipes to choose from that will be perfect for your Australia Day barbecue.
When it comes to the best Australia Day recipes, rather than consult the fam we've connected with the professionals. Save the chance of misrepresenting a recipe with a long Aussie Day lineage.
A handful of well known seafood and meat loving authors were happy to share a few of their secrets with us. Here's your chance to try something new from MasterChef 2012 Andy Allen and the TV chef known as "Mr Meat", Adrian Richardson.
Jamie Oliver's most recent book 15 Minute-Meals was developed cover to cover with a nutritionist consultant on hand and we thought, why not follow suit? Keeping with the JME trend, we've also consulted food writers with a nutritionist background.
Just as Adrian Richardson took over for Gary Mehigan in Good Chef, Bad Chef Season 4, this year Zoe Bingley-Pullin will replace Janella Purcell; in GCBC Season 5, Zoe is offering her distinctive style of cooking. Nevertheless, both Janella and Zoe kindly spoke to us about their Australia Day recipe ideas for those desiring something in lieu of hearty meat dishes.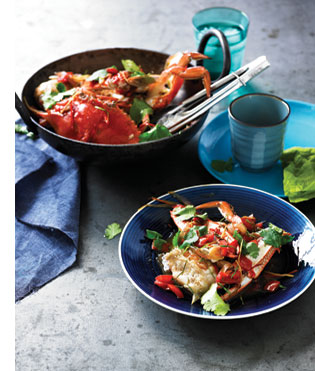 MasterChef 2012 Andy Allen
Upon request of the publishers, Andy Allen wrote his first book The Next Element in under six weeks! Wiping sweat from his brow after a major writing coup, the budding MasterChef 2012 took a few minutes to chat with us as his publicity tour commenced.
"Afternoon barbecues were the massive reason I fell in love with cooking. Food brings the people who are important and special to me together, to have a laugh and enjoy the recipes I create,"explains Andy Allen.
"For me it's about exploring all the different flavours of the world. I'm not afraid to experiment with flavour combinations, but at the same time, I can't go past a simple backyard seafood barbecue with the people I love."
Australia Day seafood barbecue recipes and sweet treats from The Next Element by Andy Allen: blue swimmer crab, seafood salad, BBQ prawn skewers with salsa verde, white chocolate mojito cheesecake and lychee granita with caramelised pineapple.
Nutritionist & Naturopath Janella Purcell
Pick up her newest book Janella's Wholefood Kitchenand discover how good health starts in your kitchen. On Australia Day you'll likely want to start light tosave room for later and her ultimate breakfast smoothie will do just the trick. When we spoke with Janella about barbecuing she had a lot to offer.
"I love food and am not a dry and wrinkly nutritionist. I indulge and am not about telling people not to. I'm about swapping foods because there is a world of empowering food that is not daggy and old fashioned – the food of the future. Everyone wants to feel better and they don't know how," maintains Janella Purcell.
If you want to try her "feel better" food that is truly yummy at the same time, you're free to give Janella's millet burger with miso and pumpkin sauce a go. But leave room for dessert because this one has been a major hit with her fans… maple nut cheesecake; it's melt in your mouth vegan goodness.
Good Chef, Bad Chef – Co-Stars Adrian Richardson & Zoe Bingley-Pullin
Famous for their on screen cooking showdowns, Good Chef, Bad Chef Season 5 will feature carnivorous Adrian Richardson and debut nutritionist Zoe Bingley-Pullin. In our interview with Adrian, the iconic Aussie meatlover spoke to us about (you guessed it) fuelling our desire to cook meat outdoors on the barbie.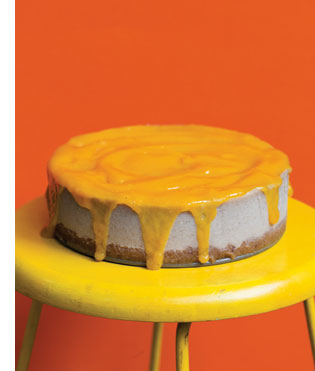 "It probably dates back to our cavemen days when we would throw a mammoth steak onto the camp fire," asserts Adrian Richardson.
Adrian specializes in beef cuts and preparing everything with a pulse that walks around on four legs; he was generous enough to share with us "The Perfect Steak" recipe from his latest book The Good Life.
He's a two-time author and equally proud of both books and here are the tasters. Adrian's gone the length to share another uber replicated but hard to top sticky smoky pork rib recipe from The Good Life.
Leading up to this great cookbook wasMeat, a publication every classic Aussie barbecuer wants to have on hand. From there, try his Portuguese style barbecued chicken skewers and Big Aussie beef burger for an authentic experience.
GCBC nutritionist Zoe Bingley-Pullin is committed to offering some mind-blowingly delicious alternatives for you to try on Australia Day: barbecued turkey with five flavours sauce, an eggplant stack, BBQ pork vindaloo or grilled tofu and cherry tomato skewers.
The good chef or the bad chef is in the eye of the beholder, but the best chef knows their meat, masters the technique, and remains open to new waves of cooking ideas rolling in.
Venture into new BBQ realms with AGFG Recipes.