January 2013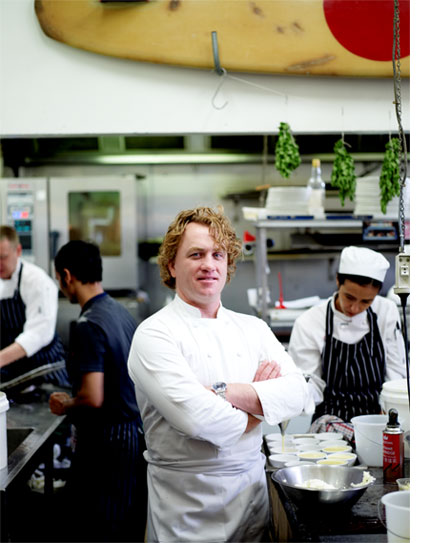 AGFG: As Australia's iconographic carnivore with a known appreciation of animals for providing us with meat, you've personally stepped away from the supermarket scene and encourage people to get to know their butcher. Why is this so important?
ADRIAN: I go to my butchers regularly and don't mind paying a bit extra for the right cut. I love having a chat and talking about meat. An older woman came into La Luna Bistro the other day and told me they've been going to the same butcher for over 40 years; all around it's the best way to ensure you have quality on the table.
People who really care about meat have a good relationship with their suppliers, source locally and ethically, and reduce the distance and impact from paddock to plate. Happy meat is better to eat and we're doing a decent job at respecting that.
AGFG: Your most recent book The Good Life reflects family memories and relays handy home tips. What comes to mind when you reminisce on great barbecues?
ADRIAN: I love barbecues and have several at home. Growing up in Malaysia, Dad used to make satays on a long and narrow BBQ designed specifically for skewer dishes. Satays are exotic and for me bring back a flood of feelings and memories.
My three boys and I love making sausages. For big celebrations or a nice meal, I also love grilling meat and do this simple dish with chilli chicken, parsley, coriander, olive oil and vinegar, cooking it on the bone to keep it sweeter. Scour the etiquette books… it's fine to pick up the chicken bone.
Depending on how I feel, I also sling beef burgers on the barbie for that smoky, charred flavour. Choose the right cut for the mince – moist, tender and flavoursome – and make your own Big Aussie Beef Burger.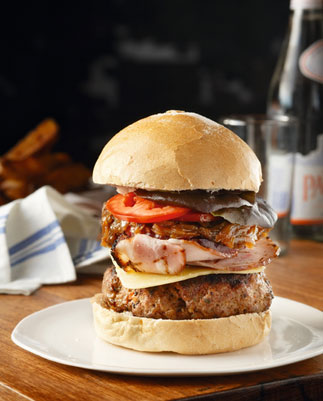 AGFG: Meat was your first book that emphasized cooking with a nose to tail philosophy. What's the trick to understanding how to use the 80% of the animal that is not a primal cut?
ADRIAN: Secondary cuts are far more interesting and require a bit of thought. Take your time and cook them gently. Keep it low and slow with plenty of moisture and the meat falls of the bone. They're typically tougher cuts of meat but can be moist, delicious and tasty.
Again our butcher is your best friend when it comes to secondary cuts of meat – supermarket trays on display don't cut it. Go to the butcher and he'll tell you he has the perfect piece for what you're after. They're meat experts and will ensure you have the best cut for the dish you want to create, such as a shoulder of lamb recipe or goat curry creation.
AGFG: As the meat man you're famous for cooking anything with a pulse that walks on four legs. La Luna has been serving your modern Mediterranean for over 15 years. What dish has been on the menu ever since?
ADRIAN: There are three generations of chefs in my lineage – we're tradesman making our own food. At La Luna Bistro we make everything in house, from bread and pasta to harvesting honey from our beehives. It's been 15 years, and my restaurant is a small and intense operation – we're growing and growing.
Our longstanding crackling wrapped roll of roast pork with zucchini, garlic, lemon and herbs such as sage, thyme, rosemary and fennel is a beautiful dish unique to La Luna. Our smallgoods such as prosciutto are really popular – we have 50 hanging in house at the moment. As a result, the restaurant smells sweet and salty like a cured meat delicatessen.
AGFG: More people have come to know you as a chef through your work on TV. What are you most proud of to date in terms of your television work?
ADRIAN: I was a short, fat, red haired kid so I always had a lot of personality. When I opened La Luna Bistro we received a lot of attention and it progressed from there. Aside from the success of Good Chef, Bad Chef – we're Australia's most popular daytime cooking show – I have also done my own thing.
I created a production company called Squeaky Sausage and fully funded Secret Meat Business without the assistance of sponsors. Shot in a dungeon, it's a quirky little show where I create my favourite meat dishes from around the world. It has done really well in the LifeStyle FOOD ratings and has been broadcast globally.