As Father's Day approaches, we turn our attention to the leading men in our lives, making sure they feel loved just as much as Mothers do on Mother's Day. They may be in the form of a Grandfather, a father-in-law, a friend who is a Dad or simply a respected male role model in our communities. So, say no to the socks this year and treat your Dad to an experience to remember, we've tried to cover all tastes here, with our recommendations for where to get top steaks around the country.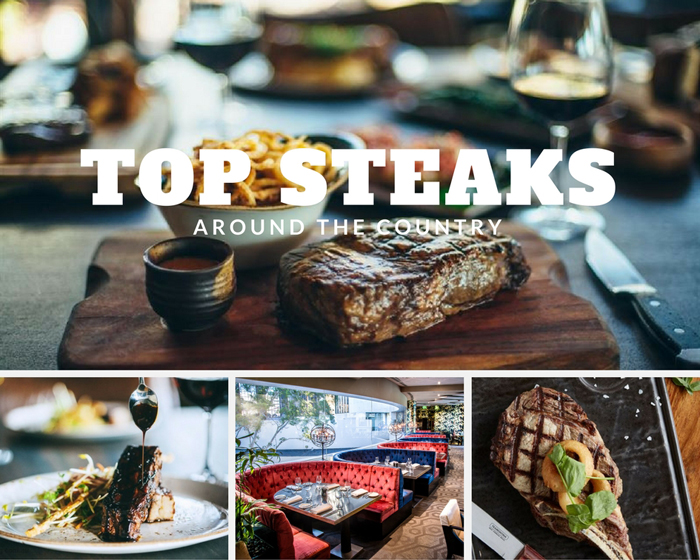 The Meat & Wine Co. Circular Quay, Hawthorn, South Yarra and Southbank | VIC
The Meat & Wine Co is the local steak hotspot for Circular Quay, Hawthorn, South Yarra and Southbank, themed with an interior of old school steakhouse meets contemporary charm with large communal dining tables, sultry leather booths and timber clad walls. Indulge in high end cuts like the 400g Monte grass fed rib-eye on the bone or perhaps the Wagyu rib eye with a MB score of 6+ cooked exactly to your liking with side options of onion rings, honey bacon wedge salad or sautéed greens.
Osso | NSW
Located within the Penrith Panthers club, discover popular steak and rib restaurant, Osso. An open-air interior has been styled with a modern monotone colour palette contrasting against raw timber tables with moody overhead lighting, setting the ideal tone for smart casual dining. Delve into dishes like the marinated lamb rack with beetroot and horseradish or a 300g Wagyu sirloin with a MB score of 7+, served with side options like a Caesar salad and fat cut chips.
Rare Steakhouse | VIC
It is no question that Melbourne plays host to some of the country's greatest foodie haunts and fantastic steak restaurants are no exception. With convenient uptown, midtown and downtown restaurant locations, Rare Steakhouse specialises in Australian pasture and grain fed beef, featuring 6 specific cuts alongside a menu of comfort food, served with an air of refinement, seen in mains like the succulent Wagyu marble scotch fillet with crispy fried onions and green beans in a Beurre noisette.
Outback Steakhouse Aspley, North Strathfield and Wollongong | NSW
Curve even the most ravenous hunger at Outback Steakhouse, a popular venue now conveniently located at Aspley, North Strathfield and Wollongong. Each steakhouse has been fitted out with a warm and welcoming interior styled with solid timber furnishings and embraced by a cheery vibe reverberating from friends feasting together. Their grain-fed cuts of meat are wet-aged in a controlled environment to ensure tenderness and seasoned with a secret blend of 17 herbs and spices, making for a truly succulent and flavoursome steak.
Parkers Steakhouse Drysdale and Geelong | VIC
Parkers Steakhouse, now residing in the two great locations of Drysdale and Geelong, pride themselves on offering the best quality steaks sourced from the local area. Creating a menu based around grass fed Australian beef, Parkers Steakhouse offers succulent cuts of scotch fillet, rump, T-bone or porterhouse cooked to your liking with lip smacking side dish options like the pork spare ribs and tiger prawn skewers, complemented well with a glass of Barossa Valley, Hillcot Merlot.
Blackbird Bar and Grill | QLD
Set in Brisbane's most sought-after river front location of Eagle Street, enjoy stunning skyline views that meet the water from stylish steak restaurant, Blackbird Bar and Grill. Discover an interior of opulence and class with velvet upholstered armchairs, gold wallpaper detailing, a grand statement chandelier and intimate dining areas. Blackbird offers a menu of pedigree quality dry aged beef, with options like the Robbins Island, full blood Wagyu scotch fillet or the 1000 Guinea's Australian Shorthorn rib eye, along with fellow main plate options like the suckling pig roast with black pudding, golden sultanas, caramelised onion and chickpea puree.
For more top steaks near you, search via your location here.