The release of our 2020 Chef Hat Awards comes at a time of unprecedented loss and destruction as catastrophic bushfires continue to rage around the country. Many of the country's regional operators have been directly affected, some devastatingly, resulting in their indefinite closure at the time of these awards.
A host of this year's award-winning list are doing their part to assist fundraising efforts and we applaud them along with the hard work of many others in these pernicious times.
We are now well into our third decade of awarding Chef Hats to Australia's most distinguished Chefs and restaurants. Each year we adhere to our ethos of awarding exceptional Chefs and each year we are committed to awarding Chefs based on their food, and their food alone.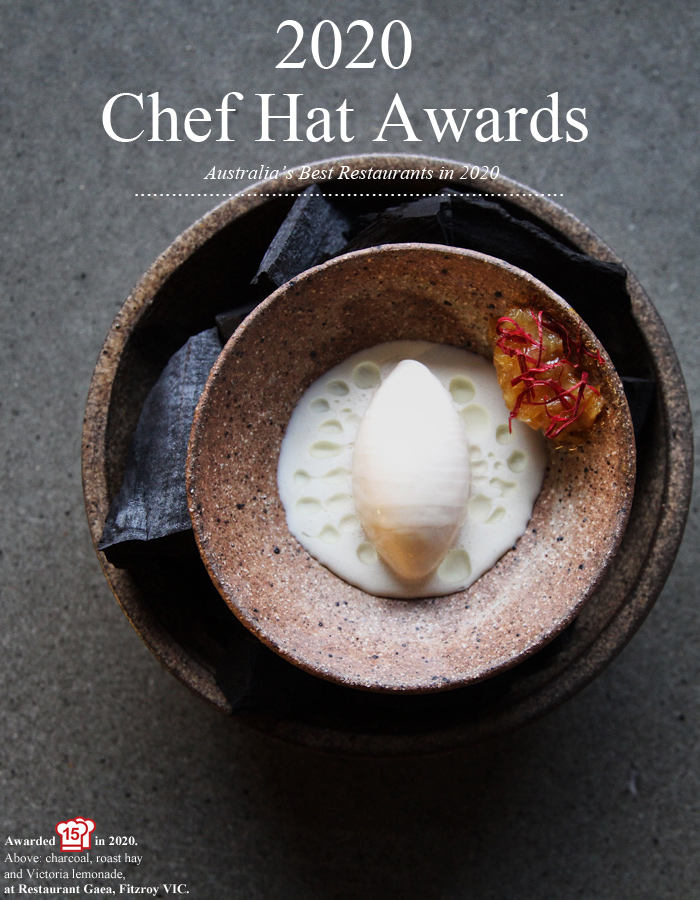 The year 2019 brought with it much reflection and deliberation surrounding the changes and advancements we have witnessed in food. The country has set the culinary benchmark high for 2020, offering a year of distinguished moments for our judges, now awarded and acknowledged, so you too can share in the experience.
2020 sees 422 restaurants awarded Chef Hats around the country, up by 47 from 2019.
2020 Chef Hat Winners by State:
The Press Club, Melbourne VIC
Woodland House, Melbourne VIC
Sarti, Melbourne VIC
The Bridge Room, Sydney NSW
Oscillate Wildly, Sydney NSW
Est. Restaurant, Sydney NSW
Billy Kwong, Sydney NSW
Aria, Brisbane QLD
Co-Op Dining, Perth WA
Now it's your chance to share your memorable moments of the past year:
If you'd like to know more about what makes an AGFG Chef Hatted restaurant award-winning, you can find our rating criteria here.
We encourage all budding food enthusiasts to vote for their favourite establishments and contribute their opinions on the establishments they visit. To do this, read about our separate, Readers' Choice Awards, the 2020 awards, of which, will be announced later this month.