"Nothing excites me more than exploring the road less travelled, whether that's in life or in the kitchen. It's all about being open to new flavours and textures and embracing an approach to cooking that reflects the diverse world we live in." – Charlie Carrington.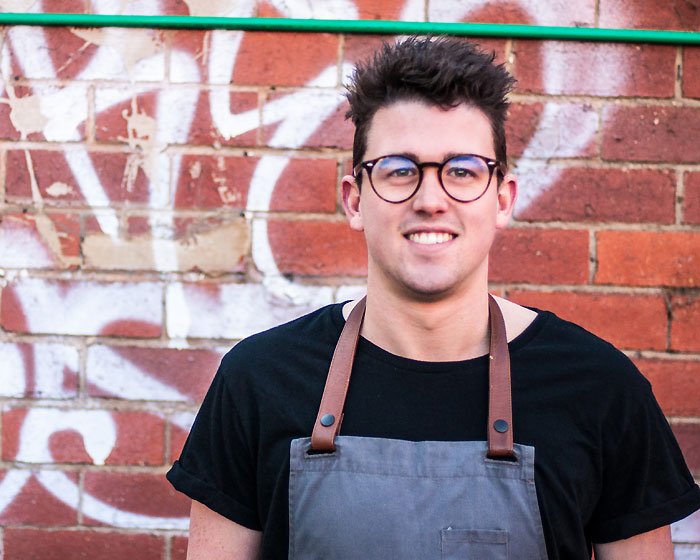 Chef, Charlie Carrington.
Four seasons, 20 countries and 80 recipes – that's what's on the plate from Charlie Carrington's latest food adventure.
The Atlas Cookbook is Charlie's entire ethos in a book – he travels the world immersing himself in different cultures, finding produce and ingredients he's never seen before and learning new techniques and cuisines.
Above all else, crossing countless borders has taught Charlie one valuable lesson: food unites us.
Leaving school at the age of 15 to become a Chef, by the time Charlie was 21 he'd worked at Gordon Ramsay's Michelin-starred restaurant, along with some of Australia's best venues such as Vue de Monde in Melbourne and Marque and Firedoor in Sydney.
He also spent eight months travelling across 15 countries, working in kitchens in Antwerp, San Francisco, Bangkok, Singapore, La Paz, Mexico City and Sao Paulo.
These days this Chef, who is one of the youngest in Australia to receive a Chef Hat divides his time between his South Yarra restaurant Atlas Dining and new venture LOMAH (Land of Milk and Honey) in Prahran.
Split into the four seasons, his new book serves up five countries on the plate for each season from South America to Europe, the Middle East and Asia. As it moves through the different regions, The Atlas Cookbookhighlights what the world's different cuisines have in common, as well as what makes them unique; reflecting the trend towards cross-cultural cooking.
Think a Peruvian ceviche, served with a Colombian corn and chorizo salad; or a simple Italian risotto with Portuguese grilled octopus.
Charlie's favourite part of travel is coming home and creating a dish that allows him to share his experiences with others and that's the heart of this cookbook – vibrant dishes designed to be shared, as a celebration of the universal language of food.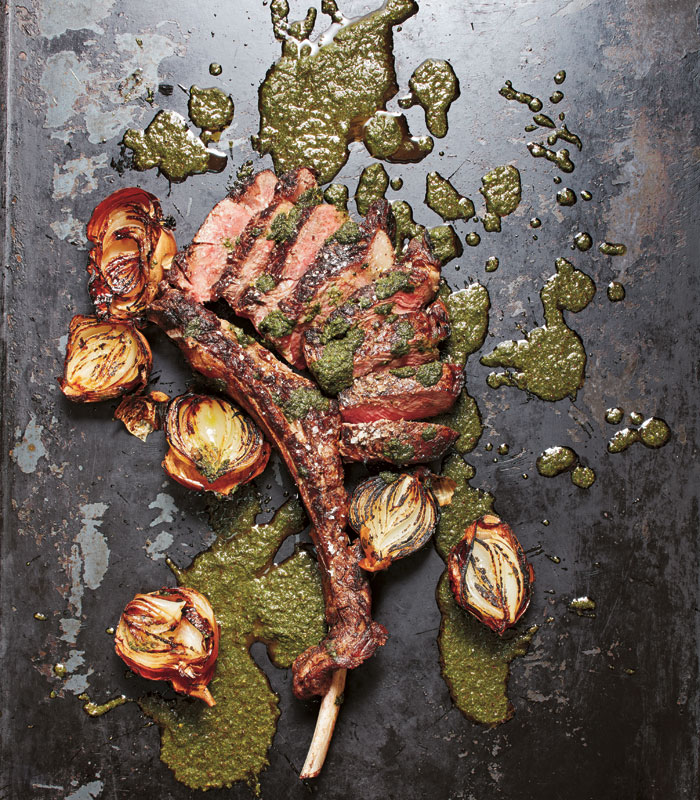 Go big, or go home with this Argentinian recipe for grilled tomahawk steak with burnt onion and chimichurri. Sometimes called 'cowboy steak', this is rib eye with its extra-long bone left on, so it resembles (you guessed it) a tomahawk – it's a prime cut and a chunk of grass-fed, dry-aged rib eye isn't cheap.
Charlie tends to make this dish for special occasions and says a minute steak is a much cheaper, and quicker weeknight alternative; but the tomahawk is a ridiculously tasty centrepiece, especially with chimichurri and an Argentinian red wine such as Malbec.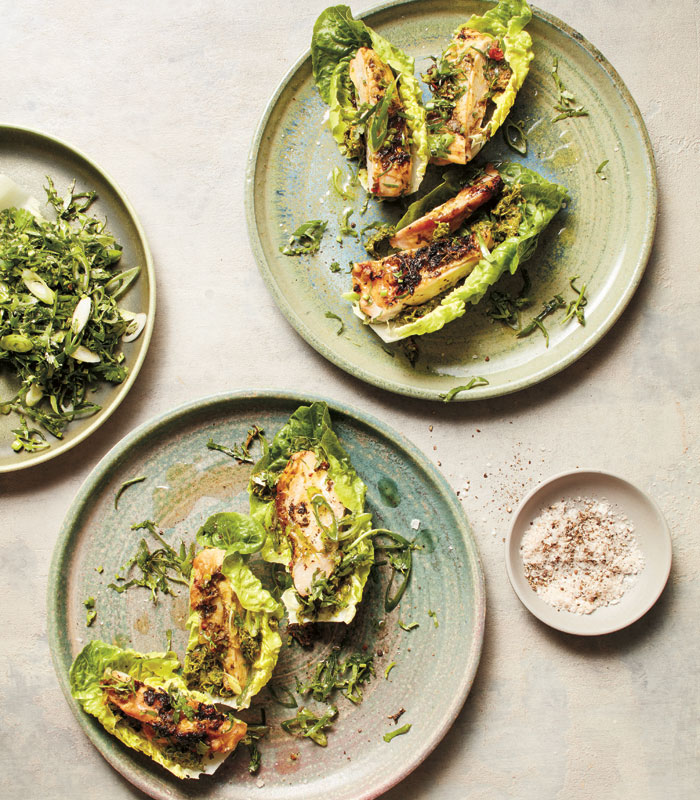 From Bolivia, comes this simple but extremely flavoursome dish of roasted chicken thighs with spicy herb salad served in cos lettuce cups.
"Eat this as a stand-alone dish when you want something filling and flavourful without the carbs, otherwise the solo serve lettuce cups also work brilliantly as part of a spread," Charlie says.
Lesser cuts of meat such as pork belly and lamb shoulder are part of the cool kids' gang at butchers these days, but it can be daunting to be faced with a thick slab of belly fat.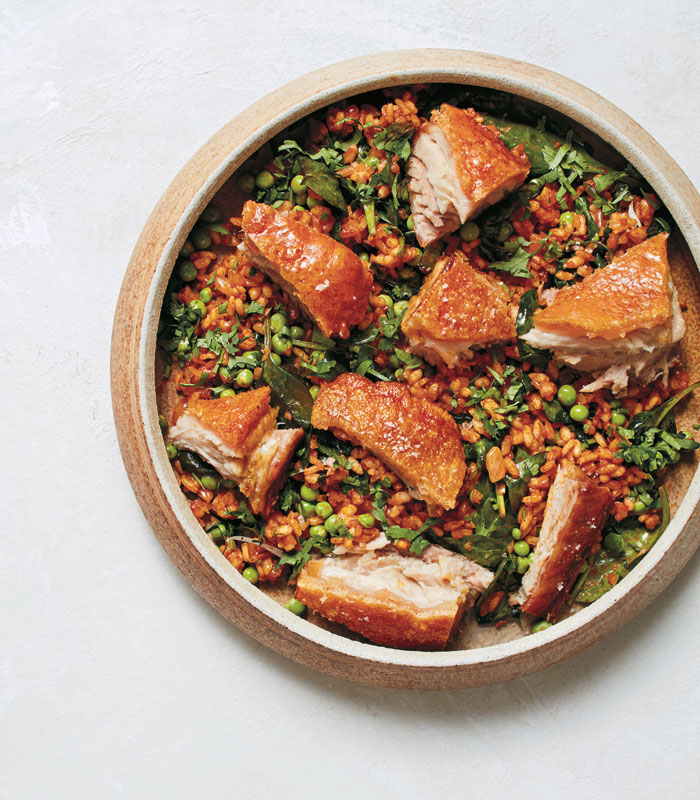 Use the technique of slow cooking the meat overnight, then blasting it at a high temperature for a flawless result and perfect crackling every time, as in this recipe for roasted pork belly with pea and onion rice.
Charlie says while you may not have heard of all the ingredients in this collection of recipes, most are readily accessible and if not, try online or specialty grocers and delicatessens.
"As I have travelled and cooked across the globe, the main thing I've learned is that we all have a lot in common – it's the reason why so many ingredients cross borders," he says.
Visually appealing, with great food and travel photography, this is one cookbook that is sure to have food stains, dog-eared pages and a special place on your kitchen shelf.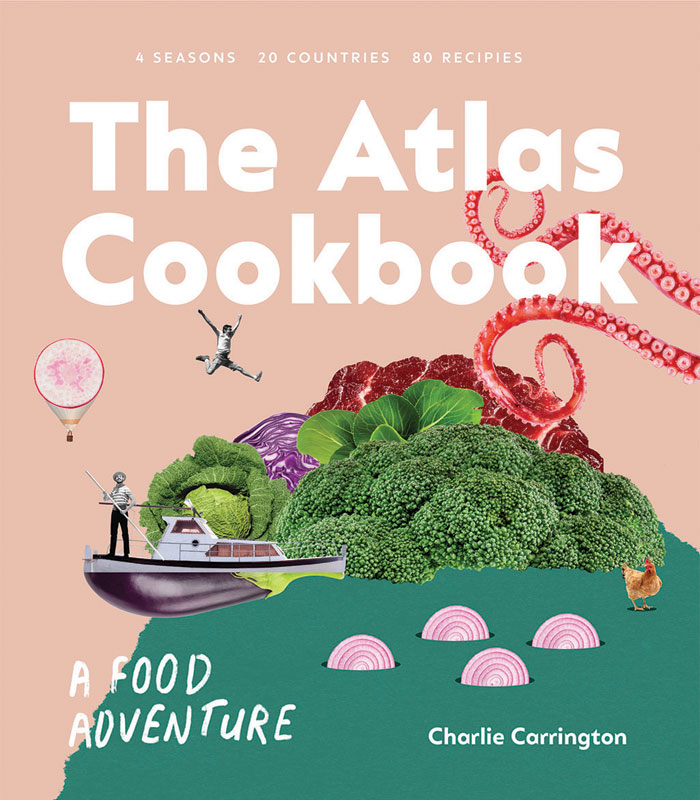 This is an edited extract from The Atlas Cookbook – Charlie Carrington, published by Hardie Grant Books.