ANZAC Day is Friday, April 25 2014.
The "Anzac Legend" plays an important part in defining Australian and New Zealand identity for its powerful legacy of bravery. In 1915 the Australian and New Zealand Army Corps (ANZAC) soldiers followed the plans of Winston Churchill in support of the Allied expedition and citizens of both countries still today remember the sacrifice of those who died in this battle.
The Gallipoli Campaign
On 25 April, the ANZAC force landed on the Gallipoli Peninsula with the intention of taking the Ottomans out of the war and capturing Constantinople, which was an ally of Germany at the time. Though unintended, the bold attack became a prolonged 8-month stalemate leading to heavy casualties.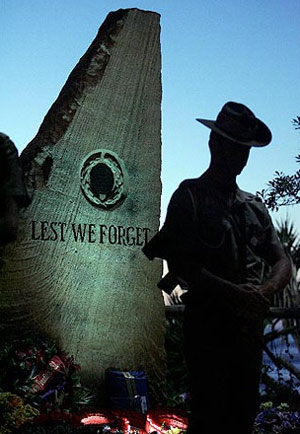 In Commemoration
Dawn marches and commemorative services are observed every year on this day in the early hours, reflecting the original landing time of the legendary ANZAC soldiers. After dawn ceremonies today, it is common for people to partake in 'gunfire breakfasts' (coffee with rum), recollecting the choice morning beverage for soldiers about to face battle.
Anzac biscuits are another popular treat to partake in during this time. They represent a snack made of minimal ingredients that's representative of non-perishable wartime gifts sent by women at home to soldiers in the battlefield.
As part of the war memorial, Australians will often wear sprigs of rosemary on their lapels while in New Zealand red poppies are typical adornments. In both countries, Anzac Day is honoured in remembrance of soldiers who took part in the violent conflict of World War I, solidifying the national identity of a relatively new federation.