"What do you think of when you think of time? Time is yesterday. Time is tomorrow. Time is the split second that you own, right now. Now it's gone." – Gill Meller.
Time is the next harvest and the storm coming, it's your dreams, your opportunities, your children. It's wishing it never happens and hoping one day it will. It is regret and in the same breath, forgiveness.
We all mark our existence in this world by time – morning, day and night are the touchstones of our days and the days are the markers of our years. In his much anticipated follow-up to award-winning cookbook Gather, Brit Gill Heller delivers Time, with more than 120 recipes moving through the seasons from fresh and light to soothing and warm.
A Chef, food writer, teacher and advocate for real cooking, Gill's first book won the Fortnum and Mason Award for Best Debut Food Book in 2017 and was shortlisted for the Andre Simon and Guild of Food Writers' Awards the same year.
In this latest offering, he distils the essence of his approach to cooking – time spent in the kitchen, with good ingredients, makes for the best possible way of life.
"Making time to cook has become one of the most important things I do in my life," Gill explains.
"When we stop for a moment and do it, even in the simplest sense, it makes us feel good inside. Not only does it nourish our bodies and sustain our minds, but it's vital for our happiness and well-being.
"Cooking has opened my eyes to change. I feel closer to my past, but equally I feel closer to the present and to the environment in which I live, because things I love to cook and eat are so intrinsically connected to my surroundings. It has enabled me to see how one season turns so gracefully into another. It has inspired the way I think about food every day and it inspired me to write my first cookbook Gather."
There are recipes in Time that Gill has been cooking for years, which when he sits down to eat take him back to an exact point in his life. There are also new recipes based on seasonal ingredients and a love of simple cooking.
"There are recipes here that have personal meaning to me – something my Mum made, or one of the dishes I cooked in my first home with my young family. These are recipes I want to preserve, but also share and not just at my kitchen table with my lot, but with you at yours."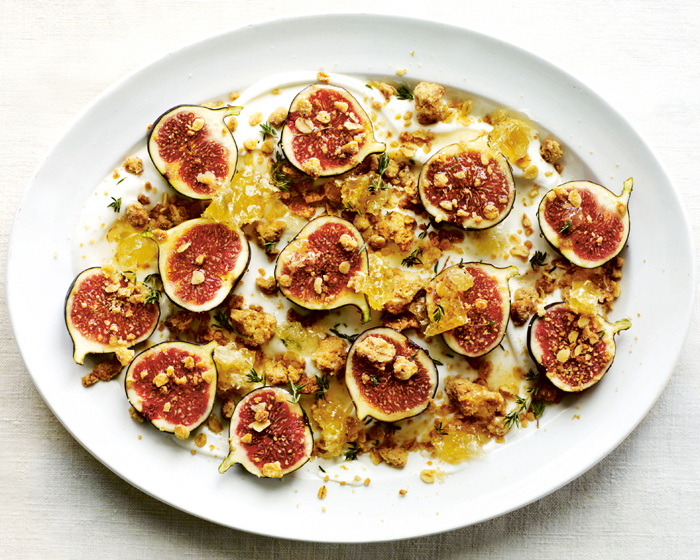 The book is divided into three chapters, each representing a different time of day – morning, day and night – the moments we nearly always find ourselves in the kitchen.
From the morning chapter comes this recipe for figs with yoghurt, honey and roasted barley crumb.
"A fig in the right condition – that being sweet, soft (but not overly) and dark blue and red, like a bloody bruise – is a thing so wonderful you need little else of a morning," Gill says.
"This recipe, which I call a 'weekend' breakfast, has a feeling of the Mediterranean about it: figs, fragrant thyme, thick sour yoghurt and honey in the comb."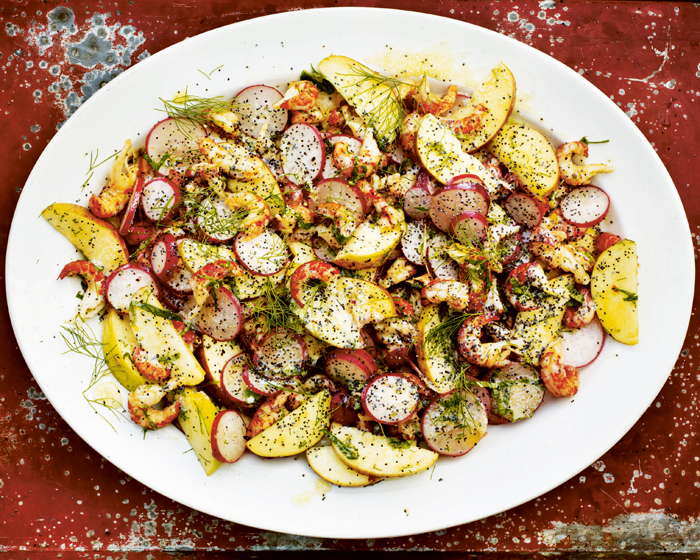 Crayfish salad with radishes, apple, poppy seeds and soured cream brings back memories for Gill of catching crayfish in traps set around the edge of a lake in Dorset.
"I recall how plucky and determined these little freshwater lobsters were. They raised their small claws in the air to scare me off and nipped at me when I went near."
Crayfish meat is sweet and juicy and delicious served simply with brown bread, butter, dill and lemon.
"But if you are more adventurous, this quick and scrumptious salad with crunchy radish, sharp apples and the toothsome bite of poppy seeds, showcases crayfish beautifully."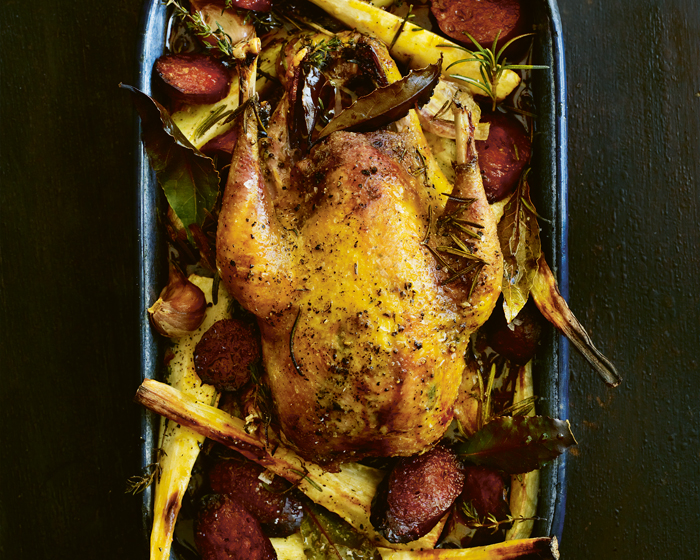 Roast pheasant with parsnips and chorizo combines the sweetness of the vegetable with the lean bird and gregarious, rich sausage to put a dish on the night table that will have everyone salivating.
With an endorsement on the front cover from the English Queen of cooking, Nigella Lawson, saying she wants to eat all the food in this book, Time is the best of modern British cooking from an exciting new voice in food writing.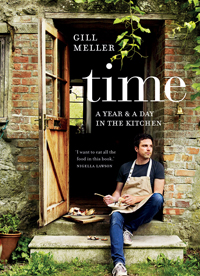 This is an edited extract from Time by Gill Meller published by Hardie Grant Books $39.99 and is available in stores nationally. Photography: © Andrew Montgomery.