By Freya Ensbey.
'Eat sweetly and speak sweetly,' an old Turkish saying which is still used today by many a local, who believe wholeheartedly in the importance of desserts as an integral part of Turkish cuisine.
More than just a treat or indulgence, Turkish sweets are used as offerings for auspicious occasions such as death, birth, graduation or the selling of a family home.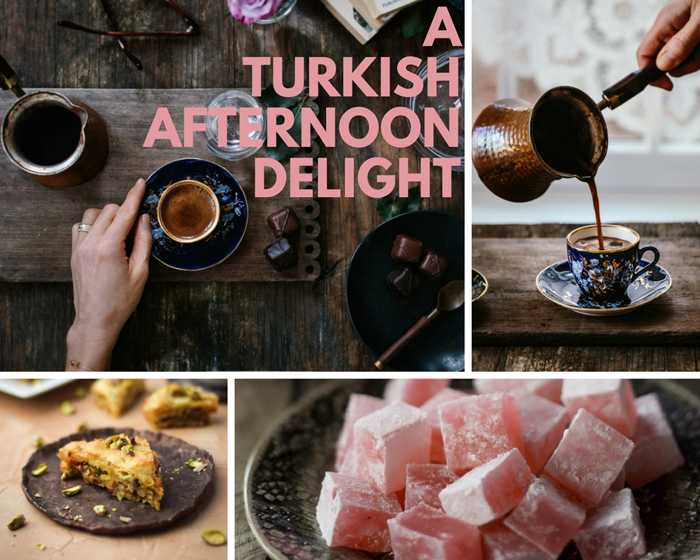 This love of the sweet life is carried through many of the customs and traditions of the Turkish, even seeing the use of the nickname "Seker Bayrami" for the end of the religious Ramadan fasting festival, translating to 'sugar holiday,' where lavish desserts are prepared to sustain energy.
Turkish desserts mainly fall into three main categories of fruits and vegetables, milk-based or pastry based desserts, with traditional, tried and tested recipes passed down from generation to generation.
Join us in a Turkish afternoon delight and take part in your own sweet celebration by creating melt in your mouth baklava, with layer upon layer of flaky, buttery pastry and chopped nuts or perhaps master the art of making the perfect cezve of Turkish coffee as an impressive accompaniment to blushed squares of Turkish delight.
Throughout Turkey, Turkish Delight can be found in many different forms, from the addition of chopped dates, pistachios or hazelnuts, to more traditional flavoured varieties made with rosewater, mastic, bergamot orange or lemon. To avoid sticking, these confectionaries are dusted in icing sugar and can be stored in an airtight container for weeks, making them the perfect gift idea for a special occasion.
As an offering of peace and love, and usually made with a religious connotation to commemorate the arks landing, the Asure is a rich pudding made with pulses like barley, navy beans and chick peas. This hearty pudding is the perfect dessert for sustenance on cooler evenings.
Possibly the most well-known of all the Turkish desserts, baklava can now be found in most supermarkets or boutique providores. We were lucky enough to have come across a quick and easy recipe to create in your very own kitchen, which will be requested time and time again. With layers of buttery filo pastry, the addition of warming spices like clove and cinnamon, the piece de resistance is all in the lashings of honey syrup drizzled atop, with a sprinkling of nuts bringing this masterpiece together.
Sharbat – Turkish Sherbet Drink
Just as popular throughout West and South Asia, Sharbat is a refreshing drink made from fruits or flower petals. Usually enjoyed ice cold, the Sherbetji in Turkey traditionally serve Sharbat on the streets from big brass flasks they carry on their backs. It is customary in areas of Eastern Turkey for the groom's family to offer the bride Sharbat as a sign of acceptance, so instead of a cup of tea, why not serve your next guests a refreshing glass upon their next visit.
Sutlac is a recipe every home cook should keep in their apron pocket at the ready for when they have too much cooked rice left over. Although simple in method, it is a recipe that is deliciously complex in taste and ideal to enjoy on a hot Summer's night as it is best served chilled, making for a nutritious snack to keep in the fridge.
When visiting as a guest to a home in Turkey, the question isn't if you want to drink Turkish coffee but rather, how you would like to have your Turkish coffee prepared. It is customary for the youngest girl of the house to prepare the coffee for guests, all individually made in a small pot called a cezve, creating a ceremonious affair with each visitor. A defining difference with Turkish coffee is the elimination of dairy which we westerners are accustomed to, creating a stronger and more bitter end product.
So why not take a little Turkish time out to enjoy an afternoon delight of sweet, guilt free calories, all in the name of expanding your cultural knowledge.