By Freya Ensbey.
We all want to make the leading lady in our lives feel amazing this Mother's Day by spoiling them from the moment they wake up. Why not start the day on the right foot by blending up a refreshing smoothie bowl for her to enjoy whilst she opens her presents. Not only are these colourful breakfasts scrumptiously addictive and simple enough for the kids to make, they are also full of hidden nutrients to keep her feeling at her best for the day's activities still to come.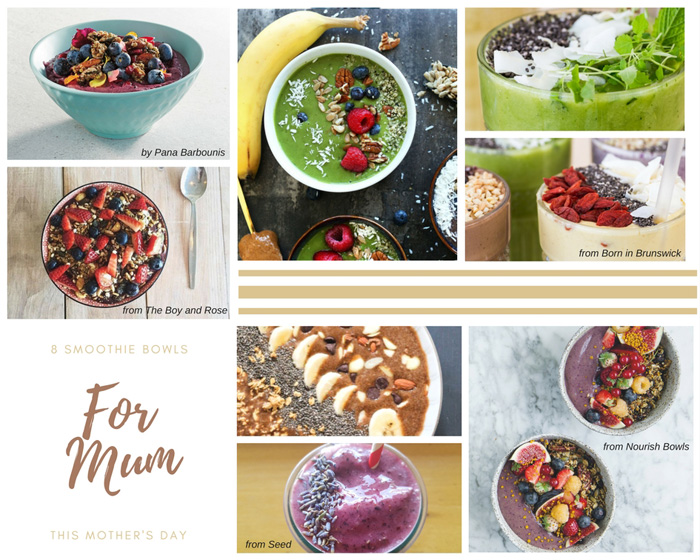 Sunny Side Smoothie Bowl by Pana Barbounis
Creator and visionary behind Pana Chocolate, Pana Barbounis, an all organic, handmade and gluten free chocolate that has taken the industry by storm, shared with us his well-loved Sunny Side Smoothie Bowl, made on a base of nut milk. Pana recommends to be careful not to over-blend the mixture or the smoothie ingredients will melt too much, however if they do, simply grab a straw.
"Start your day on the bright side with a vibrant, nutrient-dense smoothie so decadent you'll need to eat it with a spoon. You can create different flavours according to what's in season, and garnish with choc-brekky granola or Pana Chocolate cereal for your morning crunch." ~ Pana Barbounis.
Pink Pitaya Smoothie Bowl from The Boy and Rose
Commonly known as a Dragon Fruit in Australia, the Pitaya is actually a cactus species indigenous to the Americas. Sweet with a touch of sour in taste, the health benefits of Pitaya are abundant and have been used for years for their healing properties. With a vibrant pink colour, these visually intriguing fruits are packed with antioxidants and vitamin C, essential for fighting away those nasty cold weather viruses.
For an easy way to squeeze in two servings each, of fruit and vegetables before the morning is over, whip up this tasty number, sure to make the rest of the family green with envy. The addition of peanut butter and flax seed meal give a nutty and sweet taste to disguise any hint of the kale or spinach.
Green Light Go and Mango Dreams Smoothies from Born in Brunswick
Doubling also as an ideal snack, the green light go is the simplest way to whip up a superfood powerhouse without any fuss. The best thing about smoothies is that you add a little of this and that if you have any left overs, even a slice of avocado would go nicely in this recipe for the added filling nutrients of monounsaturated good fats. Or go tropical and serve up the Mango Dreams to take Mum on a beachside escape without even leaving the house.
Berry and Spinach Smoothie Bowl
When a recipe is incorporated in a book called Nourish Bowls, you know it's going to be good for you. Providing also a fantastic recipe for homemade pecan granola, with the use of creamy coconut oil, this smoothie bowl will be requested for breakfast, time and time again, ticking all of the boxes.
Organic Blueberry Lavender Smoothie from Seed
This soothing smoothie is just as fragrant as it is tasty. With a calming quality from the lavender and appealing purple hue, it is the perfect way to begin the day on a relaxing note. Calling for organic ingredients, it also ensures you are reaping the highest possible benefits from your food.
Mocha Banana Protein Smoothie Bowl
It is surprising how thick and creamy these banana smoothie bowls can get, especially with a scoop of protein powder in the mix. Best of all, you can make these with your favourite protein powder and mix and match any seasonal fruits; by adding extra protein, this recipe can also double as fro-yo making a super thick and rich consistency to scoop onto a side of any dessert.