Asian cuisine is known for the range and sheer variety of flavours across many different countries and cultures. Ingredients such as seafood, rice, garlic, soy, lemongrass and chilli are common in dishes often stir-fried, steamed or deep-fried.
The balance of sweet, sour and salty is prominent and this is one of the things that makes Asian food very different from Western dishes, where these flavours are used singularly. These ingredients usually work against each other, however if mixed in the right amounts and with the right spices and meats, they provide a unique taste to curries and stir-fries.
To cook Asian at home, it is important to use authentic ingredients so a visit to an Asian grocery store is on the cards. From Filipino to Korean and Thai, here are six delicious meals to try at home.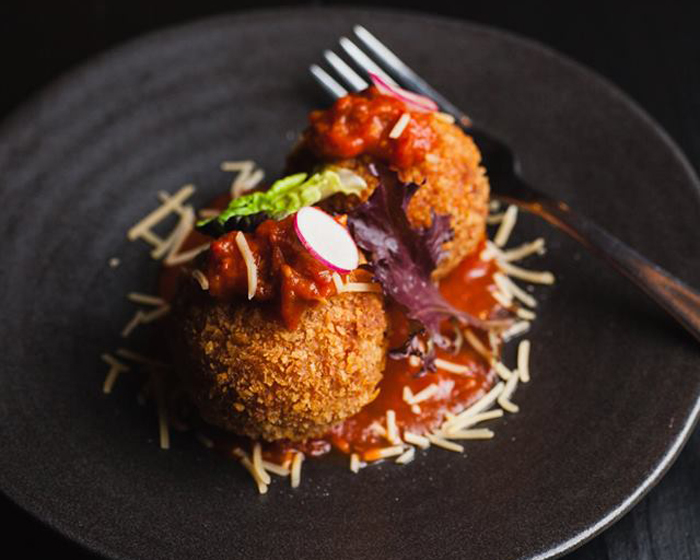 Putting a Korean twist on the normally Italian starter of rice balls, this dish of kimchi arancini and arrabbiata sauce is from Chef, Seth Park, who is on the pans at BA:M Adelaide on Currie Street in the heart of the CBD. This locally loved Korean fusion restaurant offers a menu catering for those seeking traditional Asian dishes with modern twists, among timber furnishings, bamboo ceiling features and lantern lighting.
These arancini balls are made with kimchi – a Korean staple of fermented vegetables – and Parmesan added to the rice, then stuffed with bocconcini and deep-fried. The arrabbiata sauce brings the Italian side of the dish to the fore, but again with a Korean twist, making these delicious mouthfuls an ideal starter for an Asian feast at home.
For a lighter entrée, try these delectable small bites of lobster tail, with chilli palm caramel sauce, sitting pretty atop betel leaves; channelling all the Asian flavours of kaffir lime, turmeric, lemongrass, coriander, ginger and garlic, that we are familiar with.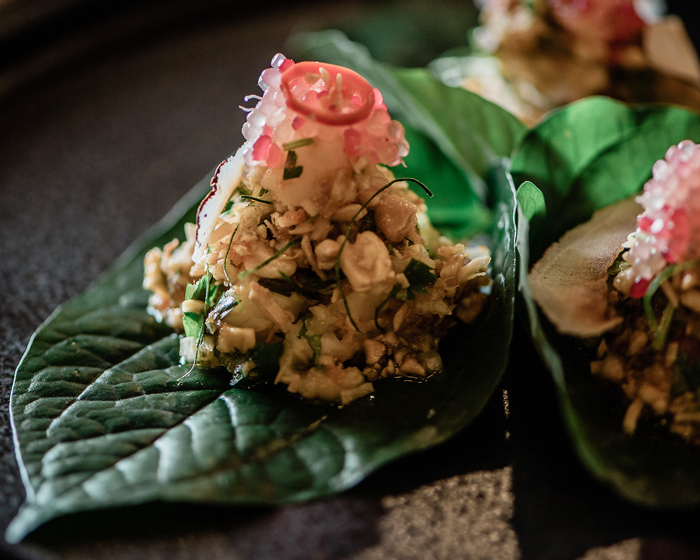 "Customers might not know that the three-second bite of lobster betel leaf at Kekou takes so much effort, with more than 20 ingredients for that delicious bite," Kekou Chef Oak Kunnalok says.
Located on Richmond's trendy dining strip of Bridge Road, Kekou was born out of a boat trip through Asia to discover hidden food gems and now the craft beer and foodie haven is proving popular with locals, who are flocking to the light-filled chic space inside a 120-year-old building fitted out to preserve its historic charm.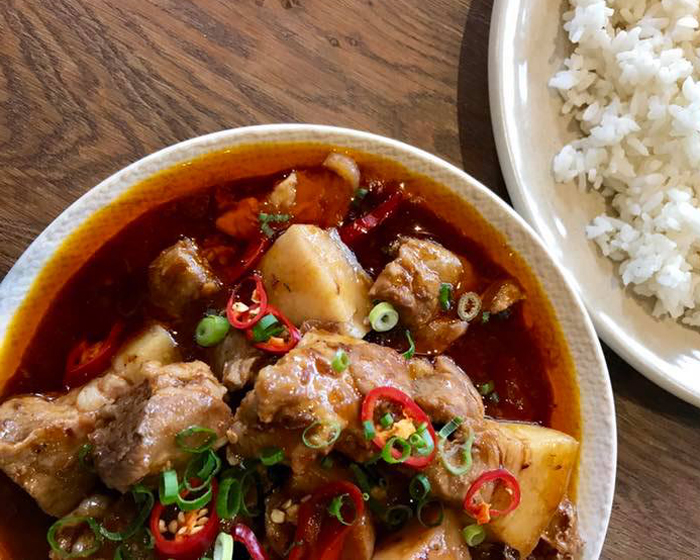 An authentic Filipino recipe using beef, tripe, heart, liver and aromatics, beef papaitan is the creation of Chefs Jay and Kim Prieto from Lolo and Lola eatery on Watson Place in Canberra. With a name honouring Filipino grandparents and their delicious traditions, this Watson restaurant serves fare from the homeland in surrounds of polished wood floors, glowing pendents and whitewashed walls.
This hearty soup-like dish is boiled in a pot with garlic, ginger, bay leaves and green finger chillies along with small diced pieces of beef brisket, honeycomb tripe, liver and heart, until tender and is best served with steamed rice.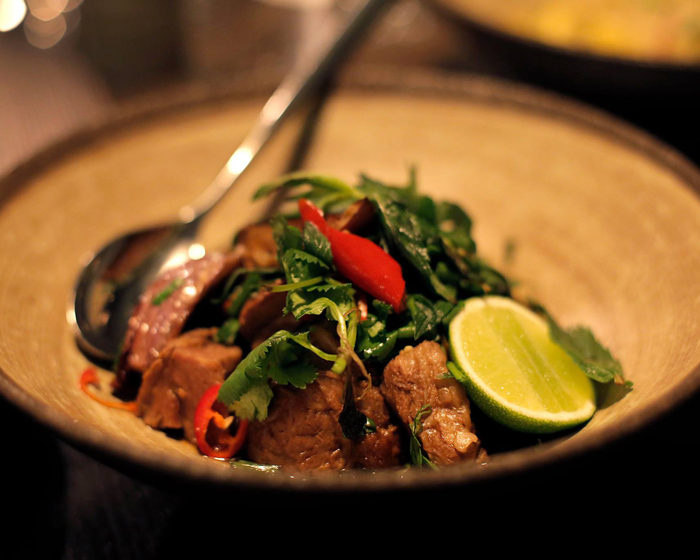 The name for the next dish comes from Thailand, where it is said the dipping sauce is so hot it can make a tiger cry – don't worry it's really not that hot! Braised lamb Crying Tiger is a dish honouring traditional Asian flavours, combining the tender lamb with sautéed Thai eggplant and is the creation of Peter Sheppard, Chef at Campbelltown restaurant Kyubi Modern Asian Dining on Camden Road.
Kyubi offers a unique menu designed to transport and stimulate the senses with each dish and this recipe is no exception, with garlic, birds eye chilli, Vietnamese mint, coriander and lime combining with chunks of tender lamb neck fillets and sautéed eggplant, in a rich sauce. Chef says don't be shy with the herbs, as that is what makes this recipe so delicious!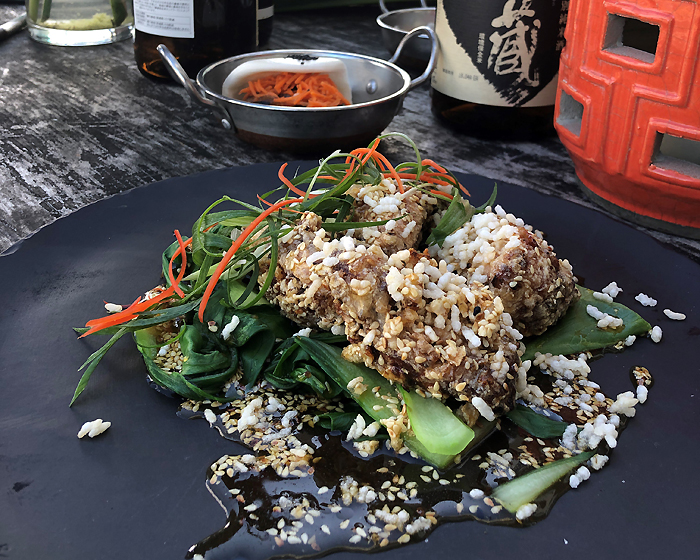 Honey chicken is an all-time favourite Asian dish of tender chicken thigh fillet pieces deep-fried and then drenched in a honey sauce and sesame seeds. Forster restaurant Spice Monkey offers this recipe to make at home, with the thigh fillets first marinated in sriracha, tamarind, tomato paste, lime juice, crushed garlic and soy sauce, for at least two hours.
Served atop blanched bok choy, this is sure to become a family favourite as all tastebuds enjoy the sweet and crunchy combination - a tip from the Chef to stop the honey cooking too much and burning is to add water. Located on Wharf Street, Spice Monkey also offers the chance to experience an interactive sushi bar, alongside Asian fusion share plates, bao, dumplings and spring rolls.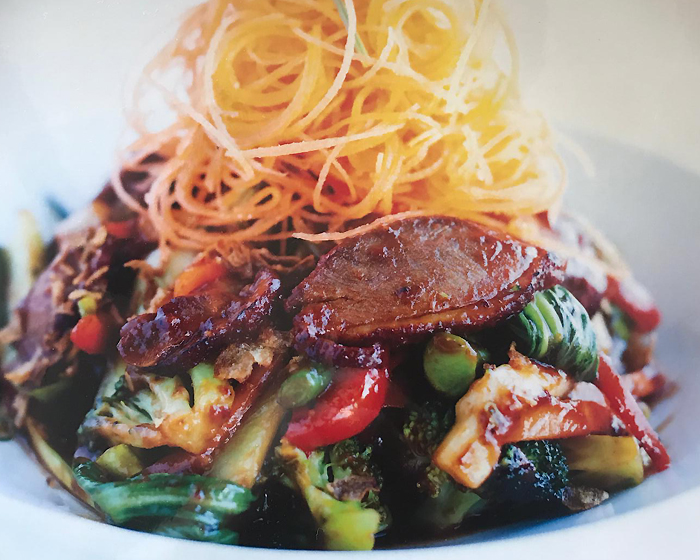 From one of the hottest St Kilda dining spots Bala's Café, comes this recipe for prig pow duck - crispy sliced duck, with wok-fried vegetables and an oyster, chilli and tomato sauce. This well-loved local on Shakespeare Grove has been the venue of choice for Melburnians to chow down on tasty Indian and Thai dishes at reasonable prices.
The duck breast is pan-fried, skin down, first and then placed in the oven to cook before being sliced and wok-fried for a couple of minutes to crisp the edges. Think vegetables like carrot, zucchini, broccoli, celery, red and green cabbage, beans, snow peas and capsicum to add texture and crunch, and top the stir fry with fresh coriander.
For more Asian recipes, go to our recipe section
here.