By Leigh O'Connor.
Hospitality and spice are central to Middle Eastern culture and many home cooks spend hours, sometimes days, preparing an impressive spread of dishes for family feasts.
While we don't expect you to go to these lengths, this cuisine is all about flavour, texture and contrast as can be seen in colourful dishes, embracing spices such as cardamom, Baharat, cinnamon, coriander, cumin, saffron and sumac.
We've put together five recipes for you to try at home that embody the spirit of the Middle East, from chicken to pork and fish - grab your apron and let's take a culinary culture trip that the whole family will enjoy.
Offering Annangrove diners a taste of the exotic, Meze Me Grove on Annangrove Road dishes up a contemporary fusion of Moroccan, Middle Eastern and French cuisine from their multi-level venue. Currently providing home catering and takeaway menus as part of the Covid-19 restrictions, this restaurant is still serving up celebration-worthy dishes for all the family to enjoy, as we ease into spending more time together.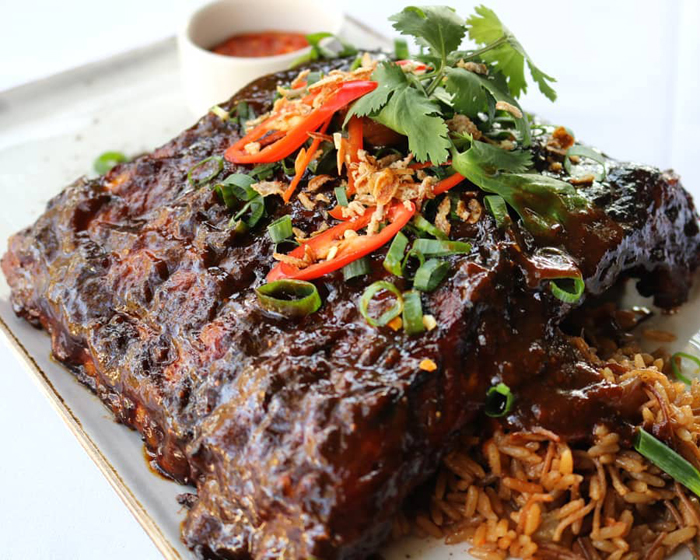 Sticky BBQ pork ribs, Bourbon fig glaze and harissa are irresistible to those who love finger-licking goodness, while the addition of bourbon brings a spicy sweetness to the sauce and complements the flavours of pomegranate molasses and Granny Smith apples. These ribs will disappear from the plate before you can say Jim Beam!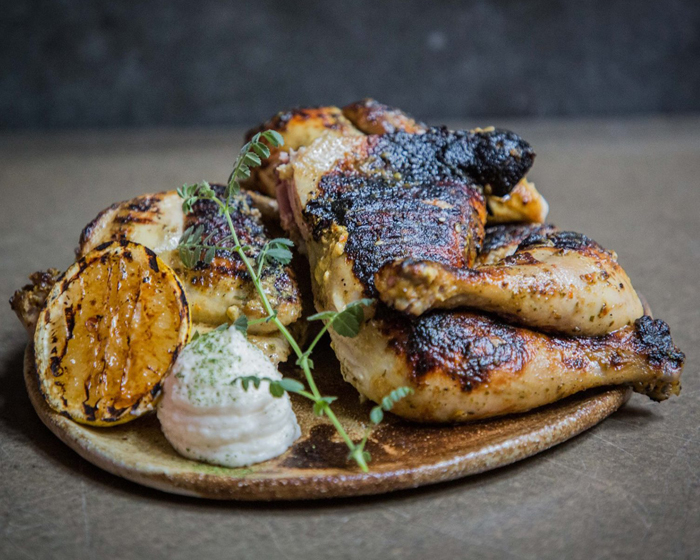 With a name meaning beautiful night, Lillah restaurant on Longueville Road in Lane Cove celebrates Middle Eastern fare with individual flair and it is a Harissa chicken dish that we bring to you from their kitchen.
Whether dolloped on top of a pita sandwich, rubbed into meat or in a fiery stew, chilli-laden spice blend harissa is probably one of the most well-known Middle Eastern flavours. This versatile spice mix can be used with many proteins – in this dish, the whole chicken is left in brine overnight, before being butterflied, smothered in harissa paste and baked in the oven, then served with grilled lemon and a side of garlic toum.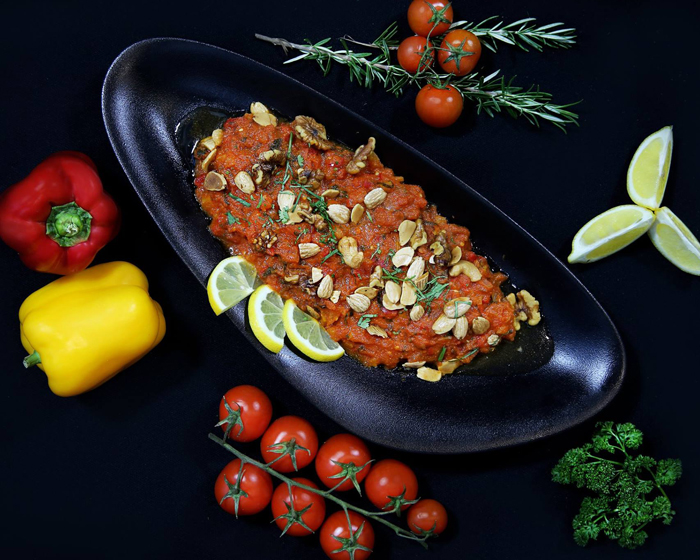 Zahli Restaurant on Elizabeth Street in Surry Hills adopts both the name and vibrant culture of an area in Lebanon and this dish of Samki Beirutiyeh – oven-baked barramundi with a spicy tomato, capsicum, garlic and chilli sauce – is sure to tempt tastebuds and add a little heat to meal times.
The addition of grilled lemon slices brings a tang to the fish, while the crunch of toasted slivered almonds, cashew nuts and walnuts adds texture and a nutty flavour. A side of slow-cooked organic grains, mushroom, crispy onions and feta mousse is an ideal accompaniment to this delicious dish perhaps washed down with a Middle Eastern margarita.
Tahini is a great way to cool down some of the spiciness of Middle Eastern cuisine and often used as a base for a dressing, as it has a smooth consistency and delicate roasted sesame flavour that pairs ideally with vegetarian dishes.
This recipe for cauliflower and chickpea salad with almonds, fried onion and sultanas is dressed with tahini, garlic, lemon and Greek-style yoghurt and is great as a starter, light meal or side. From the cookbook, Alimentari by Linda and Paul Jones is it inspired by a classic Lebanese fried cauliflower and hummus dish, eaten like a sandwich rolled in flatbread.
Slow roasted lamb shoulder is one of the best meat dishes you can cook – full of flavour, moisture and so satisfying to eat and serve to your friends and family. Chef Shane Delia's recipe for braised lamb with saltbush and rockmelon combines the flavours of cumin, coriander, Aleppo pepper and saltbush to enhance the braising stock.
All the work is in the preparation of the meat and then it's just a matter of putting it in the oven and letting it cook until it falls off the bone. The real surprise in this dish is the caramelised rockmelon salad, with the crunch of toasted pine nuts and sweetness of plump raisins. Shane says if you can't get saltbush – which adds a mineral earth saltiness – don't worry, the lamb is just as delicious without it.
Still looking for Middle Eastern dinner inspiration? Click here for more suggestions.