"I simply love to cook! I enjoy cooking at my restaurant for customers and cooking at home for my family. It is extremely rare that I go through a single day without cooking." – Ashraf Saleh.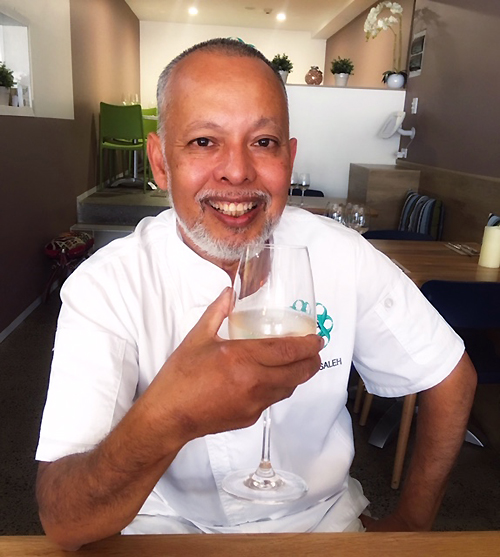 The mouth-watering tastes of the Middle Eastern dishes are enjoyed on dinner tables around the world, including Australia where Chefs like Ashraf Saleh put a new spin on a cuisine inspired by the rich diversity of flavours and produce found in his homeland.
The brainchild behind Chef-hatted restaurant Coya on Carawa Road in Cromer, Ashraf grew up in the Middle East beginning his career in the kitchen during the late 1970s and travelling the world gastronomically before arriving on our shores.
Catering to the 'adventurous foodie', his Sydney venue serves up plates that are works of art, bursting with flavours you are unlikely to have tried anywhere before.
Ashraf now brings these easy-to-follow recipes to the home kitchen with his new cookbook, Coya, French and Middle Eastern Cuisine, ideal for all levels of home cooks ready to transport their taste buds to another world.
"To me, the kitchen is the core of the home. It brings everyone together, where we can enjoy what we love to eat, talk about the food we are enjoying and learn about culture and the history of food – it's one of life's pleasures," Ashraf says.
"I think about food all the time, especially on my day off. I love to go to the markets, looking for fresh ingredients and produce. I bring them home and get cracking. My family loves everything I make because I keep things simple and work around what is in season."
Ashraf says the popularity of Middle Eastern fare can perhaps be attributed to connoisseurs of good taste sampling these delicacies and wanting to learn how to recreate them.
"The serving of Middle Eastern dishes has come to signify an important addition to a feast or celebration and a way of welcoming a special guest. In our home, a guest is always welcome and treated as a part of the family around the table."
Ashraf uses the recipes in this book in his restaurant and at home, with different ways of plating and presenting them. They are simple, easy and can be enjoyed anytime, anywhere.
"Since working as an apprentice, I've always wanted to do things my way, I consider my food 'Middle Eastern fusion'. It's about reinventing classics with my personal interpretations."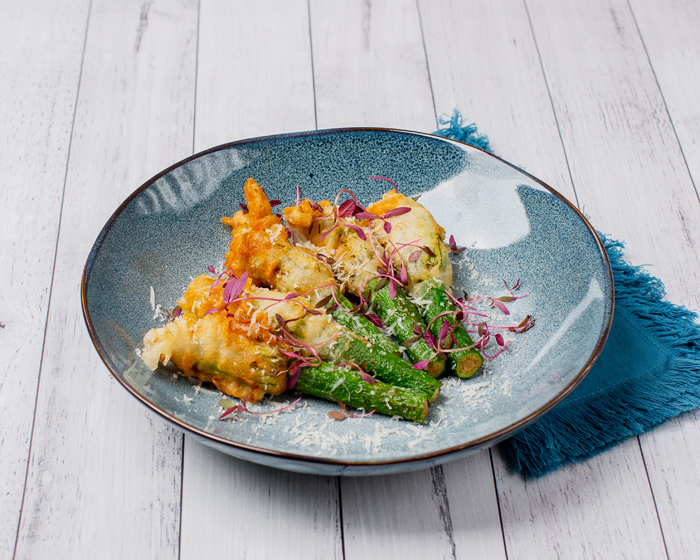 Zucchini flowers stuffed with King prawns in a bouillabaisse emulsion is a great example of this philosophy. Fish and prawn heads, mussels, vegetables and saffron are used to make a French-style bouillabaisse, which the battered and deep-fried zucchini flowers rest upon; while the stuffing is a mixture of fish, prawns, ginger, cream and garlic, making these tasty and pretty morsels an ideal entrée.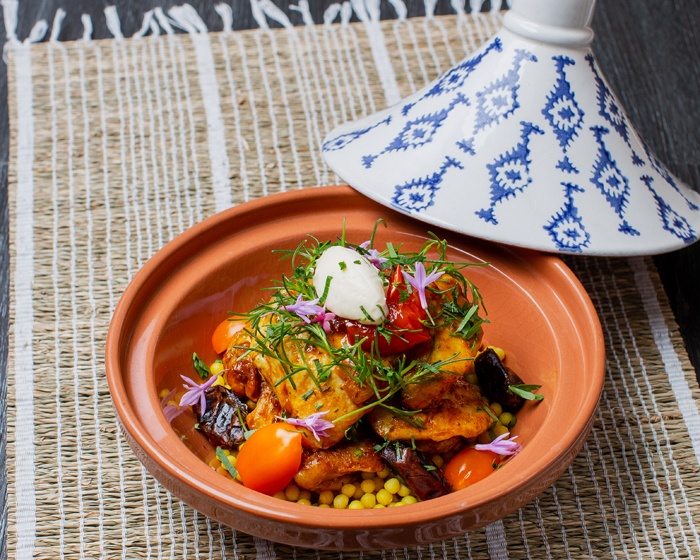 A tagine is a cone-shaped earthenware cooking pot traditionally used in Morocco. Dishes cooked in a tagine are generally layered with meat, vegetable, aromatics and spices; as they cook, a stew-like consistency develops making a rich, flavourful sauce like in this recipe for organic chicken tagine with moghrabieh and minted yoghurt.
Moghrabieh is sometimes referred to as giant or pearl couscous and is a form of rolled semolina. In this dish, it provides the base for a vibrant and colourful meal of chicken Maryland pieces, flavoured with saffron, apricots, spices and vegetables; while a dollop of minted yoghurt adds a hit of smoothness.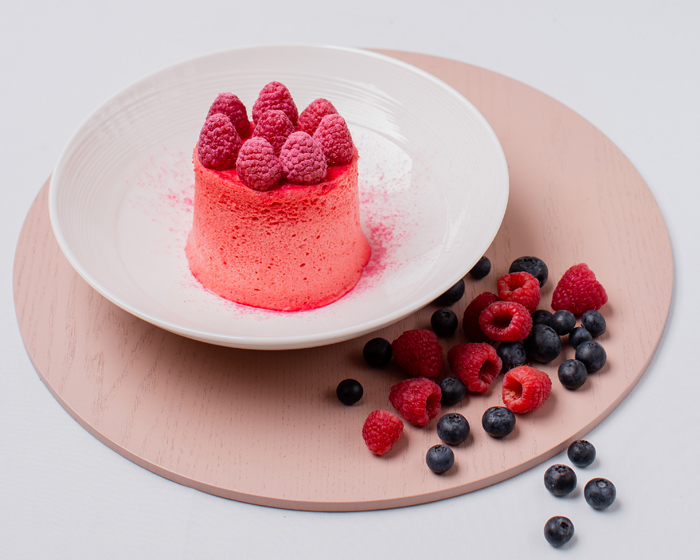 The Middle East has a reputation for wafer-thin layered pastry desserts, drenched in sticky, fragrant syrup and filled with nuts. Ashraf brings his own twist to the notion of sweets with this room temperature raspberry souffle.
Forget baklava… this soft, light and fluffy dessert will become a family favourite and is very easy to make combining eggs, cream, frozen raspberries, lemon juice and gelatin, before refrigerating in moulds for the mixture to set.
Coya is a celebration of Middle Eastern, French and modern cooking, combining the techniques, spices and ingredients that make these cuisines so popular. Accompanied by striking images, even the most amateur cooks will be able to recreate these stunning, tasty meals, sides and desserts without too much effort.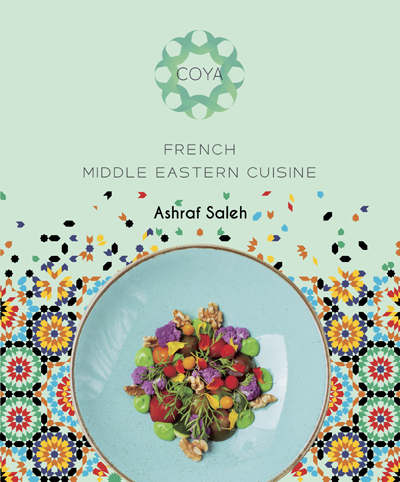 Coya – French, Middle Eastern Cuisine, New Holland Publishers RRP $39.99 available from all good book retailers or online.