By Leigh O'Connor.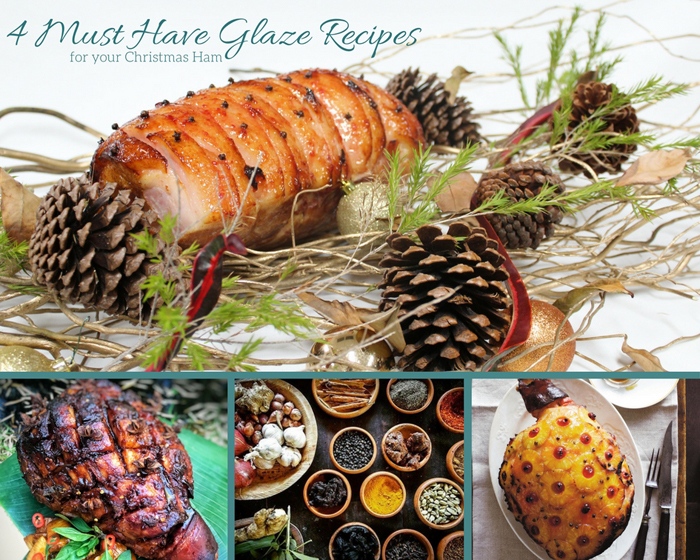 Perfectly glazed Christmas ham is the gift that keeps on giving as we feast, dine and snack on this table topper for many more days than just December 25.
Ham is synonymous with Christmas all around the globe and there are few tables that won't be graced with a leg studded with cloves, basted with sticky glaze and served plump and pink to eagerly awaiting family and friends.
What is the perfect glaze? Here are four suggestions to make your ham look and taste sensational for Christmas 2019.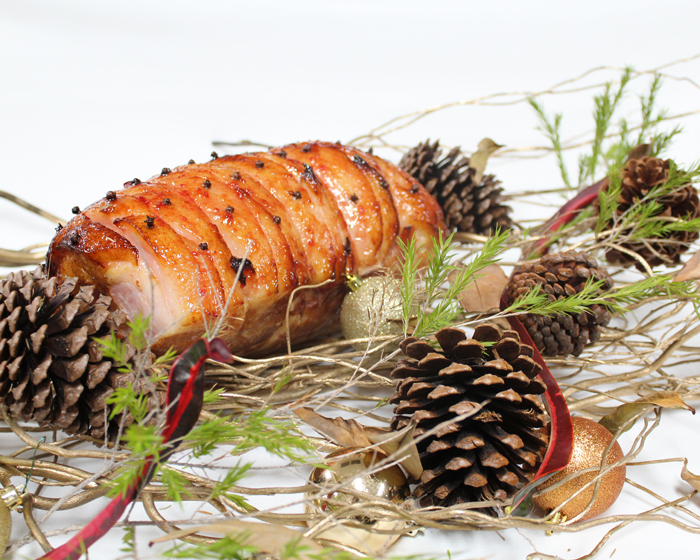 Davidson plums are a unique Australian rainforest fruit, growing in northern NSW and Queensland, and an important indigenous food source. With a rich, burgundy colour and strong tangy acidic flavour, these plums are used as a base for savoury and sweet sauces and desserts.
Sam Moore, former Head Chef at room81 in Broadbeach brought this recipe for Sam's Christmas Ham to the table while working at the iconic restaurant, located on the ground floor of the Sofitel Hotel. This refined and exclusive venue serves up a degustation menu of Mod Oz fare.
Sam recommends using boned and rolled Kurobota ham, also known as Berkshire or black pig, as it is reputedly the best pork there is – the equivalent of Kobe beef.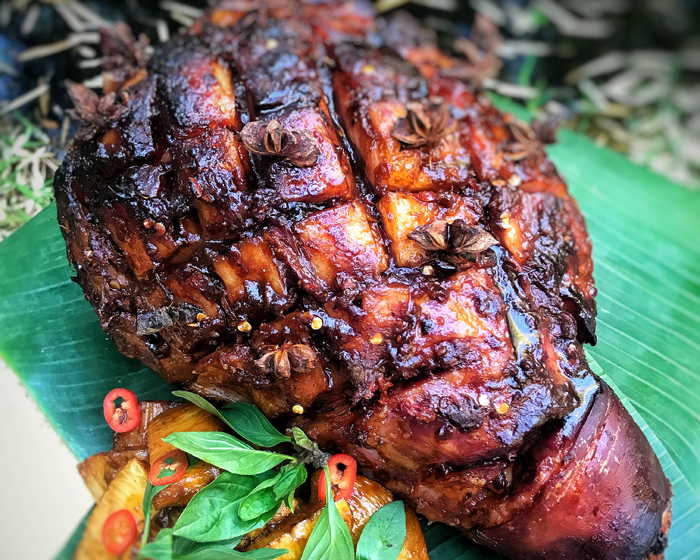 From Tom Swapp, Chef at The Spirit House Restaurant in Yandina, comes this delectable recipe for Rum, Pineapple and Palm Sugar Glazed Ham. Well famed and highly praised, this Chef Hat awarded establishment boasts a memorable dining experience - bursting with Southeast Asian flavours - and Tom's glazed ham is no exception.
Using fresh pineapple, dark rum, tamarind, chilli, ginger and cinnamon to make the glaze, the ham is also coated with a chilli, coriander and garlic paste, then baked for an hour basting every 15 minutes. Served with roasted pineapple wedges and a sauce made from leftover glaze, this festive dish is Queensland Summer on a plate and sure to tempt any tastebuds.
Sri Lankan heritage with a hit of Mexican chilli, is the inspiration behind Tamarind Glazed Ham, by Peter Kuruvita of Chef Hat awarded Noosa Beach House. Born in London to an Austrian mother and Sri Lankan father, Peter's career has spanned many countries and countless kitchens, now residing along the suave, coastal dining hub of Noosa Heads' Hastings Street.
"This recipe is a combination of my travels, I use beautiful tamarind and cloves with the pork, while the accompanying tamarind pasilla vinaigrette can be served on the side," he explains.
Apple juice is used as a baste while the ham cooks for two hours, covered in a sweet-sour paste made from chillies, onion, garlic, tomatoes and tamarind pulp.
For a traditional take on the main affair this festive season, try Christmas Barbequed Glazed Ham, by Ross Dobson, with pineapple rings, orange juice, brown sugar, mustard and cloves. Decorated with glace cherries, this is a vibrant and delicious dish cooked under cover on the barbeque, giving the ham a distinct smoky flavour and charred exterior.
After two hours' cooking and glazing every 20 minutes, the pineapple rings turn a dark caramel colour and some of the fat and juices will form toffee-like stalactites around the sides of the ham.
Now we have provided some inspiration - however you choose to serve it, there is no doubt ham will be a winner this festive season.