By Leigh O'Connor.
Who doesn't love a good party? The chance to let your hair down and dance the night away surrounded by good friends, good food and the obligatory cocktail of choice.
As the weather turns balmy and backyard barbeques fire up, thoughts turn to entertaining by the pool or on the patio, with cool tunes playing in the background and a pitcher of punch on the outdoor table. Kick your party up a notch with delicious and decadent drinks that will knock your guests' socks off and release inhibitions, as they swing into any celebration.
Think outside the box and surpass all expectations with party drinks that pack a punch…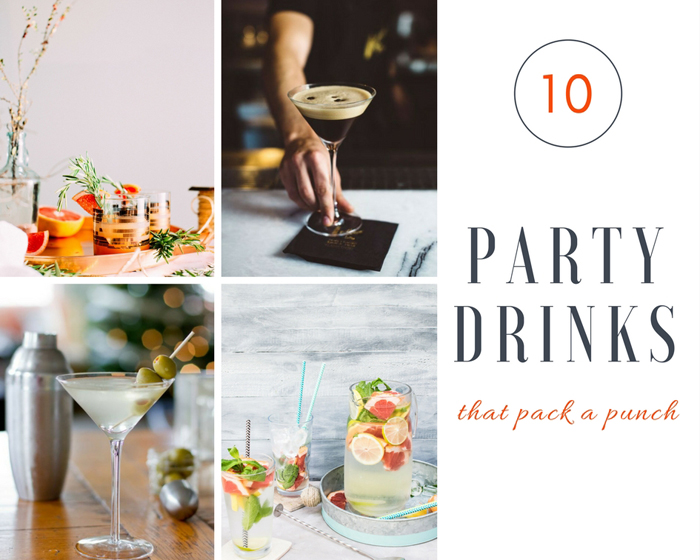 Known as the queen of Mexican beach resorts, Acapulco conjures images of soaring cliffs, wide bays and intimate coves, fringed with sandy beaches and backed by jungle green hills. It is also Mexico's original party town and in its heyday was dubbed the 'Pearl of the Pacific' by the likes of Frank Sinatra, Elvis Presley and John and Jackie Kennedy, who played and stayed there.
True to its name, this cocktail is sure to be a Summer stunner, combining fresh pineapple juice, vodka, mint and the hit of jalapeno chillies to tantalise tastebuds with a refreshing flavour, best served long over ice.
Think Sarah Jessica Parker and the girls from 'Sex in the City' when making this Cosmopolitan recipe. A very New York drink, the Cosmo is thought to have originated in Manhattan in the 1980s when this fun, fruity aperitif took the Big Apple by storm.
Mix up a pitcher of blood orange and lime juice, teamed with Cointreau, vodka, a splash of orange bitters and garnish with an orange slice.
Made famous by one Bond – James Bond – and always better shaken, not stirred, it is hard to go past a classic Martini as a party starter. How you prefer your Martini says a great deal about your character: reserved and extra dry, or a laidback lounger who likes it dirty.
It also wouldn't be as iconic if not served in a Martini glass, with its unique funnel shape created to stop the cocktail from being warmed too much by the drinker's hands. Combine gin and dry vermouth in a chilled glass, garnish with skewered olives and witness the resulting Bond swagger that guests radiate.
Inspired by his book about the ceremony and traditions of Spanish bullfighting, Ernest Hemingway reputedly drank three to five of these cocktails in one sitting. A champion drinker, Hemingway claims to have invented the tipple by adding anise-flavoured Absinthe to champagne until it turned a milky consistency.
Also known as the 'green fairy,' Absinthe has a very high alcohol content – anywhere between 55-75% - so be sparing when mixing this cocktail or the party could be over before it begins.
When cocktail culture was in full bloom in the early 1900s, New Orleans – a city of music, dancing and bad behaviour - was a beacon of light with many great drinks such as the Hurricane and Sazerac. The most famous Southern aperitif to come out of this city was the Gin Fizz, a drink designed with everyone in mind.
This is the sort of cocktail to shake up when you are in need of a holiday, even if it's in your garden and only one-night long. Ideal to be sipped ice cold in a high ball glass, this refreshing concoction is light and tasty with the addition of carbonated water.
Legend has it this cocktail got its name from the 1950s when a California surfer who favoured its flavour lost a pivotal contest and walked into his usual watering hole, ordered one and promptly banged his head on the wall from the agony of defeat. His name was Harvey…
This retro refreshment teams vodka and Galliano with orange juice and is often considered a lady's choice, as it is incredibly easy to make and a pretty drink to enjoy.
The oldest cocktail on the planet, punch has its origins in India and was brought to the United Kingdom in the early 17thCentury. A loanword from Sanskrit, punch literally means 'five' relating to five main ingredients: alcohol, sugar, lemon, water, tea or spices.
This version combines light rum and peppermint schnapps with juice, thick cream, mango and orange to create an ideal accompaniment to party appetisers or grilled barbeque delights. Be sure to refrigerate for at least an hour before serving.
Whether you like them frozen or straight up, margaritas are possibly the most popular party potion. Any flavour seems possible as tequila is a versatile spirit that lends its taste to both savoury and sweet, with or without a salt rimmed glass.
Everyone has their favourite margarita, but this recipe is sure to turn a few heads using pears, silver tequila, triple sec, lime juice and a sweet and sour mix. It is a frozen version which will go down a treat at any gathering this party season.
This pure alcohol brew is aptly named – drinking it will either cure a rattlesnake bite, kill the snake or make you see rattlesnakes. It's a spiteful but lovely little libation, guaranteed to get toes tapping and the joint jumping – but imbibe in moderation.
Just mix wild turkey with peppermint schnapps and shake with ice, before straining into shot glasses. Bottoms up!
Espresso Martinis are the tipple of the times… great for an after-work drink with friends, or to serve as a party toast to good times and mates. Also, a great way for a caffeine fix, an espresso is not a true Martini and was born when a top British model walked into a London bar and asked for a drink that could wake her up and load her up.
Sophisticated, edgy and unexpectedly strong, don't drink too many if you want to sleep at night. Enjoy this Sicilian version, combine vodka, cold espresso, Tia Maria and Kahlua in a shaker and garnish with coffee beans.
Now you are armed with the perfect potion for your next party, enjoy and celebrate in style. Still looking for the ideal thirst quencher? Click here for more.