By Freya Ensbey.
Known primarily for his desserts after opening Melbourne's South Yarra store, Burch & Purchese Sweet Studio, one would assume acclaimed celebrity pastry Chef, Darren Purchese to continue this level of precision and art with every dish he prepares for himself, however, as the title of his new cookbook explains, Chefs Eat Toasties Too.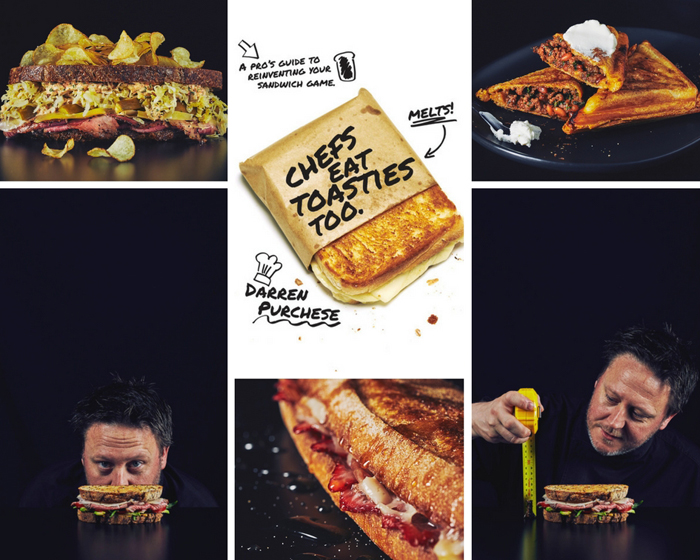 Darren has always had a soft spot for the humble toast, knowing he must not be the only one, he felt compelled to create a gourmet cookbook purely devoted to just that. Darren says pastry and chocolate are his profession, but toasties have been his hobby and obsession since he was a child.
Darren recalls his mother fixing him the usual household staple of cheese on toast, but as he grew old enough to make them for himself, he would play around and experiment with adding extra toppings, using different cheese varieties and breads, quickly turning toasties into an obsession with the sole purpose of creating the best melted cheese toastie experience possible.
Forget everything you know about the standard toasted sandwich and learn from scratch as Darren takes you through the foundations, condiments, cooking methods and ingredients needed to take your sandwich from a dreary mess, to a cheesy yes!
Execute these lessons by creating drool worthy towers of cheesy goodness like the toasted Rueben with Emmental cheese, pastrami, sauerkraut, thousand island dressing and dill pickles served with a side of potato chips. Closing your eyes, take a bite and you could be on the streets of New York. The classic combination of Swiss cheese and sauerkraut harmonise well, while the addition of handmade thousand island dressing takes this creation to a whole new level.
There is a place in all of our hearts for jaffles - little triangles of goodness, creating the perfect pockets to pack full of flavour, just as Darren has done with his spicy lamb mince jaffle with soft labneh spread. Whip up this hearty recipe to satisfy any hunger, high in protein and ideal for using up leftovers in the fridge, this recipe also gives handy tips, like how to create the easiest handmade labneh to accompany any dish.
If you think that toasties are reserved for the category of savoury, think again. Turn to page 54 to feast your eyes on the strawberry, prosciutto, manchego and honey toastie. Using a baguette as the vehicle, this loaded dessert toastie perfectly combines the saltiness of the prosciutto with the sticky sweetness of the honey and supplies bursts of fresh flavour in every bite from the strawberries.
This pocket rocket cookbook will turn up the dial on your toasted sandwich game, with Darren's unique take on the popular classic, taking it out of the category of a snack and into the realm of a well requested main meal.
Recipes and images from Chefs Eat Toasties Too by Darren Purchese, published by Hardie Grant Books, RRP $29.99 and is available in stores nationally. Photography credits to Brendan Homan.