By John Rozentals.
I guess many people wonder why a small wine producer such as the Hoskins family's Brangayne would bother having two vineyards, but those who understand climate know only too well that 100 metres difference in elevation means the world.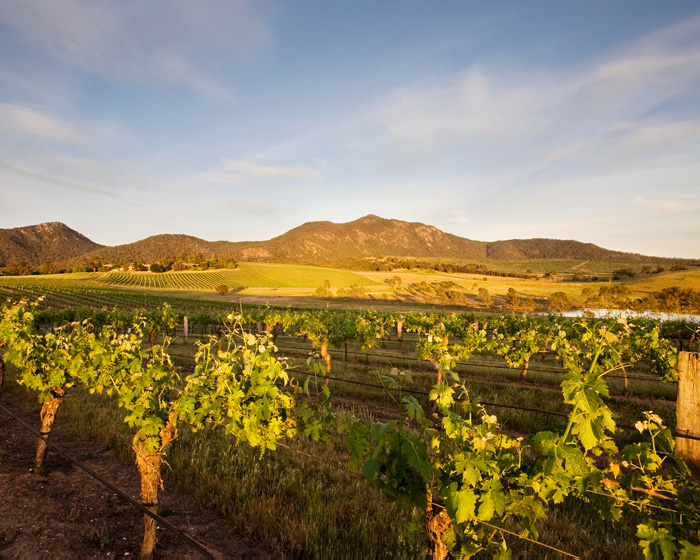 Producing gorgeous shiraz, Mount Langi Ghiran's vineyard in Central Victoria.
That's why Brangayne's home vineyard, at an elevation of some 960-1000 metres on the higher Eastern slopes of Orange's Mt Canobolas, is planted to early ripening varieties such as chardonnay and sauvignon blanc — and why its Ynys Witrin vineyard, not that far away as the crow flies, but a hundred metres or so lower, is planted to later ripening varieties such as cabernet sauvignon and riesling.
And, before you ask, the name Brangayne comes from the character who prepares a love potion for Isolde, an Irish princess, in the Wagner opera Tristan and Isolde. Ynys Witrin, meanwhile, is derived from the original Welsh name for the English district of Avalon, setting for the much of the legend of King Arthur.
Wine Reviews:
Brangayne 2016 Sauvignon Blanc ($22): this dry white, made 100% from Brangayne's home vineyard, shows exactly why I regard sauvignon blanc from Orange so highly. It has plenty of herbaceous, tropical-fruit aromas but it also has genuine depth of palate flavour and easily passes the second-glass test. Much better than many unsatisfying, overcropped sauvignons from Marlborough.
Brangayne 2014 Tristan ($35): A dry red blended from cabernet sauvignon, merlot and shiraz grown on the warmer Ynys Witrin vineyard. The grapes probably wouldn't have ripened adequately a hundred or so metres higher up, but here they deliver a wine with distinctive leafy cabernet aromas but an ample, generous palate. A flavoursome, attractive medium-bodied, excellent food wine — good stuff.
Wine of the Week:
Mount Langi Ghiran 2014 Billi Billi Shiraz ($18): What a gorgeous, peppery Central Victorian dry red this is. Flavours of spice and dark berryfruits leap out of the glass and dance on the palate, and there's some lovely oak and tannin in the background, too. My only quibble with the winemaker's notes concerns its cellaring potential. As is so often the case, especially in these days of screwcap closures, I think it's too conservative. My estimate of the drinking window goes well beyond the suggested 2020. But who cares? It's lovely right now and I'd suggest partnering it very soon with a hearty winter casserole. Great value and great drinking.