By Leigh O'Connor.
As a Chef, Brett Humphries believes it is his responsibility to pass knowledge on to the younger generation and teach them about native ingredients and the environment.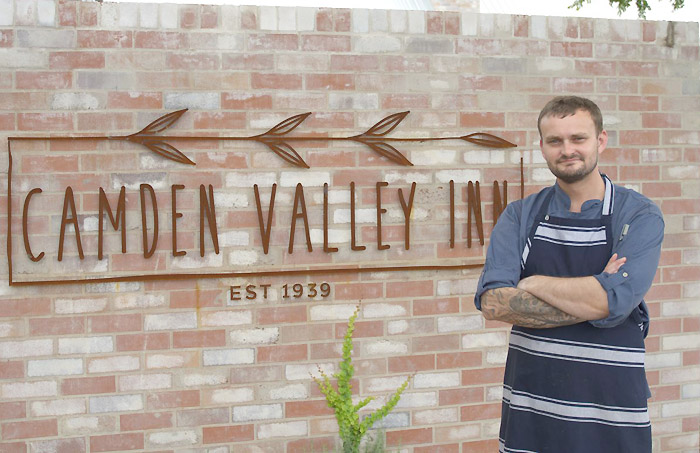 In charge of the kitchen at destination-worthy restaurant Camden Valley Inn, Brett has worked closely with indigenous communities in the Ayers Rock region to source ingredients for his creations and infuse native flavours through the menu.
Set in the fresh country air of Camden, the restaurant offers up stunning views of the Razorback Mountains, from its setting among five lush acres of land; there's also an entertainment precinct including a pavilion, marquee and beer garden, while the original building was built in the 1930s as a milk bar for locals.
"Camden Valley Inn is a destination venue – only an hour away from Sydney city and 45 minutes from Wollongong," Brett explains. "It's a country escape without travelling the distance, while breathtaking views make you feel like you have travelled far to experience this type of dining."
Brett was influenced from a very young age by his father, helping him on the weekends with his home catering business.
"He would spend hours and had so much passion for catering weddings and big events. It is what inspired me to get into the industry.
"Rick Stein is the Chef that did and still does inspire me in the kitchen, from watching his TV show while he travelled up the British coastline, preparing seafood dishes and paella. This inspired me to head to the Queensland islands, where I replicated the same passion for cooking freshly caught seafood."
Brett points to his time as a Commis Chef on Brampton Island as one of the most memorable restaurants he has worked at and one of the most influential.
"I would take a big barbeque out to the beach and cook freshly caught seafood, steaks and meals," he says. "We were very fortunate to work with fisherman directly, who also provided influence for the development of new dishes and an appreciation of working with the freshest produce from your surroundings.
"Alongside this, my hunger grew to explore the land and sea to source the best produce for guests."
While working at Desert Gardens Hotel in the shadow of Ayers Rock, Brett started to explore this hunger – sourcing ingredients such as muntries (emu apples) to add to his menu creations.
"When ripe, these berries are red in colour and have the taste of a spicy apple. It is such a versatile fruit, which can be added to salads, jams, fruit salads and can replace apples or sultanas."
Brett's favourite dish to cook using native ingredients is emu two ways – a seared fillet with jerky powder, parsnip and sandalwood puree, macadamia crumb, balsamic and Illawarra plum reduction.
"It was a crowd favourite and became somewhat of a signature dish for the restaurant at the time. It has an amazing natural texture and flavour, and as one of the only indigenous restaurants in the country with the influence and teachings of native people on your doorstep – it added to the creativity of the dish."
These days Brett uses the land as his guide, immersing himself in the surroundings of Camden Valley and forging relationships with local producers and suppliers to source fresh farm-to-plate ingredients for his menu.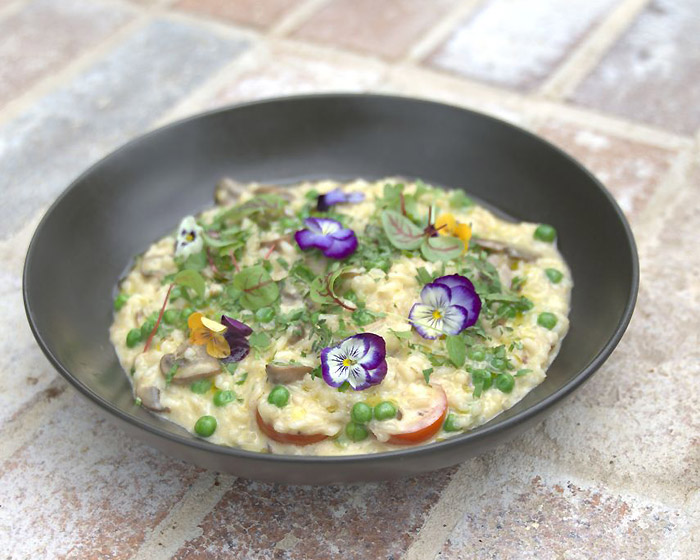 With the cooler weather embracing us, it's time to think about easy Autumn creations like his recipe for mushroom risotto.
"Autumn is one of the best times of the year for fruit, vegetables and herbs that love colder conditions. Baby peas are coming into season, mushrooms appear in abundance due to the cooler conditions and dampness in the air. This dish brings warmth and heaviness to the soul, with the gorgonzola cream drizzled over the top to add an extra bite."
While his feet are totally grounded in the kitchen, Brett looks skyward to relax and enjoy his spare time – he's an aerobatics pilot and loves to get up and fly.
With his 'food picked today' philosophy, this is one Chef set to soar even further in the Australian culinary skyline.