As warm breezes waft in the air and Jacarandas sprinkle a carpet of purple hues on lush, green lawns, Australian's stretch their party legs and prepare for a season full of longer days, balmy nights and wining and dining.
Whether throwing some meat on the grill at home or gathering with friends in a beer garden on a lazy weekend afternoon, it is time to get your party groove on. Beaches beckon after Winter hibernation or perhaps a trip to a favourite vineyard to sample a drop or two, before finishing the day with dinner at a local hangout.
From high teas to hamburgers and intimate dinners, everyone has a party hot spot that suits the mood and the moment. Let's take a fly around the states and check out what's on offer near you.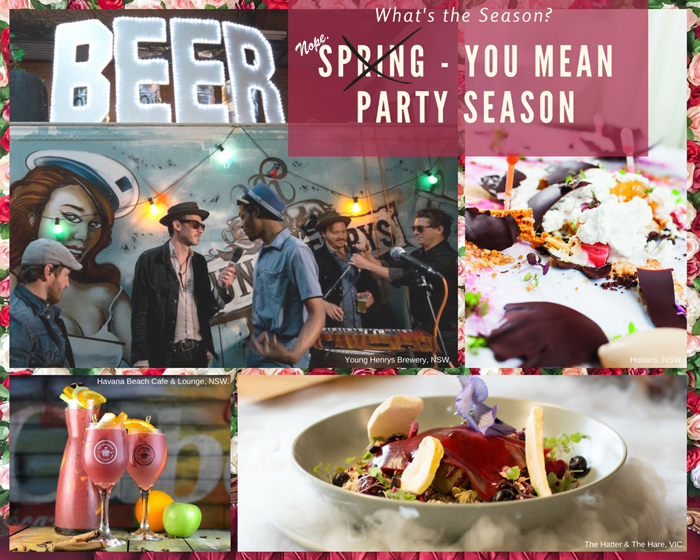 Reef | NSW
With relaxed coastal dining and breathtaking views of the Spring sunset over Forster's Wallis Lake, Reef is an ideal spot for a celebration, with its regular themed nights and large seasonal menu. Get together with friends alfresco and sip on a lemon meringue pie cocktail while contemplating sharing a crispy pizza with chilli salt prawns, capsicum, tomato and rocket with chipotle aioli, or delve into fresh seafood options like seared scallops, salt and pepper squid and natural Wallis Lake oysters. Live music is sure to get the party started so kick back, soak up a gentle breeze and swing into Spring.
Hunter & Barrel Cockle Bay | NSW
Take in sensational Darling Harbour views from Cockle Bay Wharf at Hunter & Barrel, while the aroma of tender meat floats in the air from their signature coal and spit rotisserie. Nothing says party more than a sizzling steak on the grill and a glass of red in hand, as guests take in moody surrounds ideal for an intimate dinner or gathering of friends. Share a starter of hot cheese dip and flatbread or fried squid with lemon and black pepper dipping sauce, before devouring a platter of slow cooked chilli beef ribs, or crispy pork belly.
Chophouse Grill | NSW
Steak is the name of the game at Chophouse Grill in New Lambton. Located in West Leagues Club, this spacious Newcastle restaurant is a great spot to spend a night out with friends and family at wide tables, with glowing caged lights creating an authentic steakhouse vibe and relaxed ambiance. Party hearty with dishes such as The Rattle Steak (meat with bite), a 300g blackened rib eye coated in a housemade special blend of spices, chilli and breadcrumbs, fried until golden and served medium with chipotle hollandaise, perhaps teamed with a side of onion rings and ranch dressing.
Hobarts | NSW
For an elegant dinner party and memorable culinary experience, indulge the senses at Hobarts restaurant by Lesley Taylor in New Lambton. Crystal chandeliers and white leather upholstery set the scene for refined dining from a degustation menu of French inspired fare with a hint of Japanese influence. Be enticed by ever-evolving choices such as fresh truffle risotto with escargot, lobster and prawn tortellini with caviar and beef carpaccio with horseradish snow, all complemented by an array of international and Australian wines. For a sweet treat sure to kick start any after party, delve into a Ziggy Stardust chocolate sphere with white chocolate and goats cheese cream, macadamia crumb, beetroot ice cream and popping candy.
Spice Monkey | NSW
Nothing says a party like an interactive sushi bar with mesmerising talent from highly skilled Chefs on show. Take a seat and watch the action at Spice Monkey on Wharf Street in Forster, where locals and tourists can overlook a pristine waterfront while sharing plates from a Japanese and Asian fusion menu served banquet style in the middle of the table. Start with finger licking bites such as slow braised pork wontons with coriander and spiced plum sauce, or perhaps deep fried octopus dumplings with bonito flake and Takoyaki sauce, before tucking into larger dishes like red cooked crispy skin duck legs with noir vinegar dressing, broccolini and rice.
Florida Beach Bar | NSW
A fun, night time party atmosphere beckons at Florida Beach Bar in Terrigal, where an impressive alfresco area is ideal for get-togethers with family and friends. This modern, stylish local hot spot is just a stone's throw from the beach and an enticing place to while away a lazy afternoon, or rock on into the night with live music at the weekends. Grab a vibrant cocktail or tap beer and delve into the likes of a chilli plum pork belly pizza with crispy noodles, or wrap two hands around a beery burger with maple bacon, onion rings, lettuce, cheddar and pickles. Housemade apple crumble with vanilla custard and ice cream may tempt those with a desire for dessert.
Havana Beach Café & Lounge | NSW
Manly locals and visitors get their Cuban groove on at Havana Beach Café & Lounge on Victoria Parade. Picturesque windows in the upstairs restaurant capture stunning beach views, while downstairs offers an energetic bar ambiance loaded with character with plenty of places to pull up a stool and relax with friends, while sipping a Cuban style mojito. Share a love of good times with plates like a jumbo nacho bowl with corn chips smothered in chipotle jack cheese, black beans and chorizo, or chow down on Mojo sautéed prawns, flambéed in white wine, garlic and lime. For a sweet finish, housemade churros with caramel sauce may hit the spot.
Young Henrys Brewery | NSW
With a constant backing track of cool tunes and craft beer on tap, Young Henrys Brewery on Wilford Street in Newtown is making a mark on Sydney's party scene. Like-minded beer lovers hang out enjoying a laidback vibe while sipping glasses straight from the tank and inhaling the aroma of malt and hops wafting in the air. Go for a middy of real ale, or grab a tasting paddle to try a range of flavours each with a back story as told by passionate staff. For the curious, brewery tours are available to find out more about the drops on offer.
Hunter & Barrel Eastland | VIC
Coal fires and an open kitchen make for a social experience, where friends can gather to share good times at Hunter & Barrel Eastland in Melbourne. With a sophisticated take on the ancient ritual of hunting, this restaurant combines raw elements of nature in a modern setting, luring guests with the crackle of fire and the smell of meat smoking. Hunter's boards, braised soups, slow cooked meats, pies and hearty stews are all designed to share, making it an ideal spot for celebrations and special occasions. Choose from craft beers, wines on tap, barrel-aged spirits and cocktails to elevate the party mood.
The Hatter & The Hare | VIC
When looking for a party filled with colours, tastes and smells to set the senses on overdrive, stop by The Hatter & The Hare in Bayswater. This foodie haven located at the gateway to the Dandenongs and Yarra Valley, takes diners on a culinary adventure filled with fun and frivolity as they peek down the rabbit hole to find a cavernous space, coloured with mint green and blond wood, polished concrete and plant terrariums. Pop by the baker's window and shout a hello to the pastry Chef creating imaginative tasty morsels to tempt any palate, or choose from a menu loaded with aptly named plates such as March Hare Pudding and Mad Hatter's Breakfast.
Brunelli Bar Restaurant Café | VIC
Celebrations flow as easily as the wine at Brunelli Bar Restaurant Café on High Street in Doncaster. Guests can tuck into generous plates of pasta and signature wood fired pizzas while catching up with family and friends in a warm, inviting atmosphere. Expect Italian classics such as pan fried veal with lemon and cream sauce, served with mash and seasonal vegetables, or twirl the fork around spaghetti marinara with mixed fresh seafood, garlic, a touch of chilli and splash of white wine. Those looking to share may be tempted by the Brunelli pizza with hot salami, button mushrooms, roasted red peppers and black olives.
Captain America's Hamburger Heaven | VIC
What says party more than a bustling diner with booths, 1950s music and a beer garden? Captain America's Hamburger Heaven on Forest Road in Ferntree Gully has been enticing guests since 1988 to tuck into café fare with flair, washed down with an ale, wine or root beer float. Resplendent in red, white and blue décor and Captain America murals, take a seat and choose from lip-smackingly good barbeque pork ribs, buffalo wings and a range of more than 20 burgers. Hearty eaters can set the lips around the T-Bird beef patty with lettuce, tomato, Spanish onion, lime and chilli aioli, smoky sauce and mozzarella, crowned with an onion ring.
COF.E.FIX | VIC
No one will leave hungry when gathering at COF.E.FIX on Queen Street in Melbourne's CBD, for family celebrations or work parties. Classically furnished with simple and stylish elements exuding warmth from polished timber floorboards to leather lounge benches, this café is a great spot to meet for coffee or indulge in a leisurely breakfast or lunch. With a range of platters on offer, including burger sliders, chicken wings, calamari, sandwiches, wraps and sweets, catering for a special occasion couldn't be easier - either dining in or home delivered.
Half Moon | VIC
Perch at the long black timber bar and enjoy a wine or craft beer in the essence of an ultimate urban pub at Half Moon on Church Street in Brighton. On balmy days, join friends in the landscaped beer garden and listen to the DJ spinning tunes on decks, whiling away lazy weekend afternoons. With six drinking and dining spaces extending over two levels, connected by sweeping timber staircases, guests can wine, dine and socialise in style. When hunger pangs hit, choose from mouth-watering morsels like grilled baby octopus or venison carpaccio with shaved pecorino, or perhaps share a main of slow roasted lamb with seasonal ratatouille and chat potatoes.
Souk | VIC
Tapping into the niche of Middle Eastern cuisine, Souk restaurant and bar takes guests deep into the flavours of Arabia. This slick venue located down one of Melbourne's hidden CBD laneways, mixes Turkish culture with a contemporary city feel through a vibe of neon colours and wall art. The concept of writing backwards is embraced in Souk's logo with mirrors and reflections offering a glimpse of Arabian style in an interior divided into two levels - a downstairs bar and upstairs dining space, fitting for any celebration. Choose from a menu made to share, with dishes like prawn falafels, Yemeni calamari and beef koftas.
Cosi Bar Ristorante | VIC
Italians certainly know how to party and in the heart of South Yarra, the place to go is Cosi Bar Ristorante. Nestled on Toorak Road, this stylish venue lures guests into a sleek interior where they can unwind at the bar on cushioned red chairs, out in a leafy courtyard basking in warm sunshine, or leaning in towards each other across intimate tables. Delve into Italian fusion dishes such as a selection of gourmet antipasto and beef fillet carpaccio, before blue swimmer crab tagliatelle or confit duck, red wine and radicchio risotto. For a sweet treat try the cardamom panna cotta with pear, saffron and pistachio.
Settlers Tavern | WA
Affectionately known by locals as 'The Tav,' Settlers Tavern in Margaret River welcomes diners with a healthy dose of Western Australian party spirit. Embodying true origins of the region and first built as a haven for the emerging surf culture of the 1970s, Settlers now serves a melting pot of families, friends and travellers. Front and rear alfresco dining areas are drawcards for gatherings over local ales, wines and ciders, while grazing from a pub menu with choices like Margaret River venison chorizo, American style BBQ chicken wings and seafood light fry. Those with more ravenous appetites can devour a scotch fillet steak with herb and garlic butter, salad and chips.
SEE Restaurant | QLD
Let's get this seaside party under way with sumptuous over-the-water dining at SEE Restaurant in Mooloolaba. Perched on The Wharf on Parkyn Parade, SEE offers Mod Oz fare using the freshest seafood straight from local trawlers, teamed with seasonal cocktails and a large cellar selection. Settle in for a romantic evening or dinner party with friends enjoying the iconic coastal lifestyle and be tempted by steamed mussels with coconut, ginger, lime, palm sugar and green chillies to start, before a Queensland barbeque seafood plate of King prawns, Moreton Bay bugs, squid and barramundi with Chilean sides. For a divine dessert, sweet tooths will be tempted by chocolate and maraschino gateau.
El Patio de Cuba | QLD
Imagine for a moment it's 1953 in Cuba…the mojitos are flowing, fine fare abounds and the showgirls are dancing. Long considered party central of the Gold Coast, Surfers Paradise is also home to El Patio de Cuba restaurant where a vibrant vibe and modern fit out draw diners through the doors into a pulsating world of glamour and punchy flavours. Although famous for cigars, cars and Castro, Cuba also offers mouth-watering cuisine inspired by Spain and the Caribbean, as well as delicious rum cocktails and sangria. Prepare to be seduced by El Patio tapas plates like slow cooked pork belly with honey and chilli glaze, fresh salmon ceviche with corn chips and beef cheeks in a chimichurri sauce.
Sasquatch Beer & Grills | QLD
Bringing people together over craft beer and charcoal grilled fare, Sasquatch Beer & Grills on
Gympie Road in Chermside is a fun favourite for Brisbane foodies. In surrounds of hanging bulbs, polished floors and bright wooden benches, guests can indulge in moreish bites while listening to tunes from the latest live act. Sample tasty 'hero' rolls such as Sticky Maggi pork belly with coriander, salted carrots and crispy onion, or grilled lamb with feta, tabouleh and tahini yoghurt, washed down with a cold Moon Dog Mack Daddy dark ale. For something sweet, excite the tastebuds with a chocolate waffle bowl of brownie, Nutella, ice cream and fudge sauce with a cherry on top.
To find a perfect party spot near you… click here.