By Freya Ensbey.
As the weather warms and the days grow longer, we begin to gear up for party season as Summer fast approaches. Just as they do seamlessly in fine restaurants, why not play sommelier and host your very own dinner party at home, celebrating sumptuous share plates and marrying them with an elegantly matched wine.
When it comes to wine pairing, there are generally a few tried and tested rules to stick by: a bubbly loves salty foods, sauvignon blanc flirts well with tart dressings and sauces, a pinot grigio pairs well with lighter fish dishes, whilst a chardonnay is best for a fattier dish and a rosé or sweeter drop for foods with heat or spice and old world wines such as a deep red, tie in well with old world dishes like that of pasta or dense meat cuts.
However, we have done the groundwork for you, not only collating our very best canape recipes to whip up in a breeze, but also selecting the ideal wine pairing to accompany each tasty morsel from our recommended wineries across the country.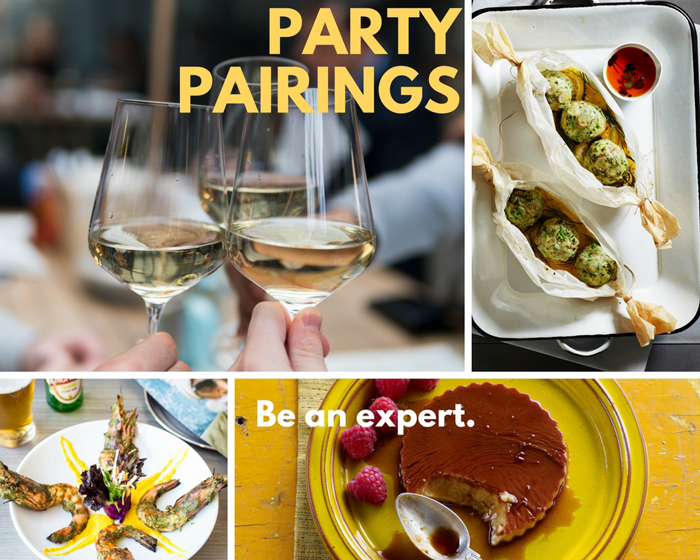 Canape: Baked Seafood Balls
These baked seafood balls are created by Chef Matteo Bruno and were a smash hit following his most recent cookbook aptly named, Meatballs. Steamed inside a baking paper envelope, these white fish seafood balls remain succulent and moist during the cooking process with punchy flavours of garlic, lemon and chilli.
Pair With: D'Angelo Estate Vineyard, Pinot Grigio
This pinot grigio is warm and textural on the middle palate and has characters of spiced apple, honeysuckle, nougat and honey, ideally served chilled, this is a definitive wine to experience.
Canape: Chinese Dumplings
Lovers of pork rejoice with this pork and shrimp Chinese dumpling recipe. Made from scratch, this recipe will also teach you the basics of mastering a basic dumpling dough, which can be used time and time again with the addition of different fillings.
Pair With: 2013 Pierrepoint Alexandra Chardonnay
The cool climate 2013 Pierrepoint chardonnay displays notes of sweet grapefruit and white peach, with a gentle creaminess and nuttiness. The delicate mineral qualities and gentle acidity are balanced with subtle yeast flavours, producing a well-balanced wine with a rounded and lengthy finish.
Canape: Spicy Pork Tacos with Pineapple Salsa
You'd be hard pressed to find someone who doesn't enjoy Mexican. With its fiery attitude, vibrant colours and playful hands on approach, Mexican is a crowd pleaser you can bank on being a hit with your guests. The addition of pineapple brings a tropical twist to this dish and cools the palate following the burst of spice from the peri peri and chilli sauce.
Pair With: Seville Hill 2016 Rosé
As a simple rule, the spicier the food, the sweeter the wine pairing should be. This rosé has berry aromas which fill the nose with hints of cherry and strawberries, following through to the palate these flavours are enhanced by a clean crisp finish best experienced when served chilled.
Canape: Tandoori Basil Prawns
Nothing says a balmy Summer's night like seafood sizzling on a hotplate. Although calling for a tandoor oven, these prawns can also be easily cooked on the barbeque, resulting in a crunchy texture and smoky flavour. The Tandoori sauce brings a creamy element to this recipe, whilst kaffir lime and lemongrass deliver a hint of refreshment, tying this dish together nicely and making for a visually impressive plate.
Pair With: Passing Clouds 2015 Fools on the Hill Chardonnay
This Fools on the Hill chardonnay has pronounced and defined aromas of complex citrus, white stone fruit, oak and characters of cashew and honey. The palate showcases the defined fruit further, with a bright and fresh finish with an underlying acidity.
Canape: Texan Beef Ribs
Be sure to have the serviettes on hand with these finger-licking-good ribs. Marinated with paprika, fennel, chilli and brown sugar, before being slow cooked and served with a tangy bourbon and maple sauce, these ribs will not last for long, so be sure to pinch a couple before serving them to your guests.
Pair With: Holm Oak 2016 Cabernet Sauvignon
This Cab-Sav is full of black currant and cassia characters with a beautiful velvety mouthfeel, with an added hint of chocolate, leather and tobacco which completes the bold bourbon taste of the ribs perfectly. This wine is ready for drinking now or can be left to continue developing for years to come.
Canape: Homemade Flan
It is no doubt that towards the end of a dinner party, the dessert can be a tiresome act to perform, which is why we have found a quick and easy recipe which is sure to impress, but can be made ahead of time and ready to serve, ensuring you can take a seat to enjoy the sweet ending whilst partaking in conversation.
Pair With: Stonefish 2013 Bird of Fire Botrytis Semillon
Australia's Riverina is the largest wine producing region of New South Wales and are best known for their semillon grape variety and climate induced spread of the Botrytis cinerea fungus. This controlled fungus attacks the grapes, evaporating the water content of their juice and concentrating both its sugar and acid levels, resulting in a luscious, sweet, dessert wine like the Bird of Fire Botrytis Semillon.
So, stock up your drops, shop your ingredients and invite your guests around for your very own restaurant quality party pairing this party season.