By Leigh O'Connor.
Mmmmm…beer! Along with 'Doh' these are two of the most iconic lines from The Simpsons, over its 31-year history. Homer's love affair with both has kept us entertained since 1989 and now we can celebrate this perfect combination on International Beer and Pizza Day, Friday October 9.
There's nothing better than finishing a day with a slice and a pot – the foamy head on the top of a glass of amber liquid is the ideal partner for the cheesy texture of your favourite pizza.
Beer is the oldest alcoholic beverage known to man, seen as both a liquid food source, as well as a safe way to drink water. It was considered one of the safest drinks around, considering the diseases that could be found in water and the ancient Egyptians included beer in every level of their food chain.
Pizza also has a long history dating back to 997AD in Italy…thousands of years later, the two are seen as one of the most popular food and drink pairings around the globe.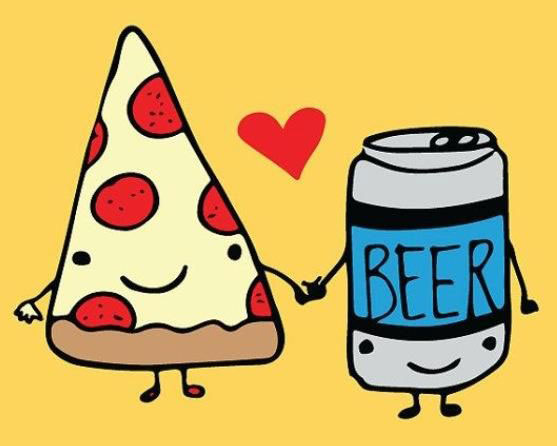 Did you know these six fun facts?
•The first pizzeria in the USA – G. Lombardi's - opened in New York in 1905.
•Frozen pizza became popular in the 1960 – Totino's is believed to be the world's first frozen pizza company.
•Baked bread has origins from the Middle East and adding toppings goes back to the Greeks and Romans.
•Women did most of the beer brewing in ancient Egypt.
•Beer is the third most popular drink in the world after water and tea.
•The world's strongest beer is Brewmeister's 'Snake Venom' at 67.5% ABV.
Here are six of our favourite places to chow down on pizza and beer:
With regional Victoria now open for business, why not spend Pizza and Beer Day at
Hop Temple
on Armstrong Street North in Ballarat? Rejoice your COVID freedom with good food, good beer and good friends at Hop Lane and the beer garden, but remember strict number restrictions apply so best to book early.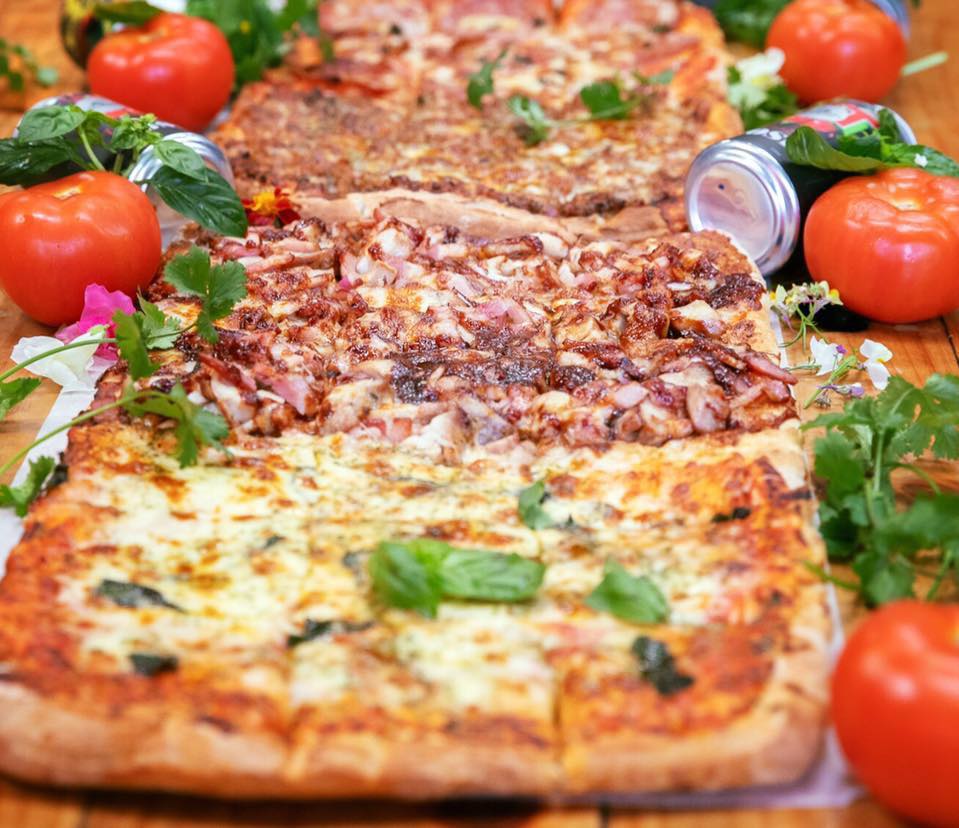 Hop Temple...beer and metre-long pizza.
Pick up a slice of Mary Had a Little Lamb pizza, topped with house Napoli sauce, mozzarella, braised lamb shoulder, Meredith goats' cheese, spinach, onion and pine nuts; or huge cheesy stuffed crust New York pizza with salami, washed down by a James Squire One Fifty Lashes Pale Ale.
Enjoy the Glenelg sunset from the balcony with a craft beer in hand, at
DoughBalls
on Moseley Square. This family-friendly pizza place delivers amazing service, food and value in fun and funky surrounds of mirror adorned walls, cane pendent lights and booth seating; while a sunny alfresco area is ideal for balmy days.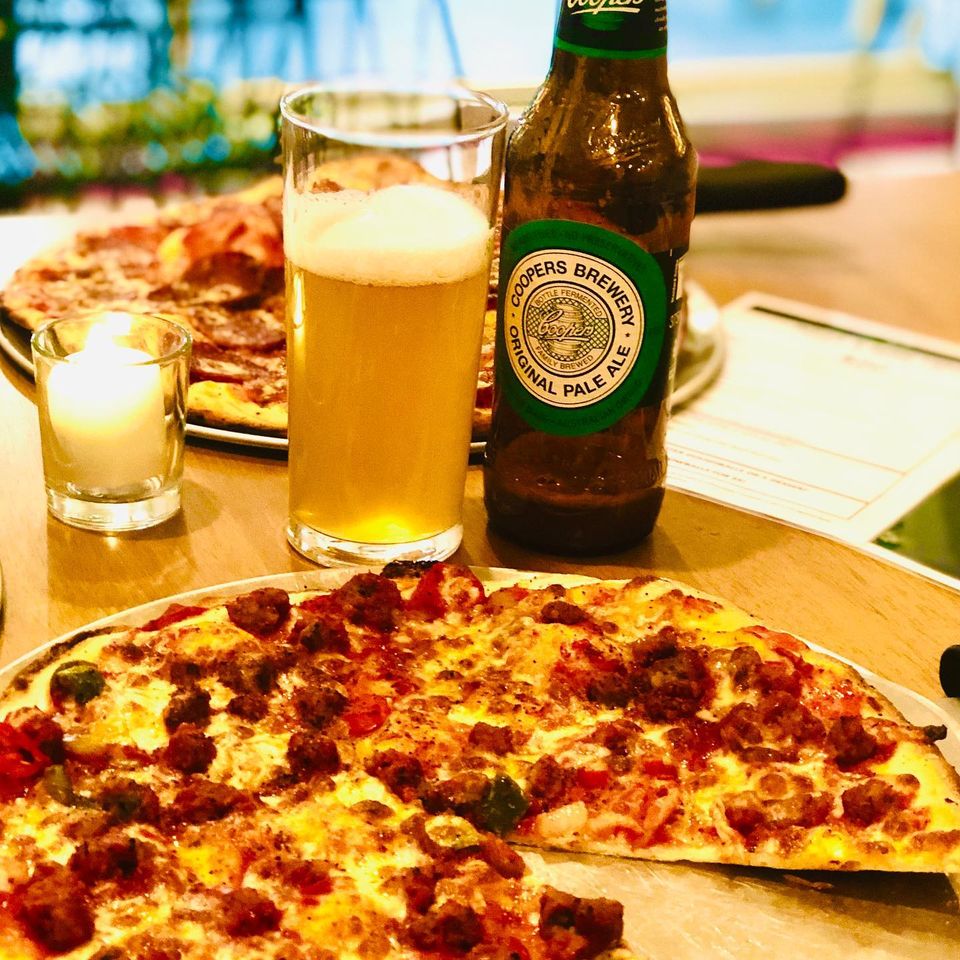 Calorie-conscious diners can choose from a pizza lite range, with options like The Venice – pine kernels, red onions, capers, black olives, sultanas, mozzarella and tomato; or grab a slice of classic pizzas such as Spicy American, with pepperoni, mozzarella, tomato, piquillo peppers or jalapenos, drizzled with olive oil.
Drawing an after-five crowd,
Locale Pizzeria Deakin
on Hopetoun Circuit encourages Canberra diners to take time out with family and friends - relaxing, celebrating and socialising over pizza and beer. A smart menu remains simple, serving popular favourites of housemade pasta and pizza cooked in a wood-fired oven, to release mouth-watering aromas.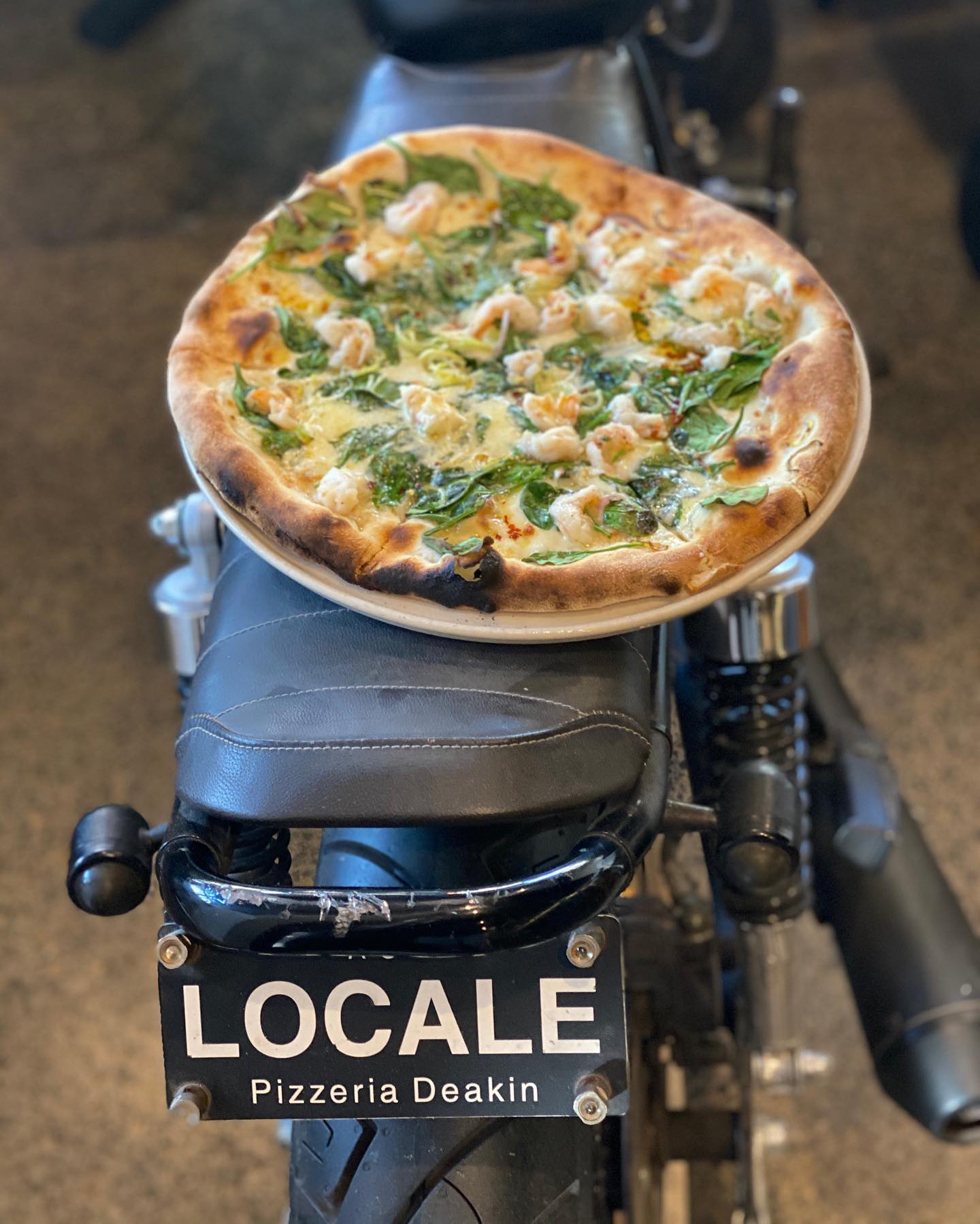 Grab an icy brew like Sicilian Messina Lager, paired with the Locale special pizza – San Marzano, fior di latte, salami, gorgonzola and mascarpone; or perhaps Rustica, with potato, Italian sausage, rosemary, gorgonzola and truffle oil.
Bringing a taste of Napoli to Glebe,
Pizzeria Da Alfredo
on Glebe Point Road is all about original wood-fired pizza and Italian fare. Settle into a little slice of Italy with art deco murals on the walls, exposed brick, hanging globes and grapevines, creating a warm, vibrant ambience to sip a cold ale and choose from an extensive pizza selection.
Regina Margherita, with cherry tomatoes, buffalo mozzarella, basil, Parmesan and olive oil, on a white base may entice; or perhaps say buon appetito to a slice of Sofia Loren – prawns, fior di latte, olive oil, rocket and shaved Parmesan, on a tomato base.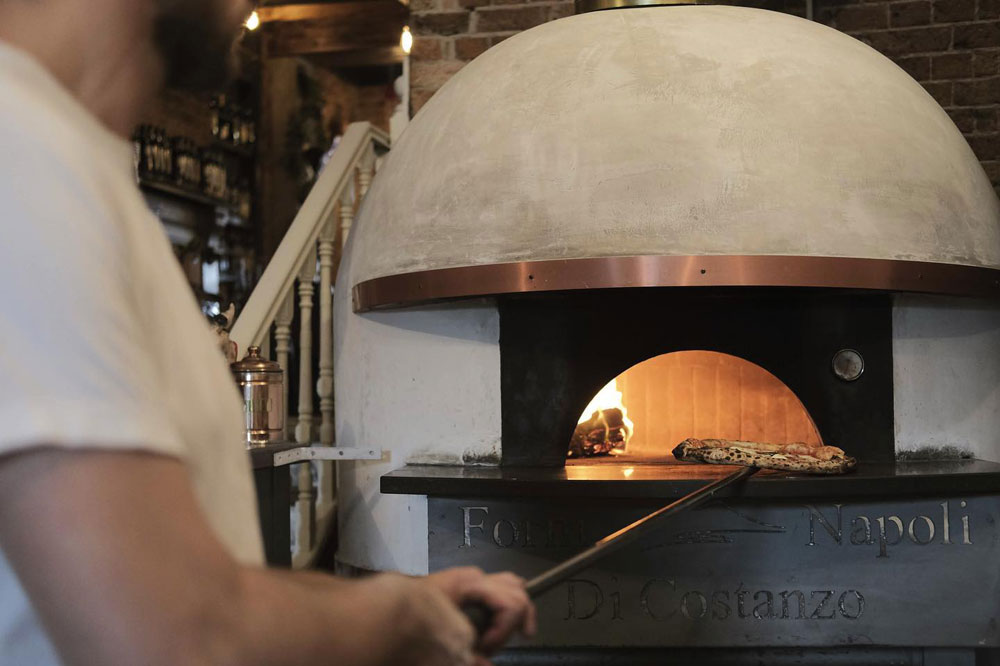 Pizzeria Da Alfredo in Glebe.
You may not be able to dine in at
Pizzeria La Luna
on Albert Street in Daylesford, but you can still get your takeaway pizza fix to celebrate International Beer and Pizza Day by picking up a pie, or having it home delivered.
With a changing Pizza of the Week every seven days, expect to order slices like roasted pumpkin, zucchini, spinach, caramelised onions and pecorino cheese; or pork and fennel sausage, spinach and provolone.
Modern luxe meets industrial charm at
Balboa Italian
restaurant on Gold Coast Highway in Palm Beach. Grab an icy Peroni Red beer and admire a fit-out of charcoal black furnishings, hanging chandeliers, overflowing greenery, grand high ceilings and intimate nooks and private areas – the perfect place to celebrate any occasion with family and friends.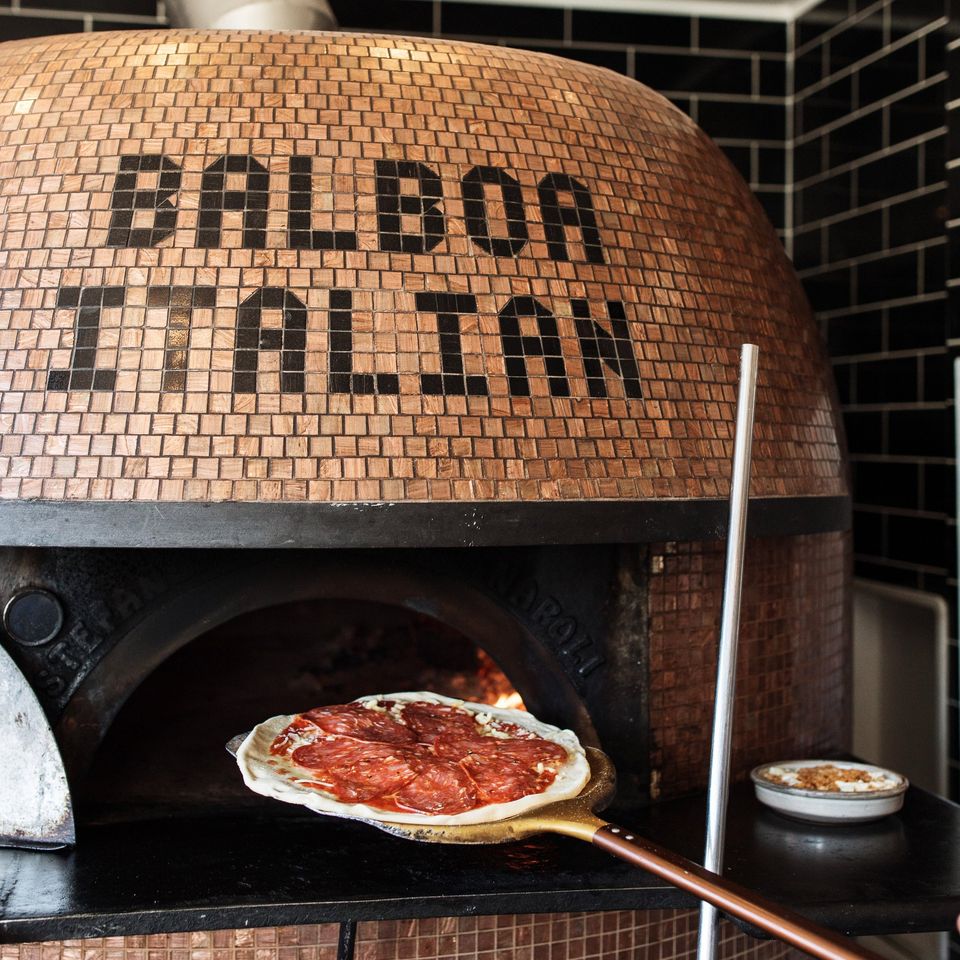 Gluten-free? No problem at Balboa Italian on the Gold Coast.
An eclectic menu covers everything from pasta and pizza to memorable mains like lamb shoulder and Wagyu; but come October 9 it's all about the pizza…how about frutti di mare on a pizze rosse base, with prawns, calamari, mussels, tomato, mozzarella and parsley? Gluten-free bases are also available on request, topped with the likes of chicken, basil pesto, mozzarella and capsicum.
Generations of pizza making are on the menu at
Dani and Fiori's Gourmet Pizzeria
on Homer Street in Earlwood. This Italian eatery proudly displays the family history with a black and white photo gallery on one wall, as third-generation pizza maker Fiori is behind the counter, using fresh local produce to tempt all who enter with tantalising aromas from the oven.
Generations of pizza making are on the menu at Dani and Fiori's Gourmet Pizzeria.
Join the fun on October 9 and celebrate with a slice of pizza, specially crafted for the occasion – topped with ricotta, sundried tomatoes, garlic, roasted pine nuts, freshly sliced Italian pancetta, black olive tapenade and fresh basil – before a dessert of Nutella pizza, or velvety chocolate mousse.
For a great restaurant to celebrate International Pizza and Beer Day near you, select your region below: