The Southeast Asian country of Vietnam is well known for its breathtaking landscapes, dense rainforest, long winding coastlines and friendly, hospitable people, with affordability and proximity making it a well-loved tourist destination for Australians to visit, however it is the cuisine which has been loved and adopted the world over.
Authentic Vietnamese cuisine incorporates five fundamental taste senses within each dish; spicy, sour, bitter, salty and sweet. Regarded as one of the healthiest cuisines in the world, the Vietnamese use the simple philosophy of fresh is best, keeping their ingredients to the closest original form as possible, using herbs and vegetables in all of their meals.
As we celebrate the Vietnamese culture gracing our shores, we take a tour around our country, visiting the most vivacious Vietnamese haunts down under.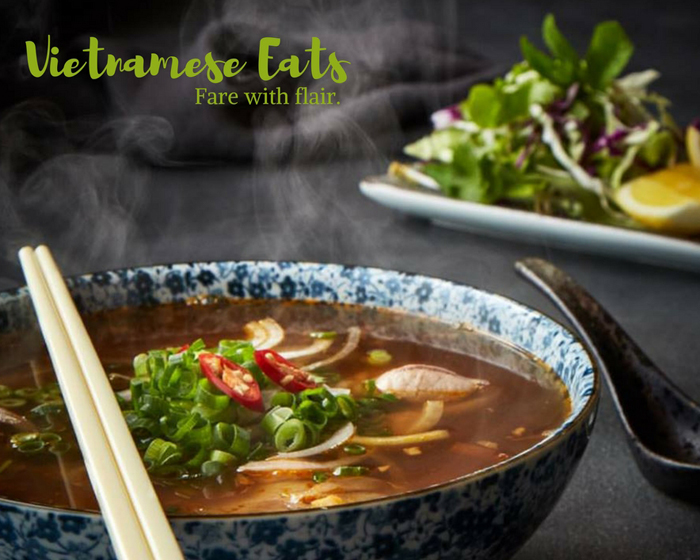 Saigon 101 Vietnamese Restaurant | QLD
Follow Gold Coast locals to Mermaid Waters to discover a little piece of Vietnam tucked along Markeri Street. With an exotic interior styled of bamboo prints, lush pot plants and intimate seating, relax with friends as you enjoy authentic dishes like the Banh Xeo – fried crepe filled with prawns and bean sprouts or the Vietnamese beef salad with rare beef, lemon dressing, prawn chips, peanut, chilli and onion.
District 1 HCMC | NSW
Set along the bustling streets of the Macquarie Centre in the sought after Sydney region of Macquarie Park, resides the little yellow restaurant with a big personality, District 1 HCMC. Begin your culinary journey with a traditional bowl of beef pho, a flavoursome broth with ginger, star anise, cinnamon, coriander seeds, onions and rock sugar or devour Banh mi thit – a soft baguette piled with sliced pork, chilli, pickled carrot and garnished with coriander. District 1's spicy beef noodle soup is pictured above.
Can Tho Kitchen Bar | QLD
Pronounced 'Gung Turh' this authentic Runaway Bay eatery offers a vibrant space styled with a feature mural reflective of native life, communal tables, an Edison bulb lighting installation and an affluent bar, supplying diners with endless cocktail and beverage options to accompany their meal. Adopting a share plate philosophy, Can Tho has created a menu to encourage this concept. Dine on plates of soft shell crab or the Saigon crispy chicken with a garlic butter soy dressing, finishing on a sweet note of mung bean cake.
Mekong Vietnamese Restaurant | TAS
Providing a tantalising taste of Vietnamese cuisine to the heart of Launceston's York Town Square is Mekong Vietnamese Restaurant on George Street. Share in turmeric marinated free-range chicken skewers and enjoy the zest of pork fillets stir-fried with a mix of vegetables, roasted peanuts, lime, chilli, mint and coconut sauce.
Imbue Food & Wine | VIC
Head down Gordon Street in Maribyrnong to trendy eatery, Imbue Food & Wine. An ambient and modern atmosphere awaits, serving a menu that changes every three weeks to highlight the freshest produce available at the local markets, served as tapas to ensure the whole table can indulge in a plethora of dishes to their liking. Sample dishes like the pan-fried rice dumplings, shiitake mushrooms and chilli or King prawns with brick pastry, lime mayo and paprika.
Pho @ Dickson | ACT
Those craving sumptuous bowls of steaming Vietnamese delight in Canberra need only visit Pho @ Dickson restaurant on Woolley Street to satisfy desires. Spanning from the Chef's special Peking duck pho with satay rice noodle soup through to wok fried noodle dishes such as fresh rice noodles with mild chilli spice and mixed vegetables in a house special sauce, find a dish to suit your tastes.
St Cloud Eating House | VIC
Spot the big "Vietnamese Food" mural towering over Burwood Road in Hawthorn East to discover a bright and energetic interior with an inventive kitchen brimming with classic flavours which have been given a contemporary spin. Sample the dishes which have made St Cloud a go-to for locals, like the Banh Khot turmeric and coconut pancakes or curry rubbed BBQ fish with green mango.
House of Hoi An | VIC
For a taste of exotic Vietnamese flavours without leaving Windsor, visit House of Hoi An, a much-loved restaurant found along Green Street. Fresh gourmet ingredients are sourced from nearby as well as spices imported directly from Vietnam to ensure a menu of plates that are sure to make the mouth water.
For more great Vietnamese eats near you, search via your location here.