Compiled by Julie Johnson.
Five of our favourite Vietnamese soups - that AREN'T pho, just in time for Spring.
Did you know Vietnam has an almost endless list of soups that are loved just as much as the well-known pho? These broth based soups are light to eat, yet still satisfy, and for the most part are usually quite healthy. Filled with fresh herbs and quality meat, these dishes can be enjoyed more often than not. Check out just a few of our favourites below.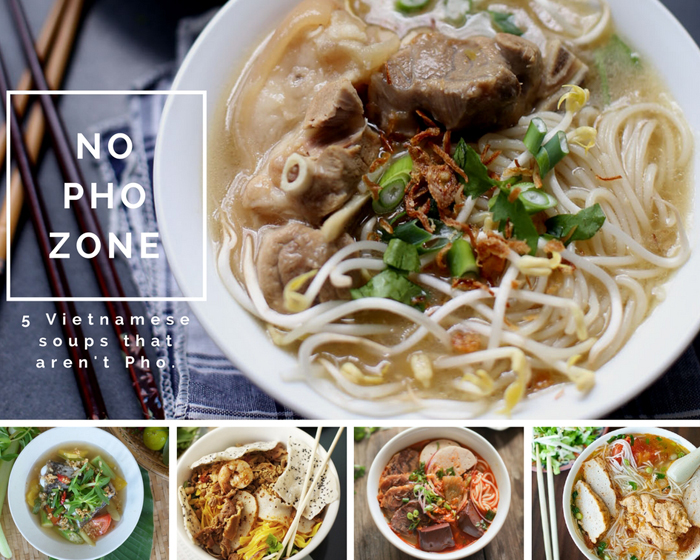 Pork takes the spotlight in this soup with noodles entering side stage for a simple, crowd pleaser the whole family is sure to enjoy. Sweet and salty flavours rise to the top, backed by a hearty meat base underneath.
A colourful soup, Canh Chua is hot and sour in taste and typically made with seafood. Try prawns or go for fish fillets and re-create the dish indigenous to the Mekong Delta region in South Vietnam.
Artistically arranged with delicate crackers at the back of the bowl and layers of noodles and meat, Mi Quang is based on a pork and shrimp broth for a full bodied flavour. Enjoy a mix of textures as you slurp noodles, sip broth and crunch down on crackers.
Hue is a city associated with a royal cooking style, reflected in the cooking of a traditional Bun Bo Hue soup. Red meat is usually used and plenty of lemongrass as flavour and if you can find them, use banana blossoms too.
Although there are several takes on a classic Bun Rieu, this dish has a tantalising combination of delicate crab meat and a tangy, tomato based broth with the ever-present vermicelli rice noodles - perfect to slurp til your heart's content.