By Leigh O'Connor.
When Paul Leete stepped into the
Sails Beach Restaurant & Bar
kitchen in Noosa Heads to take up the position as Head Chef, little did he know he would still be there 23 years later.
This Chef Hat-awarded restaurant on the iconic Hastings Street dining strip offers contemporary dining with stunning ocean views over Laguna Bay, making it a chic and laid-back destination to capture sea breezes and enjoy creative Modern Australian dishes.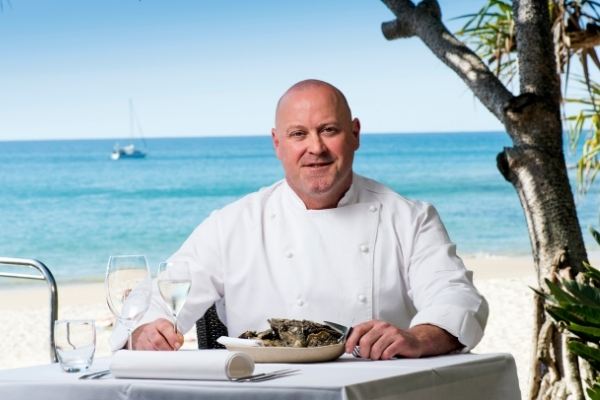 He may have a shaved head now…but Paul won a best hair competition as a young boy!
Returning from overseas in 1997 with his wife Simone, Paul was lured to Noosa Heads by family – his sister-in-law was in fact working at Sails and let him know the Head Chef position was available.
"I hadn't really considered living on the coast, but was keen to be in charge of my own kitchen, so I drove up to check it out," he tells AGFG. "I had a meeting with the owner Lyndon and his restaurant manager and by the end of the day, they had offered me the job.
"A few months into my career at Sails, I was offered a prestigious position back in Brisbane, but by then I couldn't leave. I was dedicated to maintaining my Head Chef role and keen to start living the Noosa lifestyle."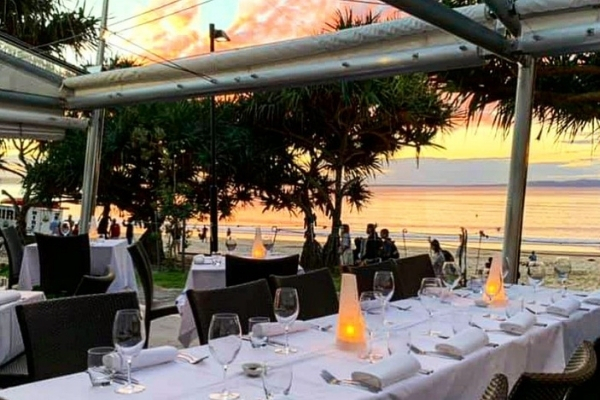 Sensational Noosa sunsets at Sails.
Paul and Simone didn't have a long-term plan – they just knew they couldn't go back to the city. Instead, they bought and settled into a large bungalow, overlooking the Noosa River at Tewantin, just out of the tourist mainstream.
Like other restaurants around the country, COVID-19 has had a 'tumultuous' impact on the local industry, which was already trying to recover from a devastating bush fire season.
The fires had directly affected many of the staff at Sails and soon after that the restaurant industry was shut down. Paul says the biggest lessons he has learnt during 2020 are how quickly and easily things can be turned on their head and that nothing should be taken for granted.
"Having a strong and healthy business, strong relationships with staff, customers, growers and suppliers are essential for our business to survive. COVID-19 has been an all-out assault on not only our lives, but our restaurant in particular.
"It has also shown us more of an assurance of our customers' appreciation of Sails and what we offer."
Paul says when they re-opened the doors after lockdown it was decided through necessity, to reduce the dining menu.
"We of course kept our most popular offerings and as a result have a streamlined menu, featuring high-end luxurious produce. Think Moreton Bay bug caviar, the best Australian oysters, prawns, Wagyu beef, crayfish and mud crab; our customers have embraced this."
Paul says Australian restaurants will emerge from the 'hot mess' that was 2020 with the experience of surviving what has been the greatest challenge to the industry, in their lifetime.
"Hopefully from this experience we have developed the knowledge and capacity to be financially and socially prepared for the next event. I would like to think we would continue to embrace locally produced foods, ingredients and products grown with the best practices; which we have a connection with through knowing the grower directly.
"Kitchens and food servers alike, will need to be educated and adapt to the ever-changing trends and developments of food intolerances."
When Sails opened, Paul says the venue was considered a beachside café and he was unsure of where they stood in the Noosa dining environment.
"We now confidently stand as a 'restaurant'. When we constructed our original menus, I thought I was somewhat
avant-garde
and ahead of the trend, by offering a vegetarian option on our entrée and main courses.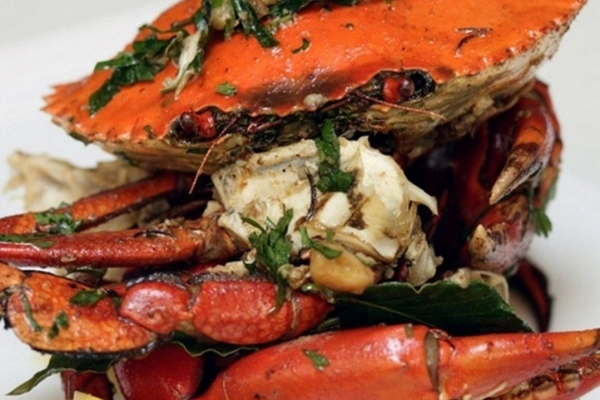 Paul's favourite ingredient of the moment – Noosa mud crab
"These days it is expected – diners in 2020 have a multitude of dietary, restrictions, allergies and intolerances. Our original customers came to us for the casual beachside café feel, now they seek us out for a contemporary, but classic Noosa restaurant experience."
We asked Paul what makes Sails such a special place to dine:
"From the moment you enter the restaurant from the stairs of our Park Road entrance and see the sweeping views of Laguna Bay, you are captivated. A wave of calm comes over you as you exhale a deep breath and say 'simply wow'! Or at least I still do every day that I am there.
"With undeniably one of the best outlooks in Australia, Sails is relaxed elegance with professional, knowledgeable and friendly staff. Meals are prepared with integrity, championing the best local ingredients."
We are sure this Chef isn't going to sail away any time soon…