By Leigh O'Connor.
For Miss Moneypenny's Executive Chef Adam Dundas-Taylor, 2020 was a year for resetting, taking a step back, re-evaluating what is important and making time for those things.
Overseeing both Miss M's
Noosa
and Gold Coast venues – with
Broadbeach
being awarded a Chef Hat this week for the first time – Adam says the past year has shown him how resilient the hospitality industry is.
"One of the biggest lessons I learnt is the willingness of restaurants and caterers all over Australia to diversify in an instant in the hope of keeping their business open and their staff employed," he tells AGFG.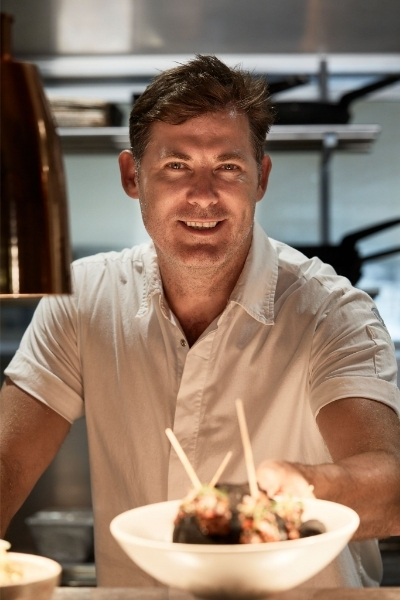 Executive Chef Adam Dundas-Taylor.
"The level of support the hospitality industry provided to each other was amazing, to hear of the many restaurants and cafes providing food for the less fortunate in our industry and also to health workers, who were working tirelessly through the lockdowns."
Adam says juggling two large venues with different offerings in similar environments has been a lot of work, especially with all the regulations constantly changing.
"We have worked tirelessly to bring the offerings of food and beverage, including annual events, in line with each venue, creating more consistency and also creating relationships between the two which didn't exist before.
"The idea is that you can have your favourite dishes when you go to any of Miss Moneypenny's restaurants, whether it be in Broadbeach, Noosa or anywhere else a Miss Moneypenny's may pop up in the future."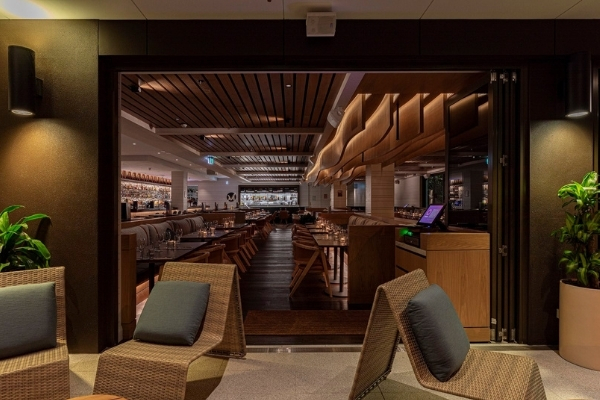 Newly Chef Hat-awarded Miss Moneypenny's in Broadbeach.
With such a large venue in Broadbeach, encompassing multiple dining areas, Adam says the staff were able to spread out diners throughout these spaces to maximise capacity during COVID.
"We were mid creating a menu when the lockdown started, our Sri Lankan fish pie with squid and tapioca cracker has definitely been one of our stand-out new dishes created during this period."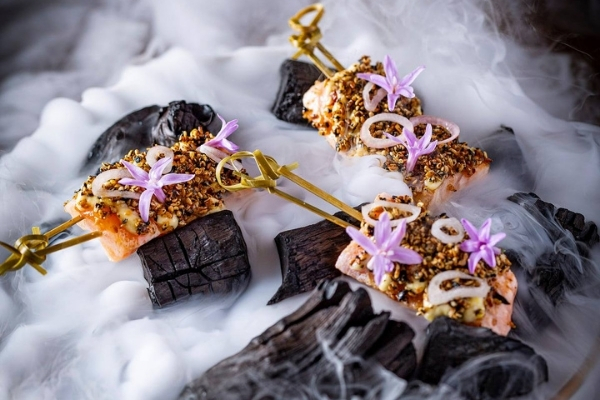 Plated to perfection…char-grilled Ora King salmon sticks.
Miss M's is known for dishes being delivered to the table with some drama, such as Adam's
char-grilled Ora King salmon sticks
, which arrive with a puff of smoke and plated to perfection.
"People eat with their eyes and so presentation plays a very large part in our dishes; although flavour and great cooking techniques can't be overlooked."
Diners' flexibility during COVID has impressed Adam, with most being very understanding of the limitations due to restrictions and still coming out to support local restaurants.
As for 2021, he says the biggest influence on dining in Australia this year revolves around staff as most businesses have struggled to find staff during the pandemic.
"With that in mind, I can see influential Chefs and restaurants being very clever with the way they design menus, by continuing to create dishes with fewer items on the plate, creating the need for less staff.
"This year means finding time for the things that are important to you, not taking them for granted and working smarter so you have time for those things."