Do the Italians cook better or is it the way they cook food with such panache and love that makes it the go-to cuisine for the majority during winter? Be it for romance or a good old fashioned family affair, Italian cuisine embraces you and takes you on a journey of culinary delight.
On Thursday June 2, Italians celebrate Italy's National Day, which commemorates the creation of the new Italian Republic in 1946. The colours of the Italian flag stand for hope, faith and charity; however many comprehend the colours differently, green could stand for hope, hills or olives, white for faith, mountains or garlic and red for charity, independence or tomatoes. No matter which way you comprehend the Italian colours they can be seen in most Italian dishes - think a delicious bowl of al dente pasta in ruby red sauce with garlic, olives and Parmesan!
Unparalleled in its popularity, Italian cuisine certainly warms the heart in the dead of winter when nothing tastes better than a steaming hot dish of penne, ox heart tomato and oregano, with a sweet finisher of strawberry cannoli. If these are already making your mouth water, you can thank Guy Grossi, king of Italian cuisine.
Italian is delectable to cook at home but if you're looking for refined, traditional Italian cuisine no matter where you are in Australia; there's always an Italian restaurant nearby. We've picked a few of our favourites across the country to set you on your Italian adventure.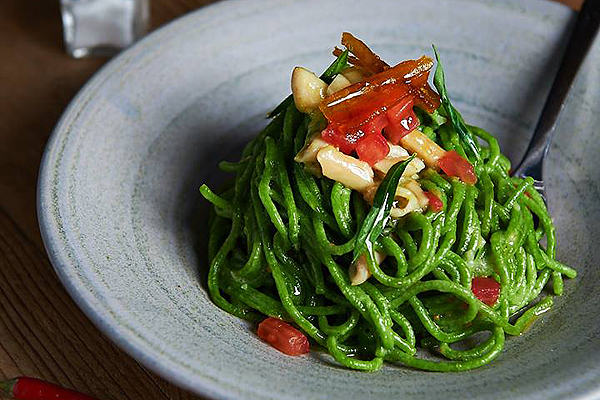 Milano Torino, Rosebery NSW - homemade spinach chlorophyll spaghettini with bottarga and razor clams.
Chef hat awarded Grossi Florentino, headed by the one and only Guy Grossi brings you a menu that showcases refined Italian dishes presented with immense love and care. Be inspired by delectable delights such as toothfish with lardo, tomato, clams, sea herbs and spinach as well as authentic favourites like duck tortellini with porcini, peak and suck sugo.
In the south of Sydney sits Albi's Table on Cronulla Street, a sleek restaurant with an Italian accent and homely ambiance wowing locals and visitors alike with their mouth-watering cuisine and inventive desserts.
Wooing Brisbane diners since 1992, Il Centro lures them back year after year with innovative modern Italian cuisine. Using the finest Queensland produce, Il Centro impresses with their legendary Sand Crab lasagne.
Indulge in Italian splendour at the award-winning Assaggio Ristorante, a star on the Adelaide dining scene. Sitting right at home in cosmopolitan Hyde Park, this fine dining luminary is impeccably styled with urban elegance that is balanced with brown leather chairs, tables adorned with white linen and warm tones that create an intimate dining ambiance.
Unpretentious but utterly enjoyable is Perugino Italian restaurant in West Perth, boasting a traditional menu of fresh, hearty and flavoursome dishes. Enjoy pillows of green pasta filled with roast duck and served in a carrot and onion sauce or perhaps classic dishes such as eye fillet of beef double crumbed, panfried medium rare and served in a bed of porcini mushrooms will be more to your taste.
For ambient dining in Narrabundah, Canberra, La Cantina Restaurant offers a charming venue, discreetly tucked away off Iluka Street and filled with old world glamour. Locals in the know and the occasional politician sip coffee from a family roast dating back to 1909 and browse a menu of indulgent Italian fare, inspired by traditional dishes, featuring hearty favourites and modern specialties.
For more restaurant suggestions from AGFG that are geographically closer to you, check out our recommendations here.