By Leigh O'Connor.
With Mother's Day just around the corner what better way to show Mum how much you love her than a decadent breakfast in bed?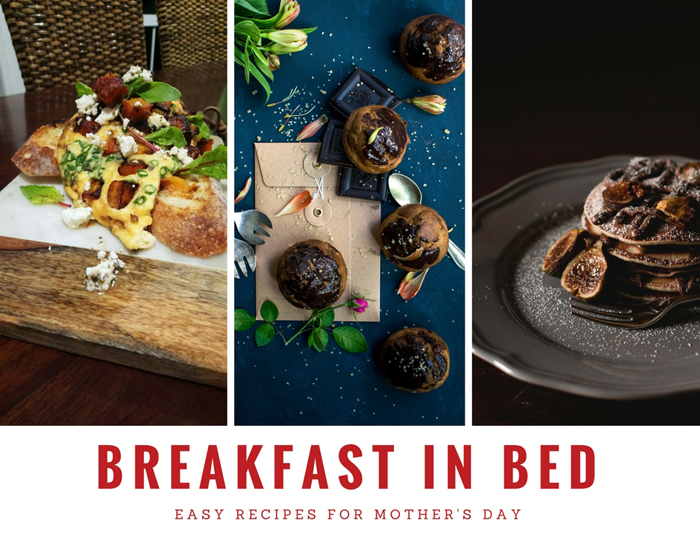 Father to three young adults, AGFG resident Chef Shawn Sheather has plenty of experience dishing up tasty recipes that Bailey, Paris and Charlie can prepare for Mum, Sue. Over the years Mother's Day has changed dramatically in the Sheather household – early starts assisting at functions often meant celebrations were put on hold until Shawn's next day off.
"Now I'm fortunate to have my work-life balance a little more normal and my wife appreciates the attention on the right day. My kids are real lovers of good food, so when we cook as a team, it's a great experience and exciting to see the family come together," he says.
Being a Chef, there is always the expectation of a special breakfast in bed and Shawn says it is more than just cooking, it's about creating memories with his food.
"All the team gets given a role come Mother's Day, from setting the table or breakfast tray to making fresh juice and Sue's favourite tea - we all get involved in the cooking process."
And for the big occasion this year, Shawn has created a recipe exclusively for AGFG readers based on his wife's favourite foods – caramelised pumpkin and feta omelette. Served with a side of grilled sourdough, this omelette is as tasty as it is colourful and is sure to have Mum salivating when it appears on the plate.
"One of Sue's favourites is a sensational feta cheese and I know she loves the classic toast with roasted pumpkin. She often opts for an omelette when we go out, so I created the dish putting all of these ingredients together."
Shawn has some tips for other fathers out there trying to encourage the kids to make breakfast for Mum.
"Keep it simple, for weeks prior you will get hints as to what Mum's ideal breakfast would be. And don't stress if you are a Dad that struggles in the kitchen, remember it's the thought that counts and it's from the kids."
When asked what would be an ideal Mother's Day celebration for the family, Shawn says the most important aspect is the family being together.
Here are a few more recipe ideas for the kids to serve Mum on Sunday, May 10:
All Mum's love chocolate…right? So how about divine chocolate muffins or chocolate pancakes, served with a side of whipped cream and Mum's brew of choice. The kids will love making these recipes as licking the bowl at the end of beating is always the best part!
Wonderful waffles topped with fresh strawberries and melted chocolate will tempt any Mum. They are easy to make and can be enjoyed by the whole family, whether savoury or sweet.
Health conscious Mums may be enticed by a mocha banana protein smoothie bowl with a hint of coffee, toasted almonds, carob chips and coconut flakes.
Still thinking of the ideal breakfast? Click
here
for more dishes to spoil Mum with.