By Freya Ensbey.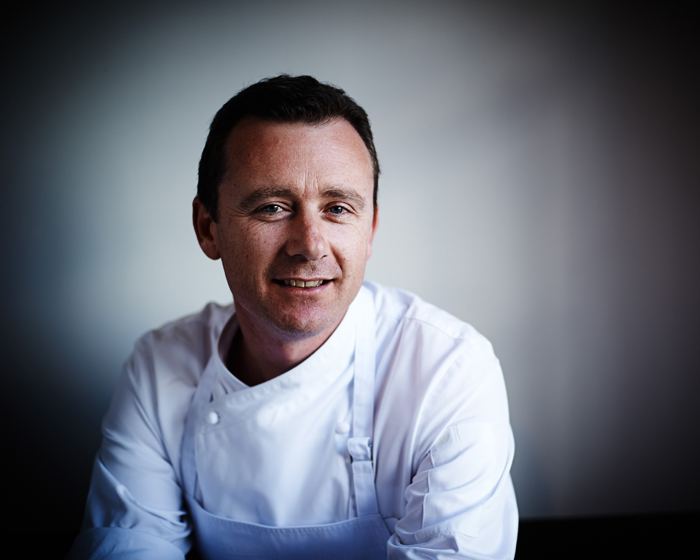 Chef, Dan Hunter, Brae. Photo: Colin Page
Dan Hunter, is the household name any honest gourmand has on their radar. His restaurant Brae, named as one of the world's top 50 restaurants, has been just as imperative to the sustainability movement as his own infectious advocacy for it.
The name Brae was chosen with the meaning of a hillside or gentle slope, which aptly fits the properties description to which it sits on 30 acres of sprawling, lush farmland in the Victorian region of Birregurra.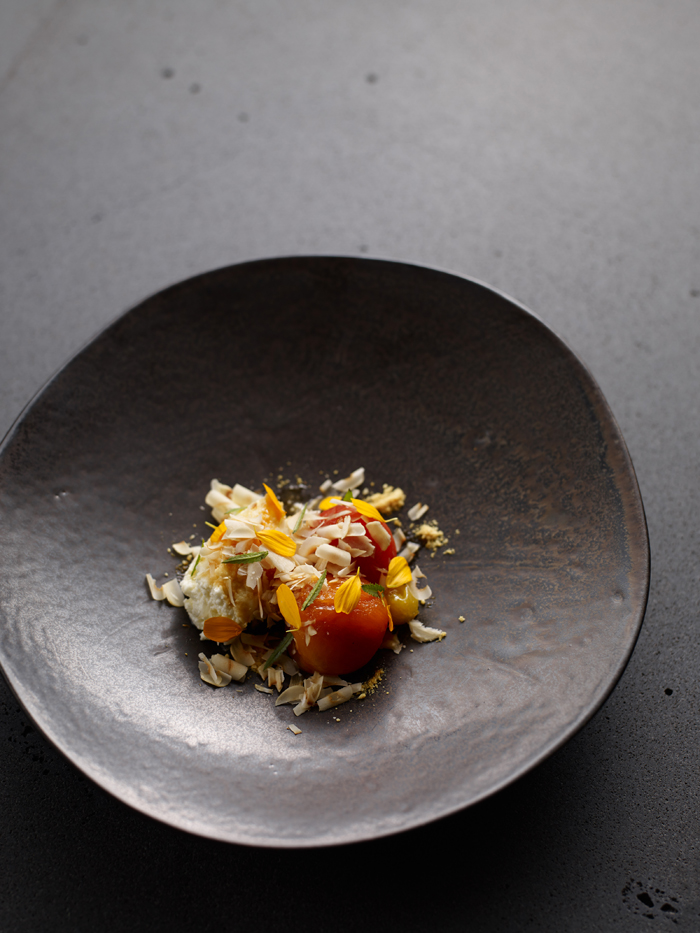 Hunter's Brae Farm sweet tomato with sweet ricotta. Photo: Colin Page.
Hunter believes there wouldn't be a person under the age of 45 who hasn't heard about the negative effect our civilisation has had on our planet and the threat of global warming. It has been the driving force for his endorsement of sustainability within the hospitality industry. Brae's commitment to the cause is impressive, his restaurant filling just six wheelie bins of waste each week for an operation serving more than 200 customers, which is almost completely self-sustaining.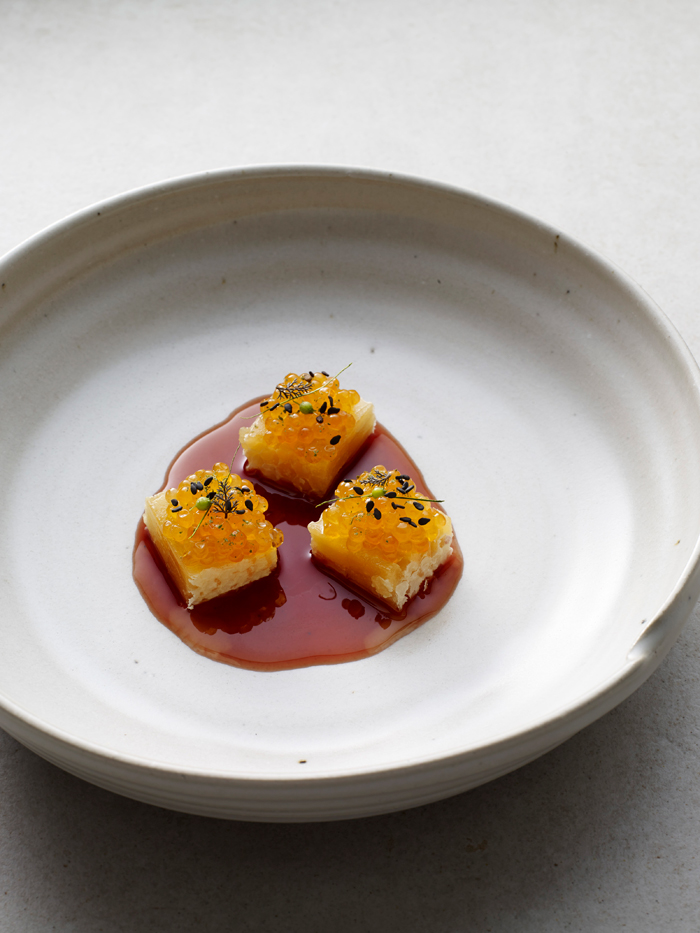 Hunter's Brae Farm honey and trout roe. Photo: Colin Page.
Since its opening in 2013, Brae farm has been managed using completely regenerative farming techniques to restore the land after each harvest. Organic principles are employed throughout the crops of vegetables, stone fruits, citrus, nuts, berries and olives which are turned into extra virgin olive oil.
"It seems obvious really. If you work with food and flavour you probably want the food to be the best version it can be and also the most flavoursome. Particularly with fruit and veg but it's pretty hard to argue with the quality of flavour when you taste a just picked organic version of something over a cold stored chemically raised product, and after that, I want to eat and serve food that is healthy to eat and raised with consideration to the health of the land it came from, says Hunter.
"You know, this is a farm. I always come back to that. I think today more than ever I'm letting the values that we set within the business, guide the cooking more than the cooking guide the future values."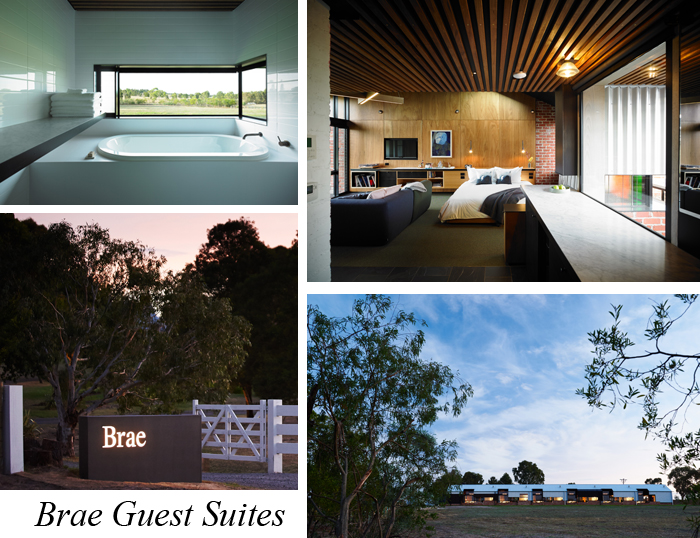 Photos: Colin Page.
The addition of six architecturally designed luxury guest suites on the property in 2016 saw Brae become a once in a lifetime holistic experience. Keeping in theme with Brae's ethos of sustainability, all suites have been constructed using recycled materials, solar energy, harvested rainwater and a worm farm waste water system. Hunter explains that this was always the vision for Brae's business plan.
"A restaurant with rooms rather than a hotel. Somewhere that we can continue the level of hospitality that's provided in the dining room but for a sleep over," Hunter says.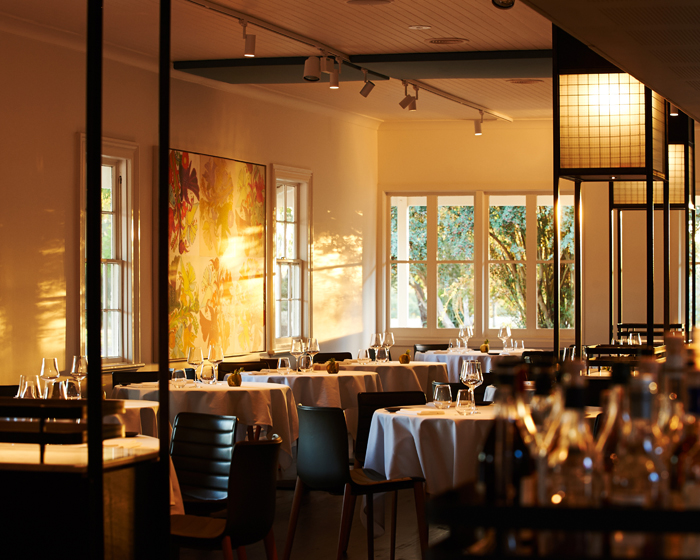 Brae's Dining Room. Photo: Colin Page.
The success and calibre the Chef-hatted restaurant has reached is irrefutable; but how did it all start and who is the personality behind the well-known name?
The beginning of many top Chefs' careers is anything but glamorous. Hunter began his illustrious career as a humble dishwasher at a local pub, it has been his passionate personality, hard work and down to earth cheekiness which has guided his evolution into the coveted Chef we praise today.
Social media has been one of the greatest tools we have been given in the hospitality industry. As diners, we can sample a menu by sight before we arrive at a restaurant, gain insight into the daily lives of top Chefs, view the workings of their kitchen and support their journey or movement with a simple share or like.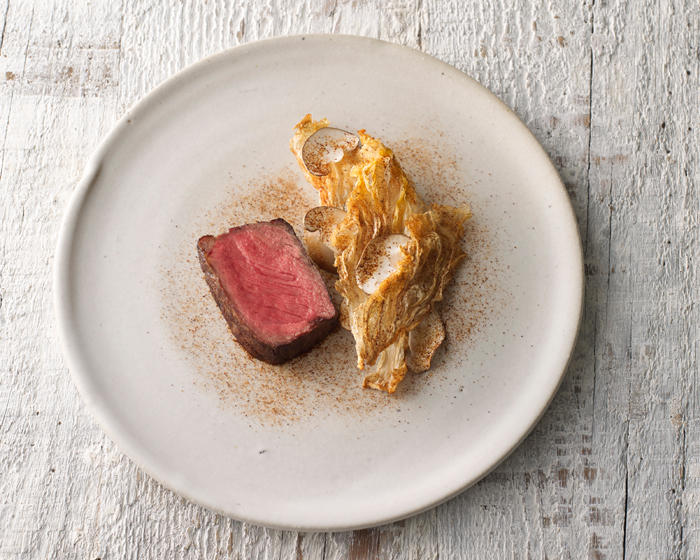 Hunter's full blood tajima, aged 45-days, Brae. Photo: Colin Page.
A scroll of Hunter's Instagram @chefdanhunter gives insight into the sublime elixir of his colloquial Australian humour, appreciation for his craft, staff and all things food related. It shows a human element which is relatable to his following. A simple photo of the common household item of a bottle opener is captioned "Trusty AF," an image of the iconic Bunnings snag in a piece of white bread during a weekend trip to source hardware is labelled "Saturday Mornings" and Brae's kitchen whiteboard in the heart of their busy restaurant service, was where he had left himself a reminder amongst each detailed dish element - "call your Mum." It somehow makes one of our country's most successful Chefs accessible to us mere mortals peeking through the window.
As AGFG releases our 2018 Chef Hat awards, we celebrate not only the Owner and Chef behind it all, but the man. A humble man who has stayed true to his vision and his inherent yearn to give back to the land which has gifted him his career.