Art on the salt lake
One of Western Australia's most contemporary icons, the Gormley Statues at Lake Ballard is a collection of 51 stunning steel figures, placed across a white salt lake arena. There is nowhere else in Australia or indeed the world where you will find a surreal display of art like this.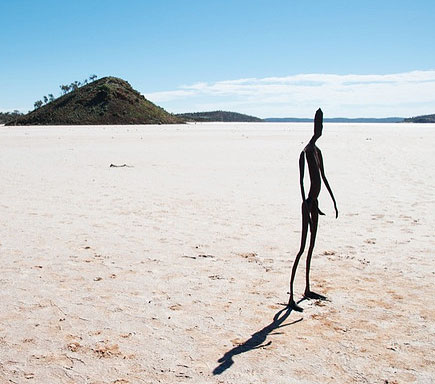 Antony Gormley and his 51 steel sculptures
Created by British sculptor Antony Gormley in 2002, these figures were originally intended as an art display to promote the Perth International Arts Festival, but attracted so much attention that they remained standing as a unique tourist attraction for the region. Each of the sculptures represents one of the 131 residents of the Lake Ballard area, whose bodies were scanned for casts as a foundation for Gormley's work. Two hours is needed to observe and walk around the entire installation, with dusk and dawn being the best times to see the work amidst a glowing sun on the horizon.
Lake Ballard is situated approximately 40 kilometers west of Menzies in the state's Goldfields region and stands as an important bird area. Situated in the West Australian outback, Menzies has a population of less than 100 and is well worth a visit to get a feel for small town country hospitality. Two hours from Kalgoorlie, a trip to the Gormley Statues is a must see for an artistic display like no other.