Pitch a tent and enjoy the mild climate
Whether you're exploring the hundreds of kilometres of coastline, trekking through the bush or lighting up a fire on dusty ocher soil, Western Australia's camping destinations are amongst some of the most diverse, due to the sheer vastness of the land. With plentiful areas to pitch a tent and soak up some sunshine, you'll never be short of a camping ground in Western Australia.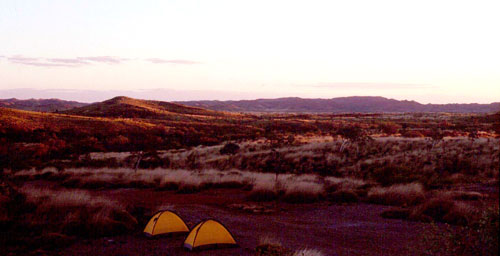 Where are some of the best camping spots in Western Australia?
For campers, the south west area is the most convenient location to stay. Sunbathe with the kangaroos at Lucky Bay in Cape Le Grand National Bay, known for its white sand, aqua waters and beautiful inlet scenery. Australia's hopping icons are often seen bounding or lazing about the beach which has been famed as one of the country's best.
On the state's south western coastline, Leeuwin-Naturaliste National Park is beach meets forest, full of tall timber trees, rocky headlands and magnificent caves. Finding your own stretch of sand to enjoy is simple, and what better way to wake up than with the sounds of the waves crashing to shore.
For some outback adventure, the Kimberley region of Western Australia is the perfect destination for scenic surrounds and a serene ambiance. Windjana Gorge National Park is adorned with some of the state's most majestic gorges, bushwalking trails and panoramic views, perfect to enjoy at both dawn and dusk. Also in the Kimberley region, El Questro Wilderness Park is one of the last true frontiers, extending for 80 kilometres. Explore the unexplored and spend a day amongst the parks animals and birds.
If you choose to travel and camp in Western Australia's North West, ensure you are well prepared. Due to its remoteness, campers who come across travel, health or other issues can sometimes have a difficult time reaching assistance. Most camping areas in Western Australia require a fee, so ensure you undertake research on your destination prior to arrival.
Read up on camping in South Australiahere