Australia's convict past
Take to the Apple Isle and discover the abundance of historical sites, homes and buildings that tell a story of Tasmania's colonial past, complete with convicts, criminals and many Victorian mansions.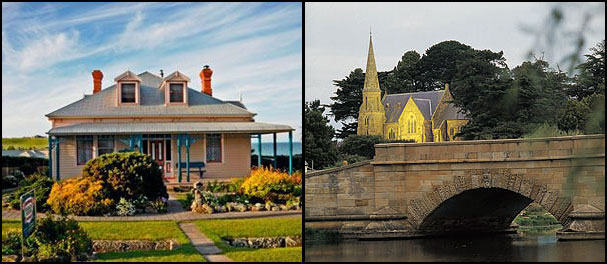 Where are some of Tasmania's historic sites, homes and buildings?
For an insight into Australia's convict history, the Coal Mines Historic Site is one of many Tasmanian convict labour driven worksites and played an important role in the early stages of colonization. Darlington Probation Station was another penal settlement on Maria Island in 1825, renowned as one of the best examples of large scale convict transportation.
Somewhat contrary to what it sounds like, the Cascades Female Factory was the home for female convicts, incarcerated here as punishment or while waiting to be assigned. A World Heritage listed site, the Cascades Female Factory plays an important role in the shaping of Tasmanian history, available for tours on a daily basis. Additionally, Ross Female Factory was home for hundred of female convicts between 1820 and 1856, situated
If you wish to live vicariously through history, a trip around some of Tasmania's historic homes will leave you with antiquated envy. To name a few, Runnymede is a rare 19th century whaling family's home, every bit as elegant as it is immense. Complete with an impressive garden and a rich collection of whaling and maritime artifacts, Runnymede is situated in New Town, north of Hobart city. A great Georgian home, Clarendon Homestead was built in 1838 and is one of Australia's finest period houses. Restored to its original condition, Clarendon includes stables, cottages, a stone barn and a servant's wing.
Discover more of Australia's history by heading to the ACT