Wheel it to the wineries
Due to Victoria's diverse range of rocky, mountainous terrain, flat paths and gentle slopes, cycling makes for both a popular means of transportation and an increasingly popular recreational activity. Victoria's Great Alpine Valleys have both road and mountain cycling trails, whether you choose to tackle the ride to Mount Hotham or go winery to winery along the Murray to the mountains.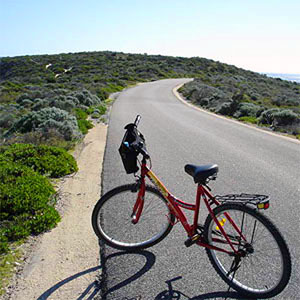 Where can I cycle around Victoria?
When exploring Melbourne, you're in luck. With an active cycling culture, this city has an extensive number of cycling baths both on and off road, topped off with generally flat topography and a mild climate. For a flat ride, go on the Capital City Trail, winding through Melbourne's parks, gardens and historic landmarks. An easy track, this allows you to sight see at a leisurely pace, exploring the city and the grassy banks of the Yarra Valley.
For something a little more challenging, the Maribyrnong River Trail runs along 28 kilometers, following the Yarra River towards the Maribyrnong. Passing historic buildings, wetlands and parklands, this track is well worth spending an afternoon outdoors for, perfect for a picnic pitstop.
From Melbourne's eastern fringe to the CBD, the Main Yarra Trail is another popular cycling track to see the most of the city, a 33 kilometer run finishing at Southbank.
Care to extend your cycle? Find more tracks here