By Sean Melrose.
Notes from a Food Revolution.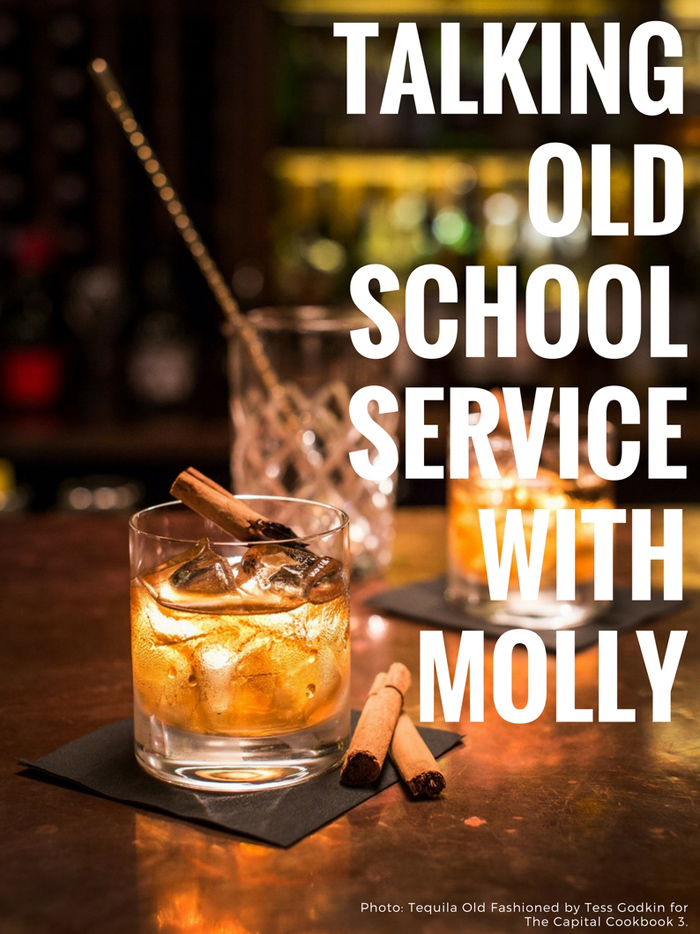 Hidden away behind a plain doorway and signified by a lone hanging bulb, is Canberra's closest thing to a working time machine, speakeasy bar Molly. As the hospitality movement lurches forward in the Capital, foodies grow in awareness of their landscape and are more in sync with the latest trends than ever before. One establishment however, now in its third year, is looking to the past for inspiration. According to Co-Owner Lorenzo Focarile, it isn't the Capone era elegance that attracts people in curious droves, as much as a return to old fashioned, customer focussed service. At Molly it's said, they look after you.
"A big thing for me was customer service. I wanted something to be really small, intimate, personal, so that's how we came up with this concept," says Lorenzo.
Talking to the enthusiastic bartender and Co-Owner, there's a sense that everything leads back to the customer experience, right down to the venue itself which was chosen so that people could be greeted as soon as they walk through the door. Patrons are invited to take a seat at the bar and in that moment it becomes a more personal interaction.
While there has been a marked change in bar goers' attitude towards the cocktail scene as people have become more aware of what's out there, it's not something that has had a dramatic effect on the Molly crew. Lorenzo's philosophy leans closer toward staying true to their concept and at the same time educating and showing people why it's so good. They remain steadfast, as that go-to location for a "spot on" Old Fashioned, as Lorenzo likes to say.
"I think the cocktail scene in Canberra has definitely grown, people are starting to drink better as opposed to more, like back when I was out, it was all about those, you know, cheap drinks, happy hours and all that kind of stuff. Now people are prepared to spend a little bit extra on their drink and just sit on it and enjoy it," he says.
It's a testament to their standing in the Canberra foodie landscape that Molly was included in Stefan Posthuma-Grbic's The Capital Cookbook 3, but it's also an approving nod to the value they place on sourcing and thoughtfully utilising the freshest local produce. It's something that makes sense to Lorenzo and is close to home, considering he had a grocery shop himself. It's about the small things, like the in-season Australian Valencia oranges that provide a fresh citrus note, just one of the many finer details that add up to a cracking cocktail.
"The way we do it here is we present all of our fruit as well, but we don't waste anything, so on top of the bar we have our fruit displays, and then as the fruit starts to wear a bit we dry them. So a lot of our cocktails are actually garnished with a dehydrated product that we don't use.
"I'm a big believer in good quality produce, it just goes that extra step in the cocktail," says Lorenzo.
One of the things that makes Molly unique is their membership service, which features access to an exclusive vault where client's bottles of hard to find contraband are kept, in stylish prohibition fashion. Members can have their stash elegantly set up for them in a booth and receive a level of service hard to find in an ultra-modern world. There are also masterclasses, often booked out, that educate and further foster the relationship between the bar and its patrons.
Part of the Molly experience is knowing that the contents of each drink have been carefully considered and sourced from around the world, some of it quite hard to find in Australia. Like the tequila Herradura Double Barrel Reposado for instance, hand collected from Mexico by Molly team members and revered for its flavour, closer to whiskey than typical bottom shelf tequila. The Molly team uses the Herradura in a Tequila Old Fashioned, an adaptation on the classic bourbon Old Fashioned, with cinnamon-infused sugar syrup and a charred cinnamon stick garnish. Lorenzo's quote on the drink is, "lemon and salt is for fish and chips."
While there's no secret knock to get in and the bar isn't hidden behind a rotating bookshelf like in old prohibition style films, perhaps the secret is that leading the way by looking backwards can be the doorway to success. Things always change, but some things shouldn't.