There are those places in the world that are endlessly attractive for travellers and locals alike. The places that one visits and feels an instant attraction too, forever returning to regain that sense of belonging, sense of self and connection to something greater.
Byron Bay is one of these places. Be its pristine beaches, abundant hinterland, lush with untouched flora, its people innate with a deep spirituality or its somehow coherent contrast of luxury and minimalism, Byron Bay is alluring in more ways than one. As music devotees seek their place in the region for the 28th annual Bluesfest, we have compiled a list of the top reasons for anyone to extend their stay a little longer to cheer up, slow down and chill out, living and breathing the same mantra as the locals do.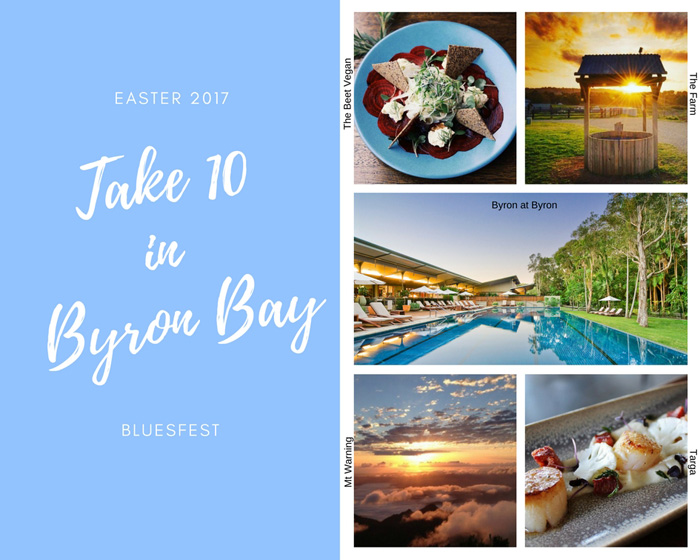 When visiting Byron Bay, it is almost a given that you must visit the quintessential Byron at Byron Resort situated along Broken Head Road.
Set within 45 acres of lush sub-tropical rainforest, mangroves and waterways with a winding maze of boardwalks leading guests to the local Tallow Beach.
The luxury rooms resemble tree house like havens, built into the forest edge canopy, situated to face into the greenery of the surrounding flora, themed with exposed timbers, natural textile fabrics and a minimalist Scandinavian-esque feel.
If you can peel yourself away from the tranquil retreat of your room, take a dip into the turquoise infinity pool or indulge in a spa treatment before dining at the stunning resident restaurant. Under the guidance of Head Chef Gavin Hughes, the restaurant ensures a paddock to plate philosophy for a selection of light Mediterranean fair alongside local and international wines.
Set on lush, rolling green paddocks, The Farm Byron Bay is an establishment with a philosophy and goal set out by many, yet achieved by few. The Farm's sole focus is to grow, feed and educate and they have hit the mark with people travelling from all over to experience what they have on offer.
This is an ethically run, 80 acres of permaculture based farm land, offering a distinct point of difference for their customers. Three Blue Ducks, is the resident restaurant, where a warm and rustic style set up can be found, both indoors and out. Serving a menu dictated by what's in season and being grown by their farmers, the Three Blue Ducks invite you to stroll through the farm and visit the local animals including the heritage-breed pigs, Scottish highland cattle and free range chickens.
The produce store enables you to purchase straight from the farmers offering 100% spray and chemical free fruit and vegetables along with gourmet pantry items. For those who enjoy the sweeter things in life, The Bread Social have you covered. They are an onsite, Artisan bake house creating crunchy organic sourdoughs and exquisite, melt-in-your-mouth pastries.
Byron is an area plentiful with surrounding regions just a short scenic drive away, like that of the quaint sleepy suburb of Newerybar, 20 minutes South-West from the city centre, situated in the Byron hinterland.
It is here you will discover Harvest Restaurant. Equal parts historic country charm and urban sophistication, Harvest truly offers an ideal setting for any occasion with its widespread verandahs that circle the airy weatherboard cottage, where a stylish bar and rustic wooden furnishings combine to create an inviting setting. Locally owned and operated, Harvest showcases the region's fresh, organic, local produce, much of it grown in the owners' garden.
Crystal Castle & Shambhala Gardens
Given the Sanskrit name Shambhala, meaning peace, tranquility and happiness, the Crystal Castle will leave you feeling nothing less than what its name signifies.
Set in the Byron Bay hinterland, it is a world within its own. As you enter through the front gates you are taken into a harmonious space filled with colour and life. The perfectly landscaped botanical gardens are filled with sub-tropical plant life and some of the world's largest crystals. The gardens invite you to walk their five-acre manicured track winding through the grounds which leads you to Australia's largest stone blessing Buddha, perched regally above a pond abundant with water lilies in flower.
A maze labyrinth walk also clears the mind whilst working up an appetite to dine at the charming Lotus Café for a tasty lunch made with home grown produce and unspoiled views of Byron Bay. There are daily activities, yoga classes, workshops and experiences consistently on offer also. It is hard to leave empty handed from the crystal shop with divine jewellery, rare crystal pieces, semi-precious stones and homewares all available for purchase.
A few blocks stroll from Byron Bay's beach front, you'll find Marvell Street, home to locally loved eatery Targa Restaurant and Bar.
The identity behind the restaurant was inspired by the men braving the Sicilian Targa Florio open road mountain race in the 70s, whom enjoyed wine and coffee, a good steak and something sweet for their sustenance during the journey.
Enjoy balmy weather dining alfresco with the smell of salt from Byron's iconic beach just two streets away or step inside Targa's contemporary space to eavesdrop on the two old locals chattering in a piece of wall-sized realism art whilst devouring European-inspired meals like shredded pork belly with rocket aioli and pickled zucchini or marinated lamb rump with cumin tahini sauce, baby carrots and crisp kale.
Byron Bay Fine Food & Beverage Festival
If you are dragging your feet upon departure and hoping to return sooner rather than later, look no further than the Byron Bay Fine Food & Beverage festival held on the manicured lawns of award-winning resort, Elements of Byron Resort and Spa on June 3rd.
The event runs all day and into the evening and includes a lineup of Australia's top food artisans and Chefs along with leading wineries and beverage producers. Attend a fine food masterclass or peruse restaurant marquees by the region's finest restaurants including, Three Blue Ducks, Fins Restaurant, 100 Mile Table and Paper Daisy.
Without having to even visit Byron, the common image that springs to mind is mostly of bronzed surfers dancing on the glistening waves with longboards underfoot.
During your visit do as the locals do and book yourself into a surfing lesson, guaranteed to get you to your feet with a cheesy smile on your face in no time.
Byron Bay Surf School is located in the centre of town along Shirley Street at the Backpackers Inn. Choose how committed you are to hanging 10 with packages ranging from 3 hour lessons to 3 day intensive programs, a great way to keep the whole family entertained.
Mt Warning Sunrise Climb
The Northern Rivers region of NSW is an area which encompasses the world's oldest subtropical rainforests and mountains forged by ancient volcanoes more than 23 million years ago.
Mt Warning towers 1159m above sea level, set in the Mt Warning Rainforest Park, located to the west between the Gold Coast and Byron Bay. Not for the faint hearted, this trek is a continuous incline to the summit, an 8.8 km round trip taking approximately 5 hours to complete.
However, the views are nothing short of breathtakingly spectacular. The summit of Mt Warning is the first point in Australia to see the sunrise, with most trekkers beginning the ascent in the dark to catch a glimpse of the first sun rays for the day whilst others are still asleep. Be sure to take plenty of water and snacks to munch on as this walk will get the heart racing. If you rather book a tour instead of taking the climb, Mount Warning Tours has a number of options.
A trip to Byron Bay wouldn't be complete without visiting a vegan restaurant, so when in town be sure to visit The Beet Vegan, residing along Jonson Street.
The Beet Vegan has created a completely plant based menu offering creative and healthy dishes packed with flavour. They say life is all about balance so why not nourish your body before or after a big day of festival goings with a cold pressed juice to wash down a plate of vegan 'pulled pork' with grilled asparagus, caramelised onion and kale on a roasted capsicum puree.
Rest your weary legs after a day of toe tapping fun, festival side and take in the views of Byron Bay from the comfort of a saddle with a trail ride with Zephyr Horses.
Choose a forest to beach ride and follow a wonderfully diverse forest trail before arriving at a spectacular entrance to be able to feel the breeze in your hair as you ride along the beach.
Founded by local, Kate Noller, who saw an opportunity to provide visitors and locals alike a unique experience, that encompasses the raw beauty by horseback that still exists in the iconic township. The Zephyr Horses' team are dedicated to delivering soul charging, adventure packed golden moments to last a lifetime.