Calendar Date: Easter long weekend, April 13 -17.
Follow the AGFG Foodies, as they eat their way through Byron Bay's Bluesfest. Moment to moment updates can be found on our instagram.
It's our second year at Bluesfest and we are more excited than ever to get back into those food filled stalls. Until the festival kicks off, we'll be posting some throwbacks to 2016.
You can be forgiven for thinking that Bluesfest is just about blues, jazz and beats, as soul can be found on every corner in the form of food! Peter Noble, Bluesfest Director, said in 2016 that Bluesfest had some of the best festival food on offer – and we can't deny the truth of his words; from healthy and raw, to deep fried and delicious, we're going to take you on a play by play of us eating our way through Bluesfest.
Throwback Time!
What a start it was to the Easter long weekend! Bluesfest 2016 kicked off in style as Fantastic Negrito (Xavier Dphrepaulezz) took to the Mojo stage. Self-taught at the age of 20, Dphrepaulezz welcomed the crowd with the enveloping sounds of classic American blues and those compelled in the stadium watched as he was born-again.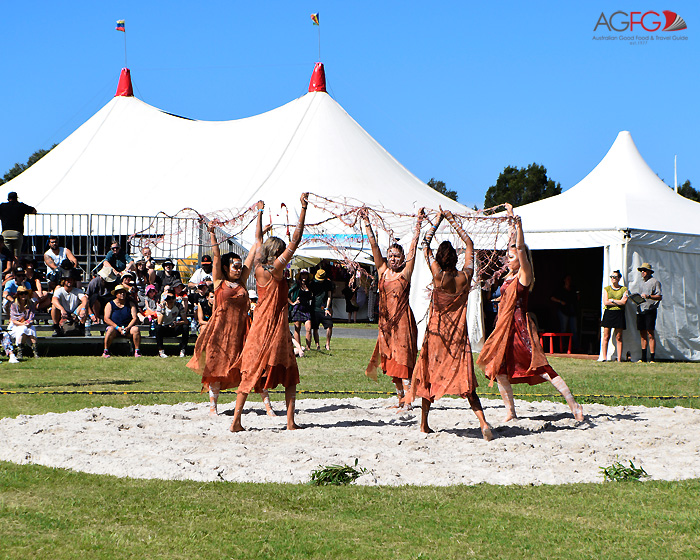 Jannawi, Aboriginal Dancers at Boomerang Festival, 2016.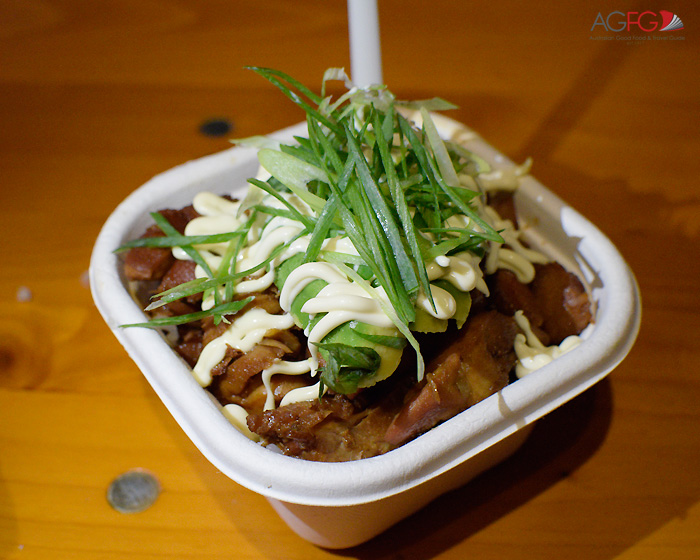 For street food style Japanese, all the way from Mooloolaba, we checked out The Rice Bowl in the Crossroads dining tent. We devoured a teriyaki chicken rice bowl with avocado, spring onion and Japanese mayo - the flavours were perfectly balanced and the chicken just melted in our mouths.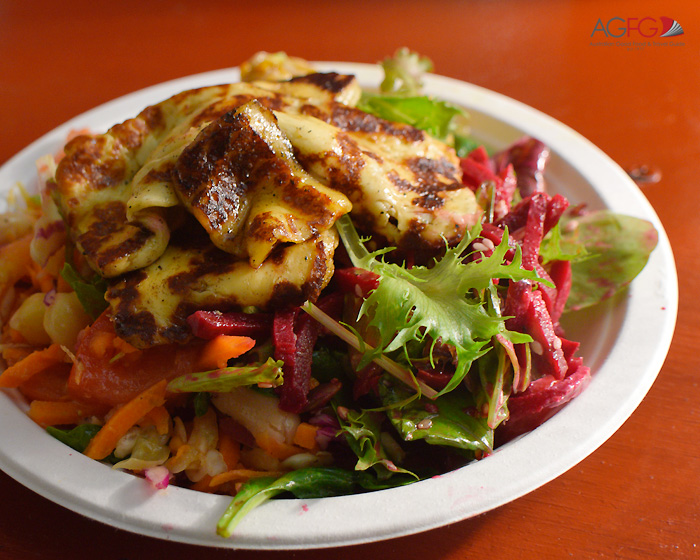 Soulful salads are what we found at Claude's Food by the Mojo stage last year. We mixed all of their salads together and topped it will some freshly grilled halloumi. Varieties included: Mediterranean chickpea and rainbow slaw with lemon, marinated beetroot and capsicum salad with tahini dressing and toasted seeds as well as a tandoori roasted pumpkin and brown rice salad with garlic yoghurt. Certainly, a healthy alternative if you find yourself eating too much pizza (we can't blame you for this though!)
Sweet, Savoury and Soulful at Bluesfest 2017
With over 105, 000 attendees, 85 bands, 670 artists and 185 soul recharging performances, Bluesfest just gets better with age. We can't wait to see what the 29th & 30th annual Bluesfest has in stall.
We entered the 28th annual Bluesfest via the North entry/exit (preferably because it's quicker to get in and out from that gate, shh don't tell anyone) which took us to our first stop, Boomerang. This year, Bluesfest moved the Boomerang Festival from the field in between Crossroads and Jambalaya to the area next to Juke Joint, giving the Indigenous artists not only their own space but also the use of Juke Joint's stage, which really allowed the crowd to immerse themselves in the music.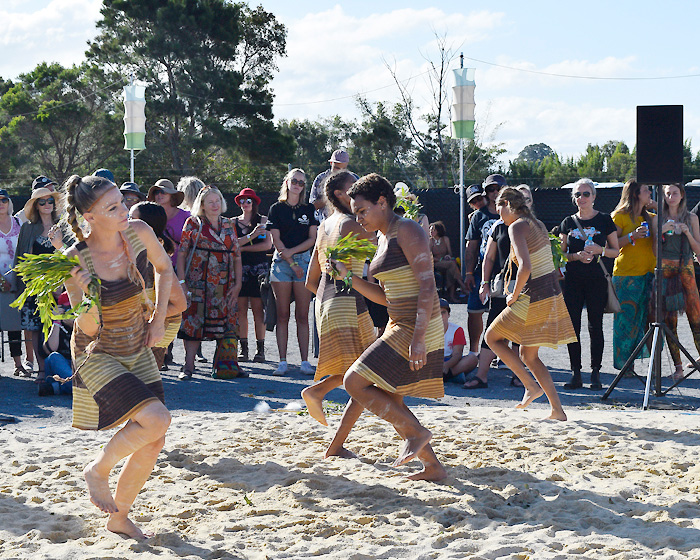 On Good Friday, we decided we'd try and catch as many Indigenous artists as we could, to really become involved in the Boomerang spirit and support the numerous artists that had travelled to Byron Bay.
First up, we were curious to see OKA as we heard that his music was a blend of house, reggae and roots with the deep, enveloping sounds of the didgeridoo – it was going to be an interesting experience to say the least! Inspired by his First Nations heritage, the creative heart of OKA, Stu Boga Fergie, grounded the crowd with what can only be described as a subsonic pulse thanks to his didgeridoo. Stu and his band, OKA had the crowd jumping, crying and swaying with no pauses for shyness.
Which led perfectly into our next artist, Emily Wurramara, a Brisbane local, born into the deeply traditional culture of Groote Eylandt in the Northern Territory. Emily's passion for her home as well as their traditions and language could be felt in her songs, sung in both English and Anindilyakwa. Stories of her upbringing, of what's happening at home and in Brisbane, had some of the crowd in tears, while others shone with pride on their faces as she sung from her heart. A truly heart-warming performance that we're glad we didn't miss.
Later in the afternoon we went to watch the Jannawi Dance Clan again, as they were amazing in 2016, and they didn't disappoint!
Directed by Peta Strachan, a Darug woman, the Jannawi Dance Clan is a community-based Indigenous dance group, where Peta endeavours to unite Sydney's young people through dance and artistic development. The name Jannawi means 'with you, with me,' and this was reflected in the contemporary movements performed throughout each routine – something that we hope to see again next year.
From soulful music to soulful food, Bluesfest 2017 pulled out all the stops.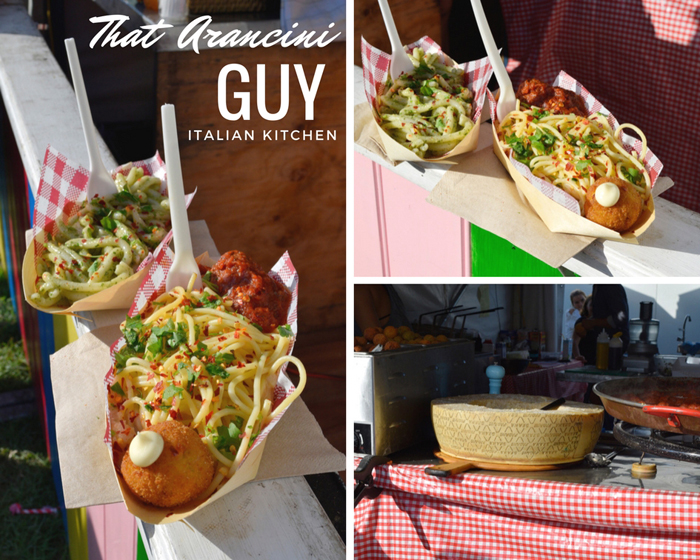 We met up with Robert again from That Arancini Guy to learn he's not just THAT guy anymore, after a year on the road doing what he loves, he has expanded the business from arancini balls to an Italian Kitchen featuring numerous dishes that he's been trialling, testing and perfecting. We delved into two plates (because, come on, pasta – duh), and gave Robert's new vegan, gluten free, pesto pasta a go, where the pesto was made from rocket, basil and walnuts, and the pasta, from chia seeds! We couldn't even taste the difference when we tried his signature cheese wheel spaghetti with meatballs and a pumpkin and mozzarella arancini ball. Absolutely delicious, Robert, we'll see you in 2018.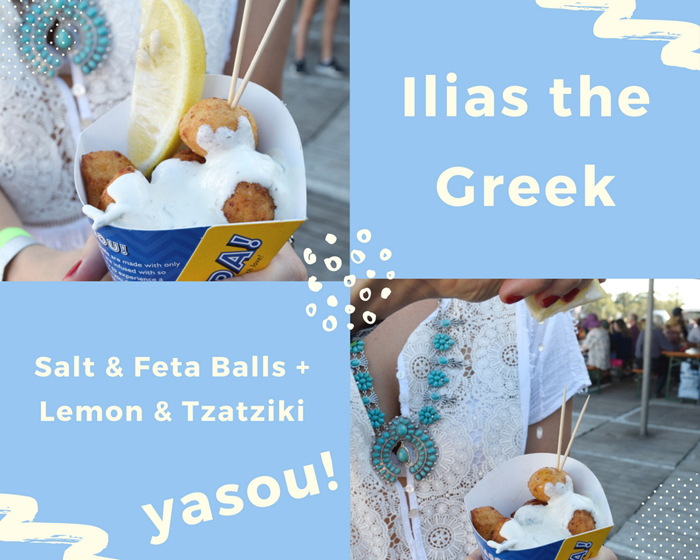 From Italian to Greek, we went over to our friend, Ilias' stall - Ilias the Greek's Feta & Salt balls, delicious golden morsels of goodness, topped with a squeeze of lemon and drizzled with lashings of creamy tzatziki. Which was perfect when we had the munchies, running from stage to stage to make sure we didn't miss any of the amazing acts playing.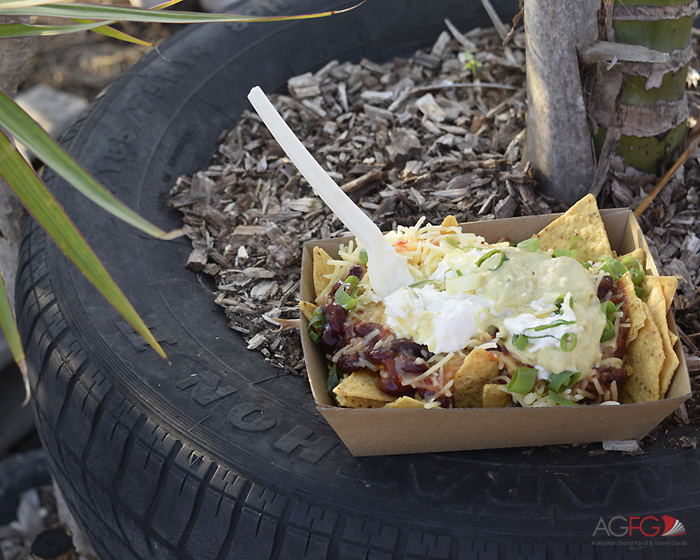 We continued to roam and came across Sweethearts Lemonade, where the ultimate festival food can be found. These nachos have been filling the bellies of festival goers for 28 years, since the beginning! Rio from Sweethearts is the longest running stall holder and we found his nachos right next to the Mojo Café, where he also sells corn on the cob, lemonade and cookies. Topped with beans, sour cream, cheese and deliciously zesty guacamole, Bluesfest's oldest dish was a winner.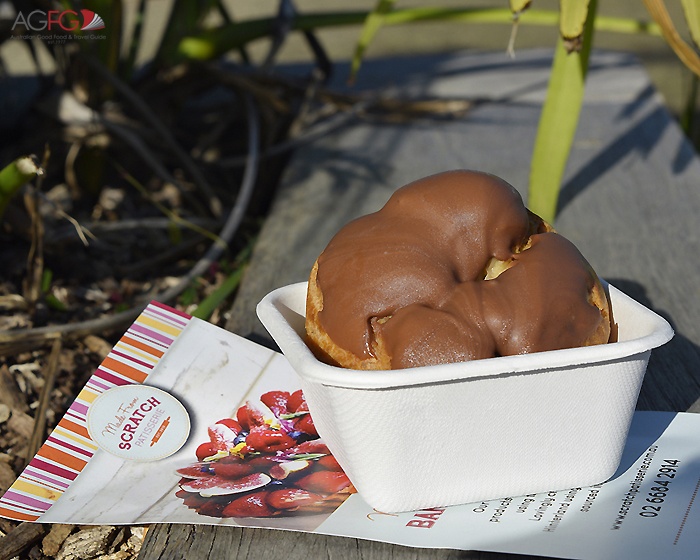 For the sweet tooths at the festival (like us), there were two stalls we couldn't go past, Scratch Patisserie and Wicked Wafflez.
With a store located in Mullumbimby serving pastries, sourdough, yeast breads, cakes, tarts, biscuits, gourmet sausage rolls and empanadas, Greg from Scratch Patisserie thought it was best to introduce festival goers to their organic crème patisserie filled profiteroles, for their first year at Bluesfest. Offering three flavours, vanilla bean, chocolate and coffee, Scratch Patisserie was a definite favourite with the late afternoon crowds, searching for that needed pick-me-up, whether that be in the form of a coffee filled profiterole topped with Belgian Callebaut milk chocolate (like us) or a classic vanilla bean with white chocolate.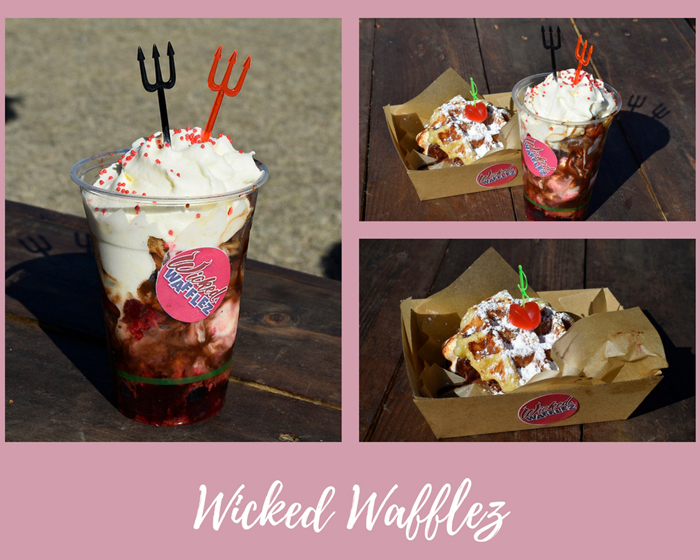 Our sweet cravings were ultimately satisfied, but we're not quitters and if there were waffles, we were going to eat them. Venturing opposite the Crossroads dining tent, we met up again with Anna at Wicked Wafflez, which has had a sinful transformation since last year. Fusing the sinfulness of the waffle with Anna's quirkily lovable personality, Wicked Wafflez was offering rockers a wicked time with menu delights such as the Wicked Kisser – two sinful waffles sandwiching ice cream, Nutella and hot fudge sauce, along with the Mother Fudgin' – a waffle in a cup, with luscious berries, ice cream, whipped cream and hot fudge, topped with "Devil's dust." It was the ultimate indulgence and we're going to be saving our appetites in preparation for more next year.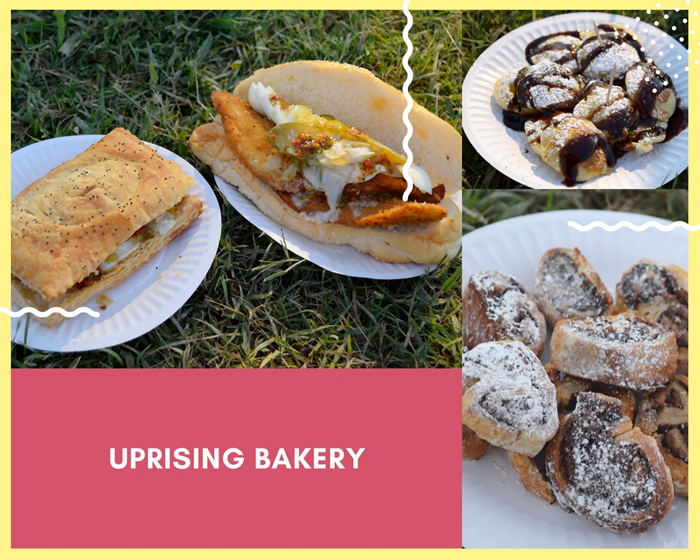 With two vans and 10 years of operation, Uprising Bakery was on our foodie hit list, we wanted flaky pastries, Dutch mini pancakes, sweet swirls and chicken schnitzel – you know, all that hearty food reminiscent of those happy family memories and quick stops at milk bars or bakeries on long road trips. We met up with Naomi, who gave us a run down on everything they do from borekas of three cheese and olives with hardboiled egg, pickles and sauces to traditional Dutch mini pancakes, pillow soft and topped with chocolate sauce and icing sugar. Simple, easy and filling festival food for any appetite. After buying the business some 10 years ago, Naomi has put it up for sale to focus on her Nail Bar Café in Byron Bay, if you're interested, her number is 0438 247 791.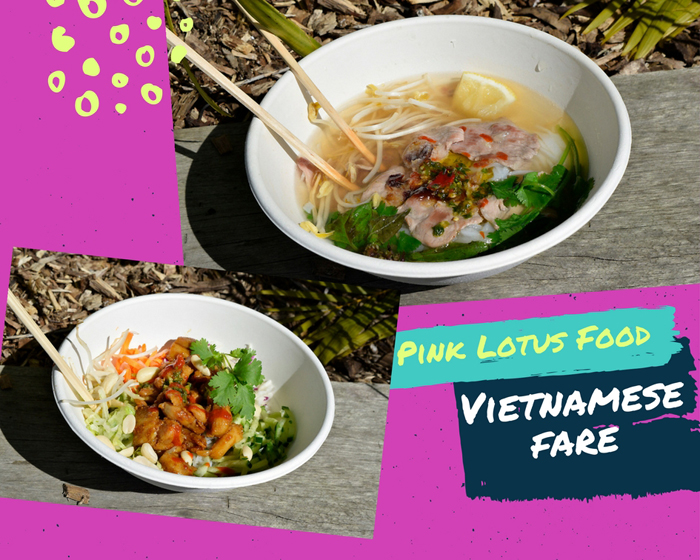 As the afternoon sun departed and dusk began to fall, we unfolded our picnic rug, popped on our jackets and tucked into bowls of soul warming Vietnamese fare from renowned Pink Lotus Food. The passionate owner Dao, served us up a traditional pho, made with beef, rice noodles, onions, bean sprouts and fresh herbs all floating in a tasty and nutritious Paleo bone broth that has been cooked for a minimum of 8 hours. We also devoured a traditional chicken noodle salad, with lemongrass chicken, fresh vegetables, pickled carrots, rice noodles, crunchy peanuts and the signature Pink Lotus homemade chilli sauce.
How to Festival as a Vegetarian
The majority of music Festivals can be hard to navigate for vegetarians or those who are health conscious eaters, when cravings ask for something fresh, substantial and healthy. This is where Bluesfest differs from most, ensuring their crowd's every needs are met with a range of food stalls just as diverse as the music on offer.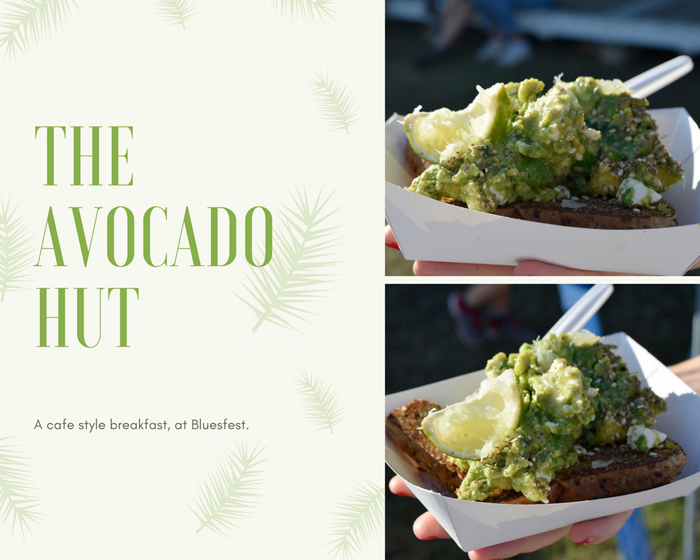 The vibrant green, curvy sign of The Avocado Hut lured us from across the grass, where we got chatting with owner Sam, who offered tasty and easy to eat options including rosemary and sea salt tossed sweet potato fries topped with avocado or a pan seared chicken toasted sandwich with lime soaked avocado, creamy brie cheese and herbed mayo. Joining the morning crowd, we opted for a classic avocado smash, with herb tossed avocado and feta, a generous sprinkling of crunchy hazelnut dukkah, finished with a drizzling of lime juice and coriander atop wholegrain toast, making for a zesty and fresh brekky to start our festival day on the right foot.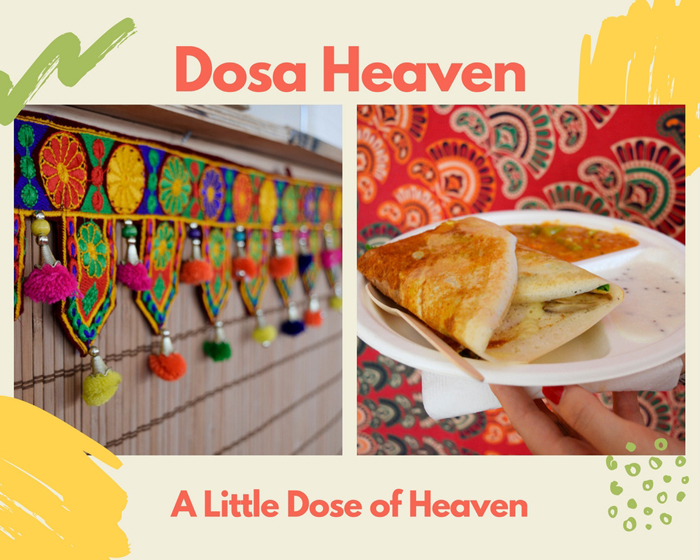 Dynamic husband and wife duo, David and Krishna, owners of Dosa Heaven, were fresh faces this year being a new addition to the foodie scene of the festival. David explained that the Dosa he serves is a gluten free savoury crepe from South India, made from two types of Indian rice and Urad Dal, stone ground in their onsite special stone grinder brought over from India. The grains are firstly soaked to activate before being ground and fermented, a similar process to sourdough bread, with a similar, slightly sour taste. Traditionally served with a coconut chutney and a sambar dahl on the side, we opted to indulge in a cheese and spinach dosa and The Works Dosa with potato, cheese, spinach, mushroom and corn, both light and airy, yet surprisingly filling and packed with protein.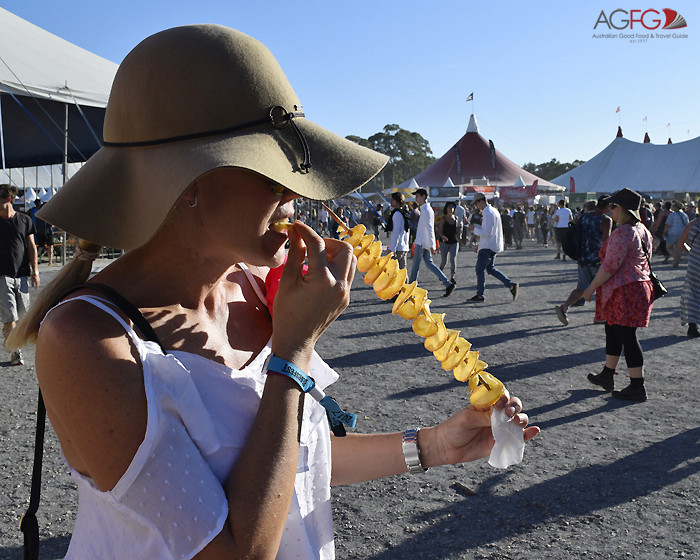 Those after an easy snack to satisfy hunger pangs between sets, made their way to the always popular Potato Head near Buskers' Corner. Serving crispy, curled potatoes on a stick, topped with salt and drizzled in sour cream, chilli sauce or just as they are, these where an ideal option for kids to eat on the go and also made for a fun way to eat crispy potato instead of the standard fries.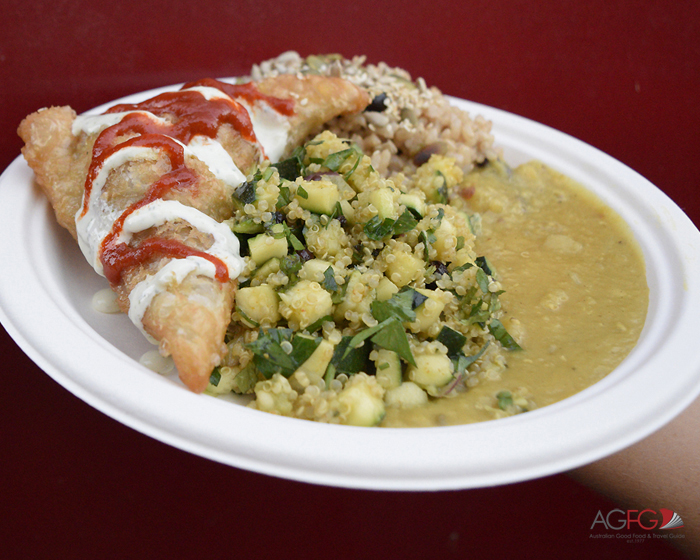 Capping off the end of day three, we were ready to take a load off and rest our weary feet after days of toe tapping fun and perusing our way through the dining stalls. We didn't have to venture far from the Mojo stage to discover Vegetarian Delights, serving up spring rolls, curries and fresh salads like the Thai peanut slaw with a soy and sesame dressing. We opted for the 'Veggie Delight' plate which included a generous serve of fluffy brown rice sprinkled with toasted sesame and pumpkin seeds, a zesty and crunchy sweet zucchini and quinoa salad with currants, mint and lime dressing, a smooth potato dahl and a side of a fluffy and crunchy potato, pea and corn samosa; packed with a spicy punch of flavour and drizzled in a cooling coriander yoghurt.
Our foodie experiences once again at Bluesfest were truly fantastic, we devoured every dish and look forward to continuing to indulge in good music and good food for many years to come.