Cultural Calendar 2012 - August 1st
Switzerland is the Alpine republic at the heart of Europe and celebrates its National Day on 1st August, mostly at the municipal level. The land of cheese, chocolate, watches and Heidi, this mountainous country takes a minimalistic, somewhat relaxed approach to celebrating its annual holiday.
Typically fireworks are ignited from the hills, serving as a reminder of the expulsion of foreign bailiffs in the 14th century, just as they were back then.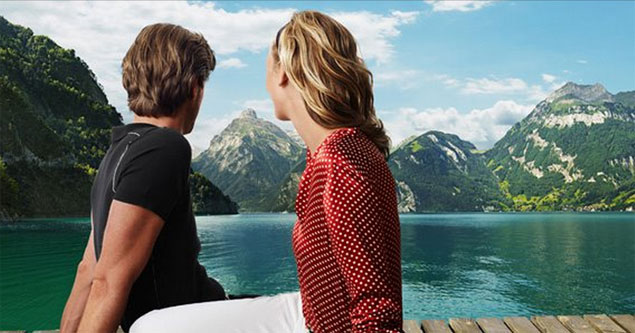 Where is Switzerland on the Culinary Map?
"What differentiates Swiss history from the European pattern is the outcome…
the communities have a deep equilibrium."
-Jonathan Steinberg, author of Why Switzerland?
Switzerland's annual festivities also include delicious food, and Swiss fare represents diversified European influences balanced together in flavour and style.
There are currently 4.6 million Swiss Germans, 1.5 million Swiss French and half a million Swiss Italians. The people pride themselves on unity but not conformity. Switzerland, the only country to ever remain neutral in a conflict, offers the world some of the best food that can be consumed. The Swiss culinary sphere being informed by Germanic, French and Italian undertones, we've compiled a few recipe samples for you to try.
The Swissness in Recipe Form
The self-explanatory English word "Swissness" transcends its own language barriers and defines Switzerland's culture in one term. If the Swiss can sum up the nation with a colloquial word derived outside their four official languages (Romansk is the fourth), we feel there's a level of freedom in offering up a few recipes with Swissness to them, too.
Swiss Legend on Your Plate
Heavy winter meals are legendary in Switzerland, and this Swiss inspired sausage salad is a cold dish that coincides well as a light, fresh and filling starter.
In winter we like to rug up and stay home, preferring to eat something warm and tasty, and with that in mind the Swiss pastry meat pie is just the thing for your cravings.
This isn't your ordinary pie… you make and bake your own pie crusts and fill it with the beautiful meat stuffing. Preparing the pie crust and filling separately ensure the end results are crunchy, golden and delicious morsels.
Following the main meal is dessert and if you aren't salivating already, may we remind you the Swiss love their chocolate. Whenever Swiss gold chocolate is on sale at the shops it's the first to go, especially the new passionfruit, strawberry and orange infused flavours.
This famous Swiss chocolate cake recipe will be a definite hit at any dinner party, especially when you mention the words Swiss and chocolate in combination - there's no better way to instil Swissness at your get-together.
For one of those midnight snacks, or if you some want something yummy after dinner, we recommend deep fried apple cookies from Switzerland.
Without the total "unhealthiness" of a full donut, it is essentially an apple dipped in dough, deep fried, then covered in sugar and cinnamon; the apple cookie is an absolute treat for your taste buds.
While great food puts Swiss cuisine on the map, there are also unforgettable places to visit in Switzerland. To name just a few, Lucerne (German speaking Switzerland) is set on a lake and has a picturesque border from the Alpine Mountains. Geneva (French speaking Switzerland), home of the Geneva Convention, has more Michelin star restaurants than any other place in Switzerland. Lake Zurich (Italian speaking Switzerland) is a definite sight seeing destination for tourists and family holidays.
Facts on Switzerland
70% of Switzerland is covered in mountains.
There is always a lake 10 miles away from where you are standing in Switzerland.
Hydroelectric power produces 60% of Switzerland's electricity.
There are over 40 shipwrecks in Lake Geneva.
In Switzerland it is illegal to mow your front lawn dressed as Elvis. (His sparkly suit can sometimes temporarily blind drivers.)
Swiss culture is definitely diverse, and in the spirit of Switzerland's National Day we've served up a few wonderful recipes for you to try. This way you can grab a bite of Swissness even if you aren't jet setting to Switzerland in the near future.
Bring the flavour of multiple cultures to your Australian kitchen. Check our our AGFG Recipe section for a diversified selection of dishes representing popular flavours of Switzerland and from all over the world.