By Leigh O'Connor.
Christmas morning is a time of family ritual and tradition. Children wake early in anticipation of what goodies Santa has left, while parents contemplate the festive fun ahead and reflect on the year that is coming to a close.
It can mean a walk in the park, church service and of course - food. Often friends gather for a celebratory brunch, sharing a glass of bubbles and orange juice, before moving on to family and relatives for the main event of the day.
A special festive brunch can be anything from a fancy buffet to delicious tapas bites, devoured as the pressies are opened. To help create a memorable and stylish start to Christmas 2017, we've put together some suggestions to tantalise the tastebuds and wow your guests.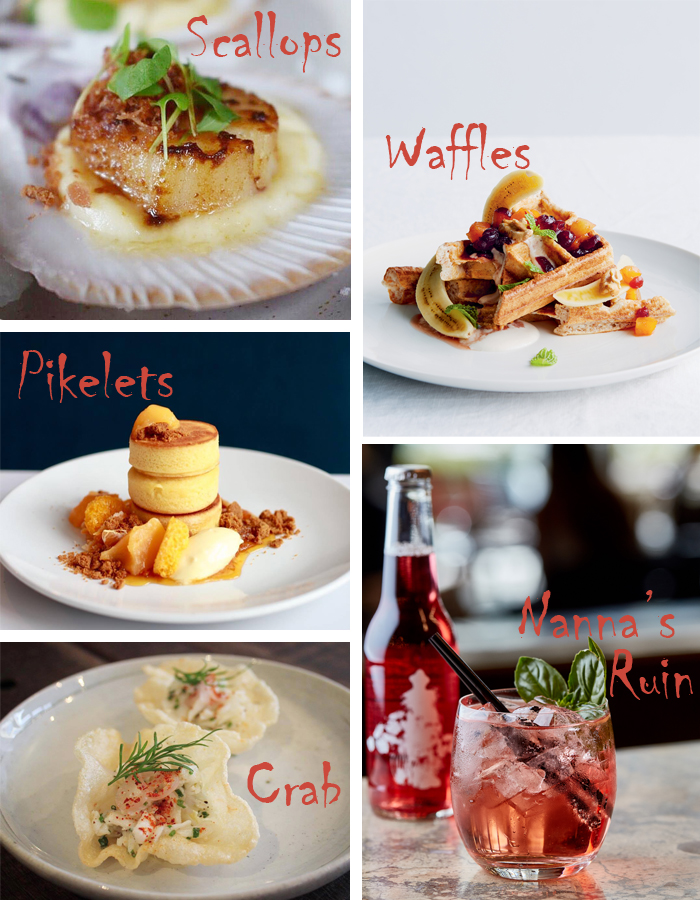 From Post restaurant at COMO The Treasury in Perth, comes this recipe for healthy and delicious banana wholemeal waffles with dried apricot and cranberry sauce. Previously the franking room for the original Perth Post Office, this restaurant is a much-awarded gastronomic destination, with its chic Parisienne-style ambiance and menu showcasing local purveyors.
Nothing says breakfast more than pancakes or waffles and this dish doesn't disappoint, with a combination of rich, creamy banana and festive red cranberry sauce, atop warm waffles scattered with walnut pieces and mint leaves.
Trendy Maribyrnong eatery Imbue Food & Wine woos guests with an ever-evolving menu sourced from local market produce and served as tapas, to ensure the whole table indulges in an abundance of dishes to their liking.
An Aussie Christmas wouldn't be right without fresh seafood and this creation of seared Hervey Bay scallops, cauliflower puree and pancetta is as pretty on the plate, as it is on the palate. The use of purple cauliflower for the puree adds a theatrical touch, while the crunch of pancetta crumbs adds texture and flavour to the plump flesh of pan caramelised scallops.
What about pikelets you say? These ones from Teddy Picker's restaurant in Canberra are definitely not like Nanna used to make. This friendly, local haunt on Constitution Avenue, dishes up punchy and creative café fare in an upstairs loft dining area, opening onto a sunny alfresco terrace.
Teddy's recipe for mandarin and white chocolate pikelets is sure to be one of the stars of Christmas Day with fluffy pikelets layered between marmalade, mandarin jelly, white chocolate cheesecake and gingerbread – simply scrumptious.
Blurring the lines between pub fare and fine dining, grand old Carlton hotel The Lincoln has a loyal local following. Retaining its art deco features and chilled out ambiance, friends catch up with a glass in hand and sample from a Mod Oz menu, with offerings such as spanner crab and prawn crackers.
These crisp morsels of pastry can be prepared in advance and chilled overnight, before baking in the oven on Christmas morning and topping with crab meat, chives, pickled shallots, dill and Espelette pepper.
Now all that's needed is a colourful cocktail to complement the food, soothe the soul and ease the way into a busy day ahead. What better than a glass of Nanna's Ruin – a mix of Moscato, gin and apricot liqueur, poured long over ice and garnished with basil leaves.
Opening the doors to their new Healesville cellar, café and restaurant earlier this year, Innocent Bystander on Maroondah Highway offers this concoction as an ideal tipple to send the senses into overload and start your Christmas in style.
It's time to kick back, relax and bask in the glow of friends, family and festive cheer! For more Christmas food and drink ideas, click here.