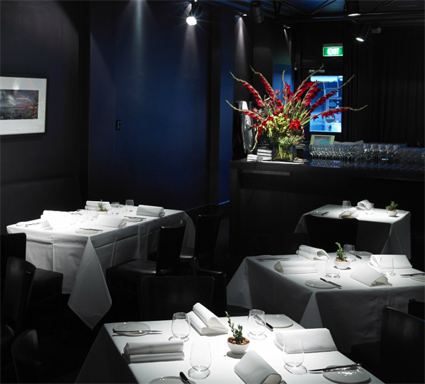 After seven years waiting in the wings, the Roca brothers have claimed the coveted number one spot on The World's 50 Best Restaurants list, sponsored by S.Pellegrino & Acqua Panna.
El Celler believes in free-style cooking, with a commitment to the avant-garde, but remaining faithful to the memory of different generations of the family's ancestors, all dedicated to feeding people. Its philosophy is one of 'emotional cuisine', with different ingredients chosen to take diners back to childhood memories and a specific place in their past.
Australia in The World's 50 Best Restaurant Awards
Attica wins Best Restaurant in Australasia and takes home the 'Highest New Entry' award, making its debut on the list at no. 21.
Melbourne's Attica wins The Acqua Panna Best Restaurant in Australasia award and takes home the Highest New Entry award, sponsored by LesConcierges.com, making its debut on the list at no. 21.
Executive chef Ben Shewry has carved himself a reputation for respecting nature and the environment, and working carefully with ingredients to demonstrate their pure flavour and texture.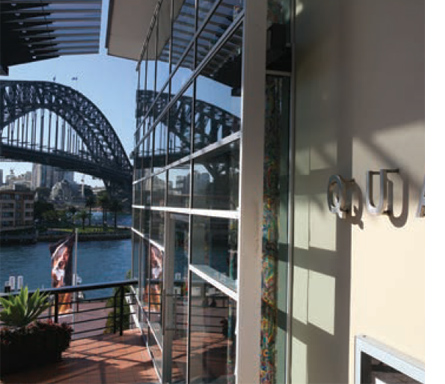 Believing a chef should express himself through his cooking, Shewry takes his own experiences and memories, often from childhood, and attempts to portray them through several dishes on Attica's tasting menu. The result is a playful yet humble reminder of all that Mother Nature has to offer.
Peter Gilmore's Quay ranks no. 48 on the list.
Peter Gilmore's restaurant Quay, overlooking Sydney Harbour, ranks no. 48 and appears on the list for the fifth consecutive year. Gilmore prides himself on being one of the first chefs to refocus on the natural world and an organic aesthetic and describes his cuisine as 'food inspired by nature'. Renowned for his signature dishes, such as the white nectarine snow egg and pig jowl with maltose crackling, Gilmore is a leader in culinary craftsmanship.
David Thompson climbs 18 places to no. 32 on the list with Nahm in Bangkok.
Australian-born chef David Thompson's Nahm in Bangkok climbs 18 places to no. 32. Earlier this year at Asia's 50 Best Restaurants in Singapore, Nahm placed no.3 on the list. David is renowned as a world authority on Thai food. He established himself with Darley Street Thai in Sydney, a restaurant that opened in 1991 and was voted 'Best Thai Restaurant' by the Sydney Morning Herald eight years in a row. It is a remarkable achievement for an Australian chef cooking a foreign cuisine to rank third in Asia's 50 Best Restaurants 2013 and 32nd in the world.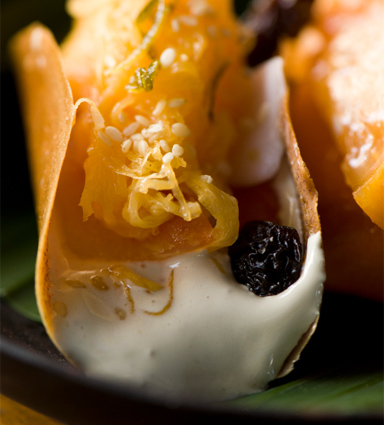 Brett Graham at The Ledbury in London moves up one place to no. 13.
Brett Graham, born and bred in Australia, wins the no. 13 place for his Notting Hill, London restaurant, The Ledbury, which is up one place from last year. Brett began his cooking career in Newcastle, New South Wales in a simple fish restaurant before moving to Sydney, where he won the Josephine Pignolet Award, which granted him a trip to the UK. The Ledbury is renowned for exceptional service standards and his low-key but refined cooking style.
The Entire World's 50 Best Restaurants List 2013
1. El Celler de Can Roca, Girona, España
2. Noma Copenhague, Dinamarca
3. Osteria Francescana Modena, Italia
4. Mugaritz San Sebastián, España
5. Eleven Madison Park Nueva York, EE UU
6. D.O.M. São Paulo, Brasil
7. Dinner by Heston Blumenthal, Londres, Gran Bretaña
8. Arzak San Sebastián, España
9. Steirereck Viena, Austria
10. Vendôme Bergisch Gladbach, Alemania
11. Per Se Nueva York, EE UU
12. Frantzén/Lindeberg Estocolomo, Suecia
13. The Ledbury Londres, Gran Bretaña
14. Astrid y Gastón Lima, Perú
15. Alinea Chicago, EE UU
16. L'Arpège París, Francia
17. Pujol México DF, México
18. Le Chateaubriand París, Francia
19. Le Bernardin Nueva York, EE UU
20. Narisawa Tokio, Japón
21. Attica Melbourne, Australia
22. Nihonryori RyuGin Tokio, Japón
23. L'Astrance París, Francia
24. L'Atelier Saint-Germain de Joël Robuchon París, Francia
25. Hof Van Cleve Kruishoutem, Bélgica
26. Quique Dacosta Dénia, España
27. Le Calandre Rubano, Italia
28. Mirazur Menton, Francia
29. Daniel Nueva York, EE UU
30. Aqua Wolfsburg, Alemania
31. Biko México DF, México
32. Nahm Bangkok, Tailandia
33. The Fat Duck Bray, Gran Bretaña
34. Fäviken Järpen, Suecia
35. Oud Sluis Sluis, the Netherlands
36. Amber Hong Kong, China
37. Vila Joya Albufeira, Portugal
38. Restaurant Andre Singapur
39. 8 1/2 Otto E Mezzo Bombana Hong Kong, China
40. Combal.Zero Rivoli, Italia
41. Piazza Duomo Alba, Italia
42. Schloss Schauenstein Fürstenau, Suiza
43. Mr & Mrs Bund Shanghai, China
44. Asador Etxebarri Atxondo, España
45. Geranium Copenhagen, Dinamarca
46. Mani São Paulo, Brasil
47. The French Laundry Yountville, EE UU
48. Quay Sydney, Australia
49. Septime París, Francia
50. Central Lima, Perú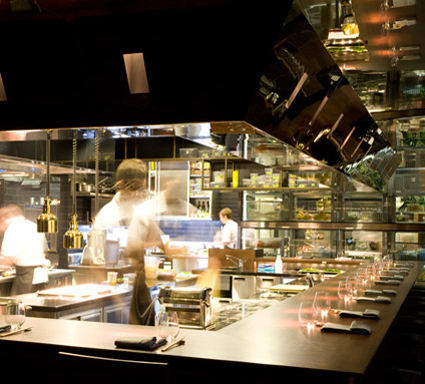 Australia in The World's
50-100 Ranking
The World's Best panel of judges in each region is made up of food critics, chefs, restaurateurs and highly regarded 'gastronomes'. Members list their choices in order of preference, based on their best restaurant experiences of the previous 18 months. There is no pre-determined check-list of criteria.
Australia's representation in the top 100 includes Momofuku Seiobo in Sydney at No. 89.
The World's 50 Best Restaurants is organised by Restaurant magazine and the awards were presented in the company of the world's most influential restaurateurs, finest chefs and international media at London's Guildhall on 29th April.