Reader Review: Something for Jess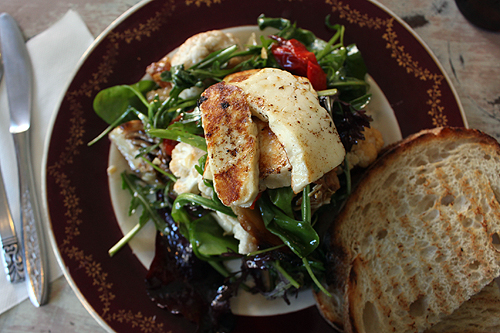 As Sydney watches the development of Central Park come together, neighbouring suburbs like Chippendale are fast becoming home to new food spots like Something for Jess.
The place, which refers to itself as "boutique espresso" and boasts the use of sustainable food, chalks its menu up weekly. It's based on locally sourced produces of the week, including vegetables and herbs from owner-chef Philip Ocampo's mother-in-law's garden.
On today's visit it included red spot whiting fillets from Claudio's Seafood at the Sydney Fish Market, marscapone by Pepe Saya in Tempe and Cypriot haloumi from Paphos Cheese in Annandale.
Between these three ingredients and some veggies and herbs they help make up the two dishes of the day: grilled lemon and thyme whiting stacked with yellow dutch carrot, French tarragon infused avocado puree, young corn, semi-roasted ox heart tomato, marscapone and drizzled with spiced capsicum sauce; and a salad of young picked cauliflower, grilled Cypriot haloumi, roasted baby fennel, red bull horn capsicum, semi-dried tomato, caramelised almond with a lemon reduction dressing.
Both are colourful, fresh, seasonal and light. But for something a little heartier, check out the ready-made sandwiches and baked goods that sit on the counter.
The enviro-conscious ethos does not stop at the food but is also reflected in the décor. It's a combination of mismatched furniture, vintage Polaroids and floral table settings creating a rustic country cottage vibe.