Tackle the Tasmanian snowy slopes
Another addition to Tasmania's already brimming natural entertainment schedule, snowfalls are prominent in the state, making it an ideal winter time destination for skiing and post ski relaxation in the surrounding lodges. Tasmania's central highlands and mountainous areas of the island are more prone to heavier snowfalls, with areas near sea level rarely seen with settling snow. With three main skiing destinations, Tasmania offers wintertime entertainment like no other, full of slopes, sliding and snowballs.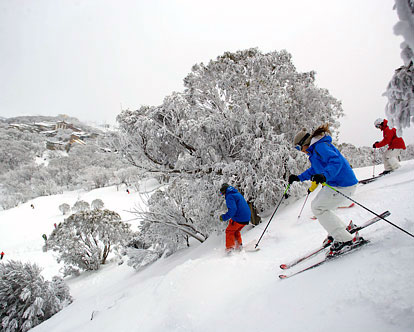 Where can I go skiing in Tasmania?
Ben Lomond, south of Launceston is the ideal destination for cross country and downhill skiing and Tasmania's premier destination for snow activities. Complete with ski resort, mountain views stretching to the ocean and snow making machines when nature needs a kick start, this destination thrives during wintertime, with an array of downhill slopes, cross country tracks and snow play areas for children.
North West of Hobart, Mount Mawson is another downhill skiing destination, with fairly consistent snowfalls during the winter months. Downhill skiing runs from beginners to advanced skiers are available at Mount Mawson, along with an extensive cross country area.
When Tasmania gets a good snowfall, cross country skiing can also be undertaken at Cradle Mountain, one of the state's most scenic locations. Adorned with extensive cross country terrain, Cradle Mountain has no chair lifts, facilities or surrounding resort type accommodation, so make sure to undertake prior preparation.
Find out where else to ski in Australia. See http://www.agfg.com.au/Blog/post/2007/02/14/Skiing-in-New-South-Wales.aspx