Planning for Good (Low-Fat) Time
I love going on picnics, especially at this time of the year. Living near the beach it is something we often do as we love to spend time outdoors. I also think it can be a great way to catch up with family and friends without having everyone invade your home.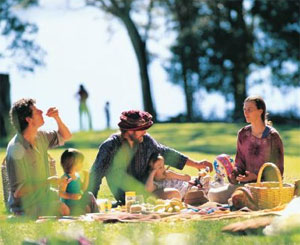 Is it just me or do most people eat more when sitting on a blanket, breathing in all that fresh air, relaxing in good company? That in mind, here are some healthy options available to you that would be good choices next time you plan a picnic.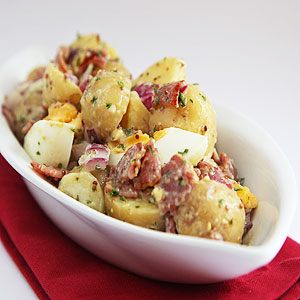 Click here for Bacon, Egg and Potato Salad Recipe
Picnic tips for the health conscious:
* Often people like to take a BBQ chicken but it can have around 80g of fat so it may be better to cook one at home if you have the time. Removing the skin is a handy way to reduce the fat count as this is where most of the fat lies. The best way to cook your own chicken is to put it on a cake rack that is sitting in a baking tray and then prick the chicken to allow the fat to escape. I like to sprinkle either paprika or seasoning salt or any herbs I'm in the mood for to lift the flavour of the chicken.
* Deli meats are always popular but try and go for the lean ones such as ham, turkey and chicken. Salamis and silverside can be a bit high in fat and also very high in salt.
* I have done so many salad recipes that you will find many ways to make great dressings and sauces that vary in flavour and feature no fat or low fat dressings and mayonnaise.
* For nibblies make or buy low fat dips, perfect with some carrot and celery sticks; or for munching, why not pack some pretzels or rice crackers
* Pack diet soft drinks or bottled ice water
* Fresh fruit in season is always popular. Chopped up pineapple or melon always go down well – just keep them in the esky prior to eating
* A piece of cake is always a treat at a picnic; try some of my recipes from my cookbooks, all very low in fat but high in flavour. They freeze well too so you can make them ahead.
* Don't forget your sunscreen, mozzie spray and the cricket set. Get everyone throwing the ball or frisbee, a great way to get active and have fun at the same time.

Visit Annette's website www.symplytoogood.com.au for more tips and recipes. You can also join Annette's page at Symply Too Good FACEBOOK.