An Exceptional Example of Alternative Red Wine
Petit Verdot (PV) is a challenging varietal, difficult to ripen in cooler climates and tending to exude massive, chalky tannins. Good examples are all about restraining the beast, offering full, ripe tannins along with a piercing clarity of fruit. McLaren Vale is a region which can produce excellent examples, and those from Dog Ridge, Pirramimma and Gemtree are well worth seeking out.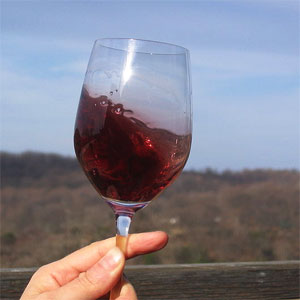 In McLaren Vale is easy to get high baume and big tannins from PV. Much more difficult is to restrain and moderate these while protecting and pushing forward the natural fruit sweetness. To this end Gemtree's viticulturist Melissa Brown spends plenty of time working on crop and shoot thinning. Canopies are trellised and trained vertically - shoots less than 50cm in length are removed and those that remain are only tasked with the ripening of one bunch. This leaves each bunch 10 to 12 leaves to fan and cool the ardour of tannic excess. These steps generally lead to a crop of 2-3 tonne per acre. This graft in the vineyard makes possible a wine that has juicy and varietal fruit, avoids the 'dead fruit' and 'cloying palate' gambles that that come with excessive baume. It leaves assertive but ripe and appealing tannins and a pool of concentrated sweet fruit to work with in the winery.
Once the fruit is in the shed, de-stalked and crushed, it is macerated for 10 to 12 weeks. This encourages the remaining tannins to begin to polymerise, agglomerate and fall out of solution, reducing the burden of structure and astringency that may otherwise overwhelm the fruit. During maceration the ferment is tasted frequently to monitor tannins and general ferment health. Mike Brown, winemaker also tastes continually during pressing, sampling the run off, ceasing immediately if any unappealingly astringent or green tannins emerge.
Decanting Petit Verdot
Even with the gentle approach in the vineyard and winery this is a massive wine. On first tasting the 2007, about 12 months ago, it was like a teenager on steroids – assertively angular, brooding, surly and closed. Remembering to breath is always useful when dealing with teenagers, and about half an hour after decanting the wine it began to relax and open, offering plum, cherry and kirsch. Four hours after opening it looked fantastic.
12 months down the track the wine has fully emerged from its monosyllabic phase. The oak is supportively creamy, the palate tight and well structured. Black and blue fruits are concentrated and focused, pallet length exceptional, tannins beginning to resolve. I find as you swirl the wine, tannins present in waves, punchy yet refined. They pull layers of fruit and creamy oak complexity with them. Kaleidoscopic!
McLaren Vale offers other Petit Verdot's worthy of consideration. After you have had a crack at the Gemtree edition, head down the road to Pirramimma for a taste. They have had PV in the ground for nearly 30 years and consistently accumulate medals and accolades for this wine. Dog Ridge is also worth seeking out and can be considered PV obsessive, releasing up to 3 separate editions of PV from each vintage. Best of all the Dog Ridge cellar door is up and running and offers each of their PV's for tasting.
By Matt Wallace, passionate writer and purchaser at Premium Wines Direct.