By Leigh O'Connor.
Carb lovers of the world rejoice…Monday, October 25 is World Pasta Day, meaning you can overindulge as much as you like without judgment!
We've been eating pasta since at least 5000 BC, but this saucy day to celebrate all things Italian was only established in 1995, when 40 pasta producers from around the world gathered to hold the globe's first World Pasta Congress in Milan.
Since then, we've all joined forces to honour one of the most delicious and versatile foods on the planet, from spaghetti to fettucine and all pasta in between.
Here are five of our favourite restaurants around the country to get your fix on World Pasta Day:
Offering traditional Italian dining and an exclusive vibe,
I Maccheroni
on Jersey Road in Woollahra draws visitors from near and far to enjoy an authentically styled experience. Charming rusticity abounds inside with timber furniture and walls accented with navy cushioned seating and dark racks overflowing with an extensive selection of wines.
Stop by for a plate of pasta on Monday and twirl your fork around spaghetti cacio e pepe, served in a cheese wheel, or tortelli spinach and parmigiano, with burnt butter and sage; best enjoyed with a glass of Italian red wine.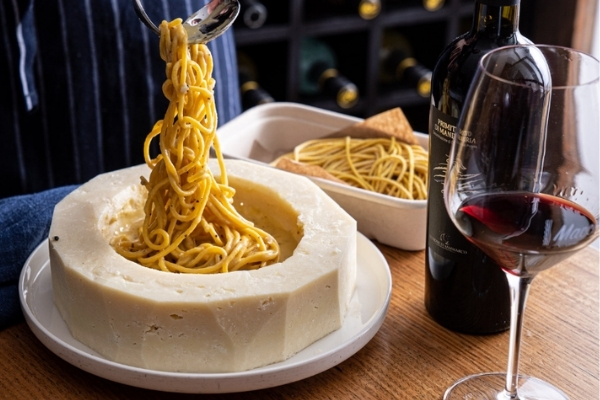 I Maccheroni's spaghetti cacio e pepe, served in a cheese wheel.
Life is about exploring pastabilities at Chef-hatted Broadbeach Italian restaurant
Orzo
, on Oracle Boulevard. Sister venue to Social Eating House & Bar, Orzo oozes sophistication from indoor and outdoor dining ideal for soaking up the GC lifestyle at blond wood table settings, while checking out the action from an open kitchen.
A muted colour palette makes for a relaxed vibe as you sip a Nero Sour and ponder dishes from a coastal Italian fusion menu, such as gnocchi, with local seafood, seaweed fumetto and rocket.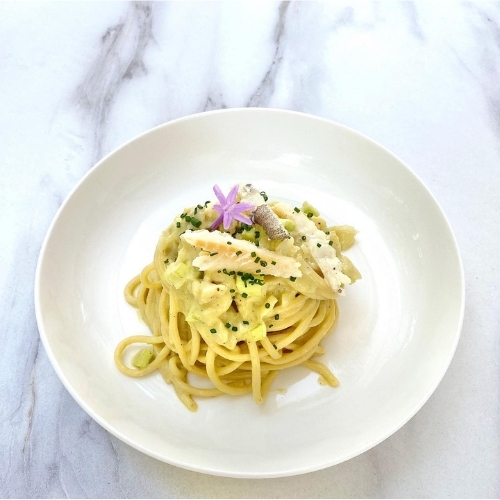 Bucatini, baccala and fermented green tomato at Orzo restaurant.
Combining food, fun, family and friends, dining at
Criniti's Carlton
on Faraday Street creates memories with your loved ones. When you visit this rustic restaurant - voted Australia's favourite Italian - you are treated like family as you peruse a fusion menu of traditional and contemporary dishes, from wood-fired pizza and pasta to ribs, steaks and burgers.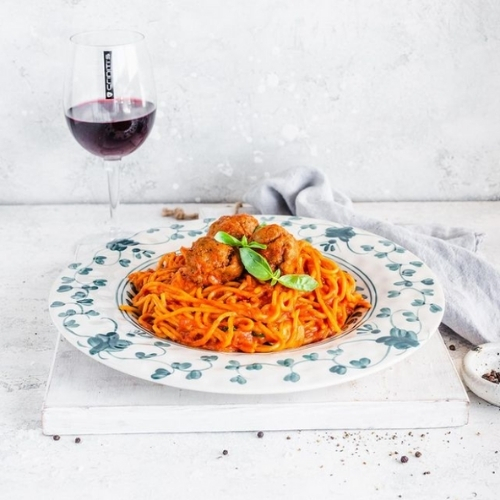 Criniti's Carlton's spaghetti and meatballs.
Perhaps fettuccine with lamb shank, confit cherry tomatoes, garlic, Napoli sauce and basil tempts; or linguine Frank Sinatra – vongole, scallops, mussels, olive oil, tomato, chilli and parsley.
For a truly memorable dining experience, enter
Balboa Italian
restaurant perched along Gold Coast Highway in Palm Beach. Guests are greeted by a towering red-brick building, fitted out with charcoal black finishings, while inside modern luxe meets industrial charm with a moody vibe created by hanging chandeliers, overflowing greenery, high ceilings, exposed metal beams, intimate nooks and private seating areas.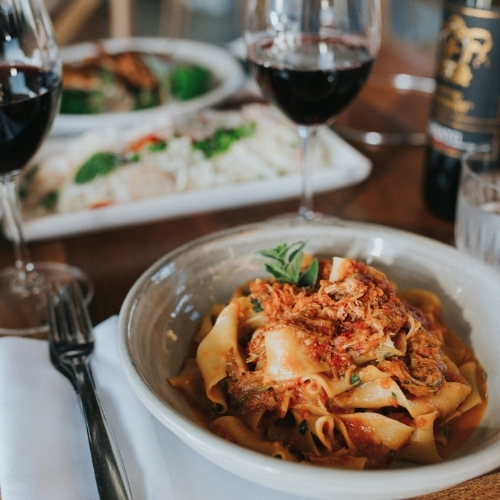 Delve into pappardelle al ragu at Balboa Italian.
Pasta plates such as spaghetti alle cozze – with mussels, spicy nduja, almonds, tomato, garlic, white wine and butter sauce – await those looking to celebrate all things Italian on Monday; along with charcoal-infused fettuccine, with prawns and lobster essence.
It's easy to see why
La Spaghettata
on Lygon Street in the heart of Carlton, is one of Melbourne's most loved Italian restaurants. All dining elements combine in an authentic casual ambience of antique heirlooms and an intimate courtyard setting, with rows of wine bottles on shelves and a balcony area ideal for an after-work drink with friends.
Perhaps share a mixed pasta platter with a choice of three pasta dishes on Monday; or be tempted by spinach fettuccine, smoked salmon, mushroom, green peppercorn and cream.
For more restaurants to celebrate on Monday, click
here
.