Have you woken up lately only to realise you can't leave bed just yet for an absolutely necessary five minutes of blissful napping in the morning? It sounds like you need something to warm you up through this seasonal change in weather and perhaps to avoid catching the cold currently making its way through the office.
The more commonly known foods that heat you up by improving circulation are spices such as cinnamon, turmeric, ginger, cardamom, cayenne pepper and of course chillies, but there are plenty of other fruits, vegetables, nuts, beans and legumes so if you suffer from the cold, try to use more of these in your meals. Winter also sees an abundance of colder climate growing fruits and vegetables come in to season like the highly sought after truffles! See our In Season article to find out what else is growing.
Although we may not experience arctic temperatures here in Australia, that doesn't mean we enjoy our winter warmers any less. Pair your uggies, trackies, hoodies and anything else ending in 'ies' that is only acceptable to wear in the coldest part of the year with these delicious recipes to help see you through the winter months.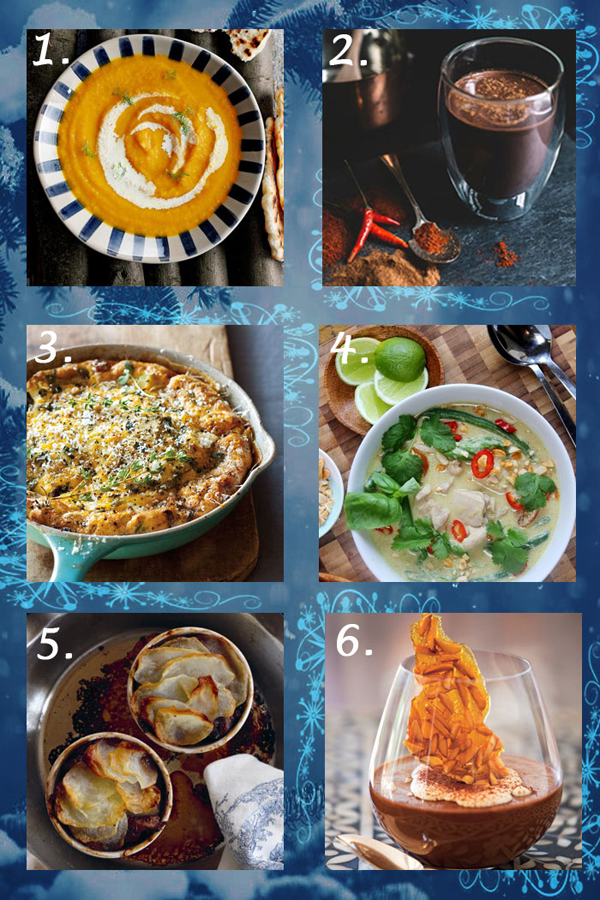 1. It's not winter until you've made soup, so try out Alice Hart's Roast Carrot and Fennel Soup.
2. Spice up winter with a Chilli Hot Choc! Two types of heat that'll have you sweating through your snow gear.
3. A hot and satisfying meal, and easy to heat up a slice at work – try this Frittata tonight.
4. Keep your metabolism firing throughout the cold, carb-craving months with this Thai Green Chicken Curry.
5. Why make an average winter pie when you could make a sumptuous Duck Pie with Spiced Figs?
6. Make the most of deep, dark winter days with Belinda Jeffery's delectable Deep Dark Chocolate and Praline Mousse.
If you try any of these recipes, or have a favourite recipe using warming or seasonal foods, let us know either through the website, or find us on Facebook.