"Sprezzatura is the art of making things look easy. It doesn't reveal the amount of work involved."
- Stefano Manfredi.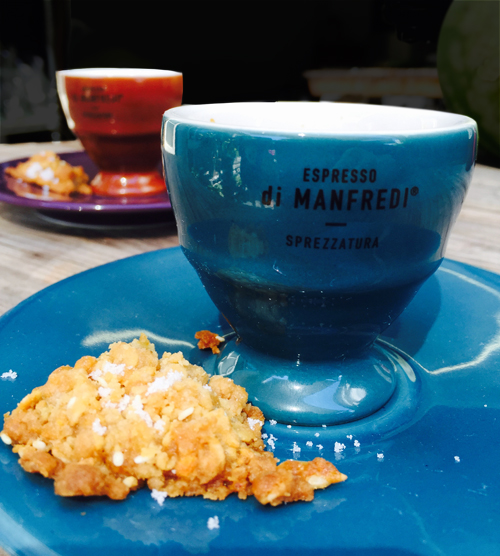 With decades of passion, Stefano Manfredi joined forces with master blender Wayne Archer from D.E Coffee (Douwe Ebgert) in 2000 to produce his first blend of his Espresso di Manfredi (Sprezzatura) range.
When Stefano first came onto the restaurant scene in the 80's, the coffee scene of Australia didn't align with his expectation of the coffee he wanted to serve.
"We started importing coffee from Tuscany, which became a problem because we aren't importers, so it was around 1998 that we were approached by Douwe Egberts," said Stefano.
Stefano went on to say that he wanted to change the coffee culture of restaurants because not all restaurants had dedicated baristas, so it was likely that they didn't pay particular attention to the coffee they were serving.
"If you wanted a coffee at one of my restaurants, I wanted to give you a good one," said Stefano.
From this simple idea came the creation of the Classico blend in 2000 and in 2013 this blend was complemented with Chiara and Audacia. Along with coffee, Stefano and Julie Manfredi Hughes enlisted renowned Australian ceramicist Roderick Bamford to create Ceramica di Manfredi which accompanies Espresso di Manfredi.
"We designed the ceramic cup range so that our four cups fit onto one saucer, which means cafes didn't have to store multiple saucers for the different cups. We have designed them in white as well as a colour range," said Stefano.
Here at AGFG we were able to sample the Classico blend which is a complex and full bodied coffee that draws balanced fruity flavours to the front of your palate before washing it down with a hint of caramel/chocolate at the back palate. It's a beautiful coffee that is easily enjoyed black with a teaspoon of sugar (the Italian way of course)!
For more information about Espresso di Manfredi head here.
To learn more about D.E Coffee whom have been producing coffee since 1753, head to their website here.