Australia's national gemstone
A mixture of texture, light and colour, the opal is one of the most highly prized stones in the fossicking world, found throughout many locations in Australia. Opals contain up to 13% water and reflect light with an assortment of spectacular colours, of which red is the most prized. The black opal is believed to be an extremely lucky stone whereas the white opal was believed to provide balance to each side of the brain. Grouped around the Great Artesian Basin as well as South Australia, Queensland and New South Wales, there is an opportunity in each state for beginners or professionals to try their hand at some Australian opal fossicking (or 'noodling' as it's commonly referred to as).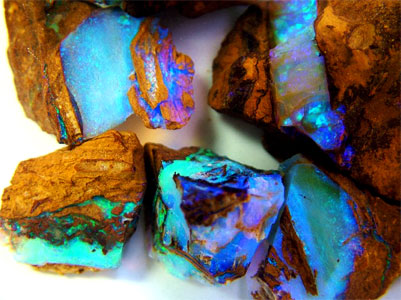 Where can I go opal fossicking in Australia?
Opal fields in Queensland stretch a north westerly direction from the boarder of New South Wales across a 1000 kilometre distance. Also known as black opal country, Lightening Ridge in New South Wales is well renowned for fossicking, where visitors can try their luck at finding the precious black opal. South Australia is also famous for its prolific opal mining centres, particularly around the area of Coober Pedy. The Jewell Box is known as the public fossicking area of Coober Pedy, taking place by means of pick and shovel to expose opal to the sunlight.
To find out more about Australia's best opal fossicking destinations, see;
as well as
Fossicking in South Australia