By Freya Ensbey.
"This book will change how you think about your meals. A bold statement, I know, but bear with me." ~ Ed Smith.
Leaving a lustrous career as a corporate lawyer, making a transition into the food industry and training as a Chef, Ed Smith is a prime example of someone realising and pursuing their passion.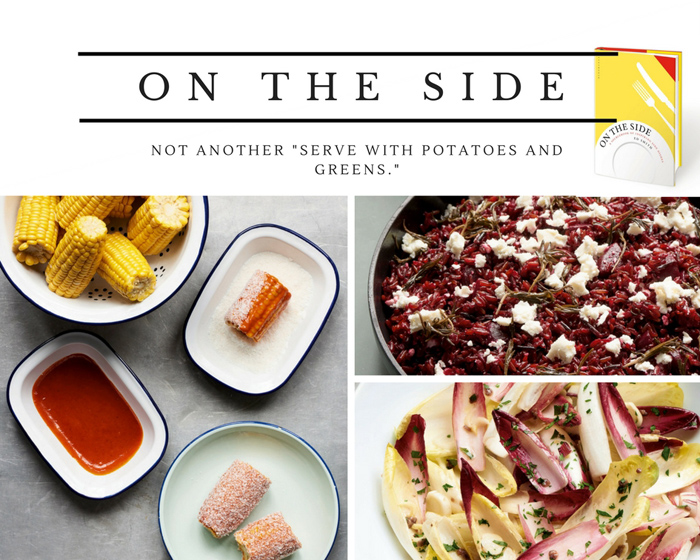 Following the success of his online blog Rocket&Squash, talking eating out, eating in, eating locally and a new element of giving commentary each Monday of recipes which had been published in the weekend paper, Smith noticed trends come and go, yet was baffled at how little recipes there were for great side dishes, considering they are a key part to every meal.
Granting that a great roast chicken or pork belly is nothing without a brilliant side, Smith makes a valid point that most recipes still include an evasive end tagline of "serve with potatoes and greens" or "goes well with rice," denying an impressive meal to reach stardom with such simplistic direction.
Changing the way we all think about the humble side dish, Smith has created On The Side, a source of inspiring side dishes to bring together a full table spread or to add as a complementary accompaniment to any main meal, making this book a necessity for any New Year's Eve party host.
Beginning with the basics of matching a side to a centrepiece feature of a meal, and explaining complementary textures, flavours, colours and elements, Smith delivers everything you need to know to whip up a vast selection of sides suitable for any occasion, which are sure to add pizzazz to any table.
Why not serve your next steak with a side of Smith's anchovy dressed chicory. Taking only 15 minutes to make, this dish delivers big crunch, followed by an intense burst of savoury flavour with each bite, while the red wine vinegar ensures the dressing is piquant enough to lift the leaves.
You'd be hard pressed to find someone who doesn't love getting their hands dirty eating corn on the cob as an accompaniment to barbeque meats, so for a relaxed and casual New Year's Eve afternoon celebration, why not invite friends around, fire up the grill and impress your guests with the gochujang mayo and coconut corn on the cob. The punchiness from the chilli sauce is complemented well with the sweetness of the coconut as each kernel pops and creates bursts of tropical flavour.
For a heartier side, perfectly matched with flavoursome meats like lamb chops or grilled mackerel, try the red rice with beetroot, feta and wild oregano. Making for an impressive plate, vibrant in colour, this simple dish offers bold flavour, with a sharp, saltiness from the feta and accompanying freshness from the wild oregano.
In the spirit of party season, why not invite your loved ones around and create more than just a mundane cheese platter and instead serve flavoursome sides which will hold their own at any dinner table.