By Annabel Rainsford.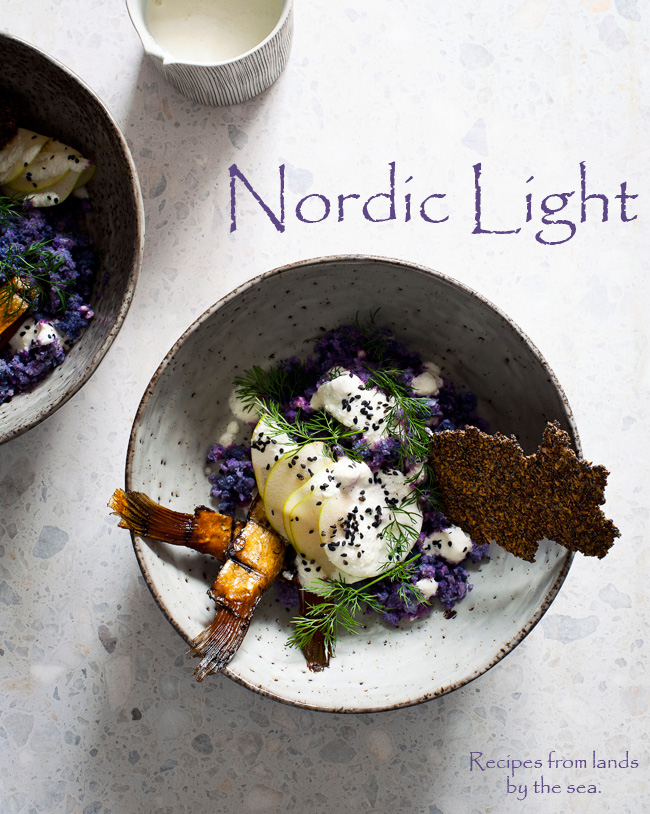 Smoked Salmon Tails with Cauliflower Couscous and Nigella Seeds, p 124.
A solemn cover gently lures, inviting hands to reach out and open a page, and then another in a journey to unravel secrets shared by Simon Bajada inside. Discover his latest cookbook, Nordic Light. Following The New Nordic, Simon's previous cookbook, Nordic Light encompasses a further sharing of recipes with a collection of lighter meals suited to everyday eating and cherished in his very own Scandinavian kitchen.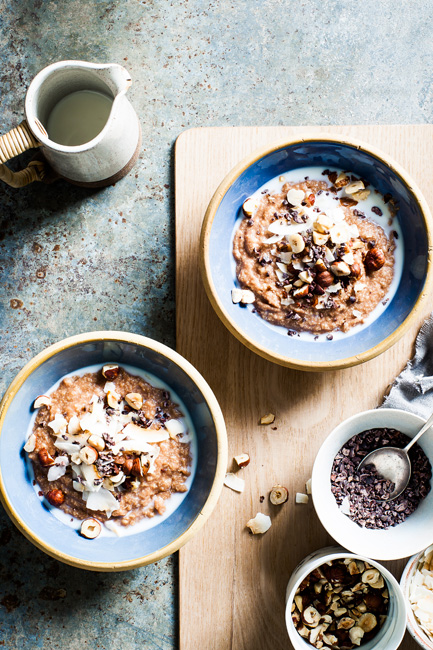 Millet Porridge with Cardamom, Cacao and Coconut, p 26.
With his guidance, find yourself introduced to the culinary cultures spanning regions in Denmark, Sweden, Finland, Iceland and Norway. Graced by pages of earnest photography, images in Nordic Light capture the brilliance of such diverse landscapes and draw one to question the components of each colourful meal. It is here that the magic begins; sparking a desire to re-create more nourishing dishes is an underlying purpose behind each thoughtful recipe. Satisfy an inkling for a decadent breakfast with millet porridge spruced with cardamom, cacao and coconut or craft a sustaining spelt, ginger, carrot and birch porridge that offers a marriage of sumptuous flavours so divine it would surely warm drowsy bodies on a frosty morning.
Chef, food stylist, and photographer, Simon gives a rounded picture of Scandinavia after exchanging an Australian home for life in Sweden, while at the same time expanding his culinary knowledge to include Nordic cuisine. Dishes become vegetable-centric and are quick to prepare, like cauliflower steaks with round greens and lemon balm, reflecting a cuisine that plays with vegetables in lesser known ways; while some vegetables are char-grilled, others may be whole-roasted, like celeriac and cabbage. Those dishes that do still include meats encourage it to be sourced wild and lean, such as smoked salmon tails with cauliflower couscous and Nigella seeds. The most flavoursome part of the fish can be used for a concentrated effect, while a striking colour swap can be achieved with white cauliflower to purple for a dazzling finish.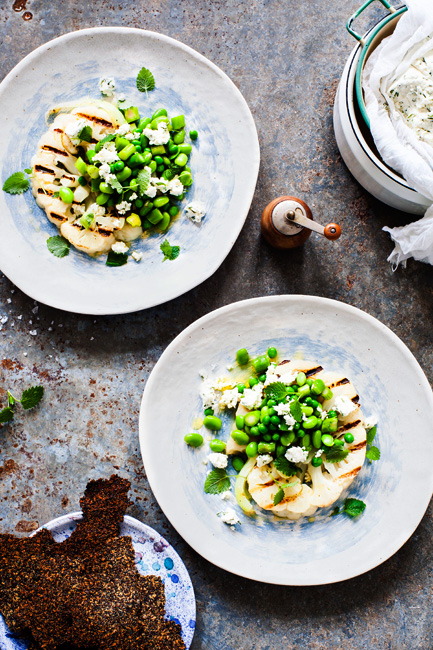 Cauliflower Steaks, Round Greens and Lemon Balm, p 65.
For something more, prepare a selection of chutneys, jams and crackers ahead of time and find yourself turning any dish into a feast. Create kimchi from Brussel sprouts, jam from plums, vanilla and rosemary or chutney out of red cabbage and then store it all for use in the future. Of course Scandinavian desserts are not to be forgotten with a smooth and icy chocolate, cherry and coconut ice-cream to complete a family lunch enjoyed outside in bright sunlight, or hot Hasselback apples with frozen chestnut cream and drunk mulberries richly spiced to warm the soul on stormy evenings.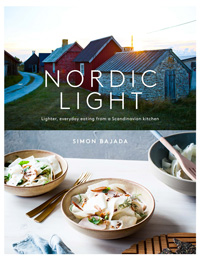 Recipes and images extracted from Nordic Light by Simon Bajada, published by Hardie Grant Books. RRP $49.99 and is available in stores nationally.