Food & Wine to be enjoyed by all at Noosa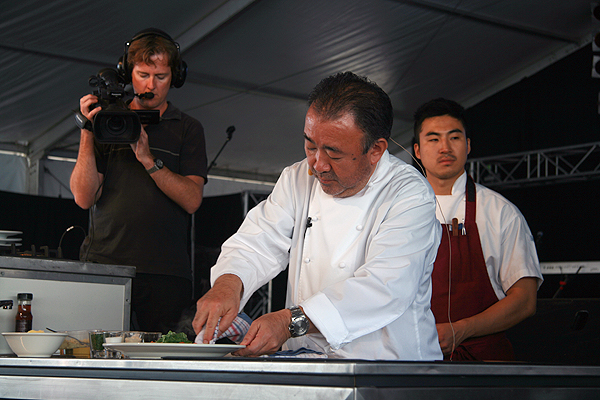 Tetsuya Wakuda showing his skills on the main stage
This past weekend saw the Noosa Food and Wine festival celebrate an amazing ten years of wowing crowds with chef demonstrations and culinary revelations. AGFG's Resident Chef Shawn Sheather and Ling Qian enjoyed catching up with the local and international talent in the VIP area.
Noosa definitely delivered over the weekend with many chefs from the S. Pellegrino World's 100 Best Restaurant Awards 2013 representing their culinary crafts. André Chiang (Restaurant ANDRE) and Peter Gilmore (Quay) are just some of the star chefs that mingled with the crowd.
(From left to right) Dish prepared by Ryan Squires, Ling Qian and Peter Gilmore, Dish prepared by Tetsuya Wakuda
Our featured and award winning chefs were in attendance showcasing their innovative and creative talents. Ryan Squires (Esquire), Zigi Ozeri (Zigi's Wine & Cheese Bar) and Shane Bailey (Berardo's) to name a few were especially popular given their passion for food and dining pleasure.
AGFG was proud to spend time with Tetsuya Wakuda (Tetsuya's), Adriano Zumbo (Adriano Zumbo at the Star) and Masterchef's very own Matt Preston. John Lethlean and Kerry Heaney discussed food, dining, blogging and the future of consumer perception on restaurants which was enjoyed by all in the Forum Tent. Glorious food, great company and wonderful beverages will keep all in attendance excited for next year.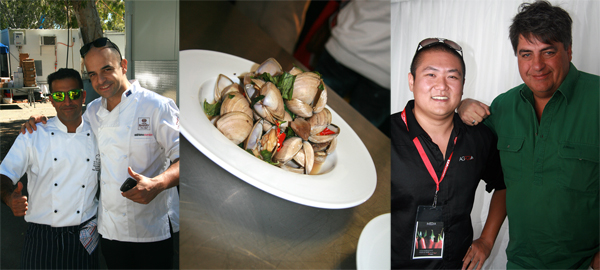 (From left to right) Zigi Ozeri and Adriano Zumbo, Dish prepared by Mark Jensen, Ling Qian and Matt Preston